Posted on
Fri, Oct 1, 2010 : 8:50 a.m.
Assistant AG takes leave of absence after national attention over blog against U-M student body president
By David Jesse
Michigan Assistant Attorney General Andrew Shirvell has taken a voluntary leave of absence after generating national attention over a controversial blog that ridicules and denounces the University of Michigan's student body president.
Joy Yearout, a spokeswoman for Michigan Attorney General Mike Cox, said this morning that media reports saying Cox suspended Shirvell were inaccurate.
Shirvell has been under intense criticism for his anti-gay comments directed toward U-M student body President Chris Armstrong.

Yearout would not comment on the length of the leave or any other details, saying only it was Shirvell's decision to temporarily step aside from his position as an assistant state attorney general.
The Detroit News reported this morning that Cox had suspended Shirvell, but has since pulled the story.
Cox has said on national television he wasn't planning to fire Shirvell, and his off-hours activities were free speech.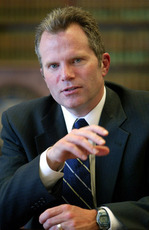 Calls for Shirvell's firing have intensified since the case made national news. Michigan attorney general candidate David Leyton issued a statement urging his opponent to join him in pushing for Cox to take action against Shirvell, and Gov. Jennifer Granholm took to the social networking site Twitter late Thursday afternoon to post a message saying she would fire Shirvell if she was the AG.
As of 8:45 a.m. today, nearly 8,500 members had joined a Facebook group advocating for Shirvell to be fired.
As AnnArbor.com reported Thursday, Armstrong is seeking a restraining order against Shirvell, who is banned from campus. In his letter requesting the order, Armstrong writes of several instances where Shirvell showed up at his home or other places he was at to protest against him.
Campus police are investigating Shirvell for potential harassment, intimidation or stalking, a U-M police spokeswoman said Thursday.
Armstrong and Shirvell are expected to appear in court Monday for a hearing on the personal protection order request.
Armstrong and Shirvell didn't return calls from AnnArbor.com on Thursday seeking comment.