Posted on
Thu, Sep 30, 2010 : 4:33 p.m.
Calls grow for attorney general to fire Andrew Shirvell
By David Jesse
From Facebook to Twitter, the calls for Michigan Attorney General Mike Cox to fire one of his assistants over a campaign against University of Michigan student body President Chris Armstrong are growing.
Count Michigan Gov. Jennifer Granholm among them.
"If I was still Attorney General and Andrew Shirvell worked for me, he would have already been fired," she tweeted around 4 p.m. today. Spokeswoman Liz Boyd had no further comment on the tweet.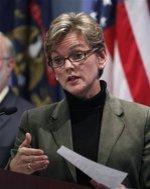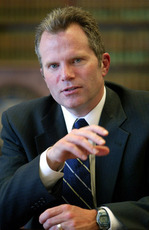 She joins David Leyton, the Democratic candidate for attorney general, in calling for Shirvell to be fired for comments made on his blog and in various protest appearances against Armstrong.
Neither Shirvell nor Armstrong could be reached for comment today.
Armstrong has filed for a personal protection order and will be in court on Monday for a hearing.
On Facebook, a Fire Andrew Shirvell group has more than 5,100 members. It includes multiple posts listing Attorney General Mike Cox's contact information and urging people to call him and have him fire Shirvell.
Cox did not return requests for comment Thursday.
However, on Wednesday, he told CNN's Anderson Cooper that he believed Shirvell was practicing his free speech rights.
"Here in America, we have this thing called the First Amendment, which allows people to express what they think and engage in political and social speech," Cox said on the show.
"He does satisfactory work, and off-hours, he's free to engage under both our civil service rules, Michigan Supreme Court rulings and the United States Supreme Court rule."
David Jesse covers higher education for AnnArbor.com He can be reached at davidjesse@annarbor.com or at 734-623-2534.