Posted on
Sat, Dec 10, 2011 : 5:57 a.m.
Bells are ringing: Paid Salvation Army bell ringers take to the malls and markets this holiday season
By Janet Miller
For much of his eight-hour shift, Tracey Foley stands in a small rectangle of space, braving the elements: The cold and wind and sometimes snow. He greets the strangers who pass him. He smiles and offers Christmas blessings. Some respond. Many don't. Several stop to drop pocket change into his red kettle. A few others promise a donation later.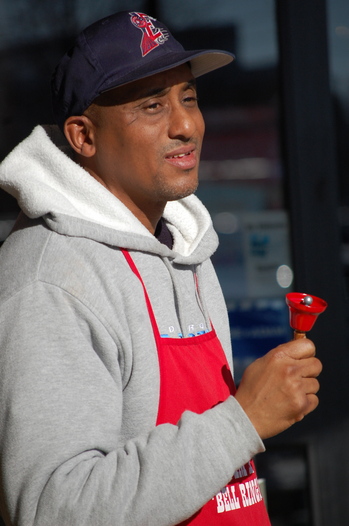 Janet Miller | For AnnArbor.com
Foley, a veteran and a youthful-looking 50, rings the bell in his right hand. When he grows tired, he switches to his left. From mid-morning to 8 p.m., after whatever warmth that comes from the sun is gone, he rings the bell. He never complains.
For Foley, it's a dream job. "I get more joy doing this than any job I've ever had. There's no greater job than to serve the people. I wish it was year-round," he said.
Foley is one of the Ann Arbor Salvation Army's 20 to 25 paid bell ringers, a corps of men and women who hit the malls, shopping centers and grocery stores for the weeks between Thanksgiving and Christmas, ringing the telltale bell that signals their presence, standing next to the familiar red kettle.
While most of the Salvation Army's red kettle drive bell ringers are volunteers -service organizations such as the Kiwanis take an entire day to ring the bells - a group of paid bell ringers gather Monday through Saturday in a large room of the Ann Arbor Corps Community Center on Arbana Drive. There are no bell ringers on Sundays, a day reserved for worship.
The paid bell ringers arrive at the community center to mingle and relax, say a prayer and then head for eight-hour shifts that earn them $7.45 an hour, minimum wage. They begin a week or two before volunteer bell ringers take their posts, and fill in the gaps after that, said Susan Carey, kettle coordinator. There are 30 red kettle locations in Ann Arbor, down from past years because some stores, such as Borders, have closed. But they've added new sites, Carey said, such as the Salvation Army Thrift Shop on South State Street.
For most of the paid bell ringers, it's their only job. Many are homeless, Carey said, living at the Robert J. Delonis Center or the Veteran's Haven of Hope House on Henry Street, run by the Salvation Army. Their ages range from 20 to 70 years old.
It is not, Carey said, an easy job. "I know I'm their leader, but I also know I couldn't do it," she said. "Some people don't make it. Others, this is their third year with me." It's a long day, with bell ringers bringing in anywhere between $100 and $650 each. Attitude makes a difference, Carey said. "We tell them to smile, be polite, say thanks, open doors and make eye contact. You've got to be a people person."
There's some friendly competition among the bell ringers, with their daily tally posted on a wall in the community center. Many average $100-$200 a day, but one ringer is king. He regularly brings in $400 to $500 a day, Carey said.
For Foley, who is otherwise unemployed, homeless and living at the Hope House, it's the perfect job. He wears a snowmobile suit under his sweatshirt and pants and said he is rarely cold. "I try and be personable to people, but I don't have to do a sales pitch. Everyone knows about the Salvation Army," Foley said.
The Salvation Army has been there for Foley. They helped his family after a house fire destroyed everything. And they've given him shelter after he ran out of friends and family who could help. Foley hasn't had a permanent job since Exemplar closed in Ypsilanti a decade ago.
Bell ringing is a chance to give back, Foley said, and earn some money. He doesn't worry about how much he brings back. "Whatever I have when I come back, it's more than I had when I started," he said.
While the bell ringers brave the elements, there are limits, said Maj. Dianna Williams, from the Ann Arbor corps. Bell ringers don't go out in all-day rains. "We don't want them to get sick, that's not our goal," she said. "And people don't give when it's raining. They just go by fast." There have been two days of solid rain since bell ringers took to their stations shortly before Thanksgiving where no one was sent out. It's part of the reason the red kettle drive is $4,500 behind schedule, Williams said.
In past years, most paid bell ringers earned bonuses on Black Friday, a typically strong day of giving. "That didn't happen this year," Williams said. "It's been tough. But demand for services has increased 30 to 40 percent."