Posted on
Fri, Oct 15, 2010 : 3:15 p.m.
Bicyclists protest outside Rick Snyder's gubernatorial campaign headquarters in downtown Ann Arbor
By Ryan J. Stanton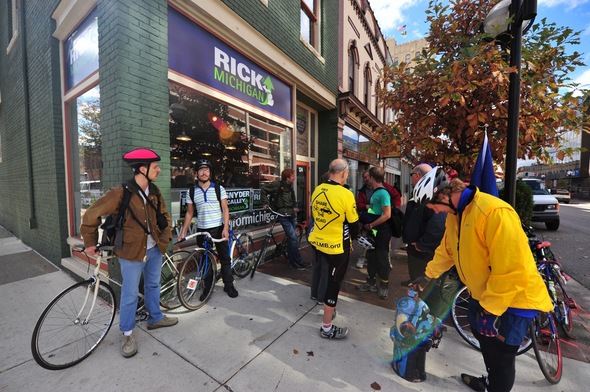 Ryan J. Stanton | AnnArbor.com
Bicycle bells rang out in downtown Ann Arbor outside Rick Snyder's campaign headquarters this afternoon as area bicyclists and walking advocates staged a protest in response to comments the Republican gubernatorial candidate made in Sunday's debate.
The protestors said they were seeking clarification on what appeared to be a criticism by Snyder of a local bicycle and pedestrian bridge project.
Asked during Sunday's debate whether he supported an increase in the Michigan gas tax, Snyder cited a new bicycle and pedestrian bridge over US-23 at Geddes, near his Ann Arbor home, as an example of inefficient state transportation spending.
The full text of Snyder's response to the question is as follows:
"I don't support an increase in the gas tax, because we need to get efficient first. I mean, we need to look at value for money budgeting. Because if you go around our state our roads are terrible, but let's tighten our belts, let's be efficient and see where we can deploy these dollars to fix the roads that really need to be fixed. A classic illustration I used from the Ann Arbor area, if you went to the Michigan/Michigan State game you had to suffer over the Stadium Street bridge potentially. Two lanes are permanently closed on that bridge. I think it's got a rating of like 2 out of 100. At the same time, I live near Geddes Road and US-23. They just built a bike and pedestrian bridge across US-23 at the cost of millions of dollars. What they didn't bother to tell us is a quarter-mile south that there's a bridge over Huron River and there's a bike and pedestrian path there. So let's get efficient about where we're deploying these dollars. There's a much better way to do things. And that's what we should focus on first."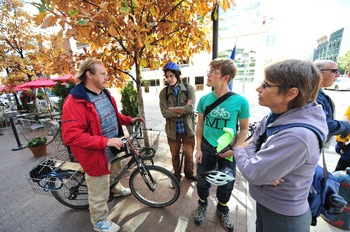 Ryan J. Stanton | AnnArbor.com
Area bicycling and walking advocates have said they found Snyder's comments perplexing, given his previously stated support for "walkable cities" and "green infrastructure."
About a dozen protestors lined up outside Snyder's office today seeking answers. The group was led by the Washtenaw Bicycling and Walking Coalition, University of Michigan Bicycle Coalition, League of Michigan Bicyclists and Michigan Trails and Greenways Alliance.
"We're out here to show that there's an organized bicycle and pedestrian community and we're paying attention to local politics, and we heard Rick Snyder's disparaging and misinformed comments about bike infrastructure investment in the Ann Arbor area and we wanted to compel him to clarify his statements, hopefully publicly if we can," said Elias Schewel, a U-M master's of urban planning student and member of the U-M Bicycle Coalition.
"I believe the word he used was 'inefficient' funding for infrastructure," Schewel added. "And as I understand it, the pedestrian bridge at US-23 and Geddes, the funding for that comes from a different source than the funds that would be used to improve and maintain the Stadium bridge, and so for him to try to score political points in the debate by confusing the issue contradicts his stated support for walking and biking in Michigan."
Ryan Kazmirzack, deputy director of communications for Snyder's campaign, came out of the office during today's protest. The campaign ended up chatting amiably with the protestors and gave them bright green Snyder bicycling T-shirts.
"Rick's comment was not at all a knock on bike riders," Kazmirzack said. "Making cities walkable is a big part of his 10-point plan. He was using the bridge as an illustration of how government funding priorities get turned around. He's talking about the bridge over on Stadium Boulevard that is literally crumbling, two lanes have been permanently shut down, and he's saying we need to take care of our existing infrastructure first before building more infrastructure."
Kazmirzack said the protestors were reasonable. The cyclists presented the campaign with a letter inviting Snyder to tour the new bridge by bike and attend a ribbon-cutting ceremony next week. As a matter of fairness, or "bikepartisanship," the group said it also would extend an invitation to Democratic gubernatorial candidate Virg Bernero.
"They wanted us to know a little more detail about the bridge," Kazmirzack said. "We took their letter. We'll make sure we look it over. It's not problem at all."
U-M Bicycle Coalition's Joel Batterman, a master's of urban planning student at U-M, said his group wanted to emphasize to Snyder that complete streets play a vital role in moving Michigan toward a more prosperous future. He said he was happy with the outcome of the protest.
"In the debate last Sunday when we heard bike and pedestrian spending brought up (by Snyder) as an example of inefficient transport spending, that was surprising for us because Snyder's platform is generally supportive of walkable cities and green infrastructure," he said. "So we hope it's just a misunderstanding, and that seems to be the case."
While an existing bicycle and pedestrian path passes under US-23 on the south side of the Huron River, no crossing exists to the north between the river and Earhart Road, isolating Concordia College and northeast Ann Arbor from that path system, Batterman said.
"Connections like this bridge and the emerging Detroit greenway network are building a sustainable, just, and prosperous future for all Michiganders," he said in a statement.
U-M Bicycle Coalition member Jeri Stroupe, a student at the U-M School of Public Health, said in a statement that while bike and pedestrian facilities are valuable amenities for Michigan cities, they're also a vital part of a healthy and safe transit network. They reduce carbon emissions, encourage physical activity, prevent injuries, and save lives, Stroupe said.
Ryan J. Stanton covers government and politics for AnnArbor.com. Reach him at ryanstanton@annarbor.com or 734-623-2529.