Posted on
Tue, Dec 4, 2012 : 2:59 p.m.
Big House Big Heart coordinator 'baffled' by why race can't finish in Michigan Stadium
By Kellie Woodhouse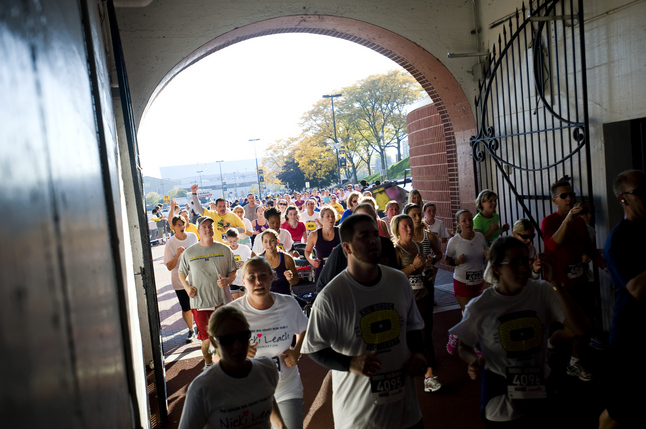 Joseph Tobianski I AnnArbor.com
When Andrea Highfield learned the annual Big House Big Heart run would have to go forward without half of its namesake —the Big House— she was "baffled" and discouraged, she says.
Joseph Tobianski I AnnArbor.com
University of Michigan
athletic department administrators told Highfield, whose company Champions for Charity coordinates the charity run, the seventh annual race could not take place at the Michigan Stadium anymore.
"We were baffled... as to why Big House Big Heart can't continue because it is so very charitable and provides help and inspiration to so many people," she said. "I deal with these people every day and realize how compelling their reasons are for wanting to do an inspirational race that finishes in the stadium."
Highfield and her staff sent an email Tuesday morning informing supporters the 2013 race, set for April 14, would be canceled.
The event brought in more than 15,000 runners who raced and walked 10- and 5-kilometer and 1-mile paths throughout downtown Ann Arbor and University of Michigan's campus. Between an October 2011 run and March 2012 run, the events raised more than $2 million for more than 200 charities, according to Highfield.
Highfield said Champions for Charity rented the stadium for the event during prior races. The rate in prior years had been roughly $7,000 and for the 2013 race the department established a new rate of just under $16,000, according to Highfield. "I was a little taken aback," Highfield says of the change in rates.
Then, on Nov. 30, the athletic department told Highfield the race could not use Michigan Stadium.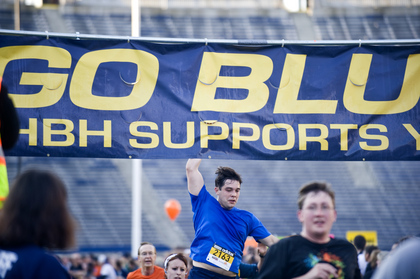 Joseph Tobianski I AnnArbor.com
"They told me... their priorities have changed," Highfield recalls.
Dave Ablauf, U-M associate athletic director for media relations, said the decision to pull out of the race came "after months and months" of assessing the athletic department's charitable mission. In that evaluation, department staff decided to begin a year-long partnership with the Special Olympics of Michigan and drop its involvement with Big House Big Heart.
"We evaluated this organizationally. The Big House Big Heart run has become a challenge to fit into our stadium," he said. "We are very grateful for the six years we partnered with this group. We definitely hope that they're going to continue to have this run in Ann Arbor."
The Big House Big Heart run is one of several local runs organized by Champions for Charity, a for-profit company run by Highfield and her husband, who don't receive paychecks, according to Highfield. The company has one paid full-time employee and four part-time employees.
Highfield said while the company isn't a non-profit, it doesn't necessarily turn much of a profit. During the last fiscal year, Champions for Charity earned roughly $19,000 in surplus revenue, Highfield said.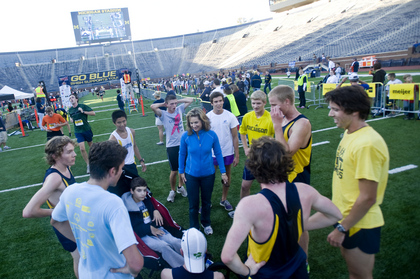 Joseph Tobianski I AnnArbor.com
"It's just a little mom-and-pop organization," Highfield said.
Registration for the Big Heart Big House run historically cost between $32 and $36 per runner, depending on registration date. Depending on the year, between $6 and $9 of each the registration fee went to charitable organizations and the remainder went toward administrative costs and event costs, such as T-shirts and snacks.
One hundred percent of the money a team raised prior to the race went to a charity of their choice.
Rachel Dewees, director of the U-M Turner Senior Resource Center, was part of a team of five organizations for the elderly that raised money through the Big House Big Heart run. Last year her team raised $25,000 through the run, Dewees said.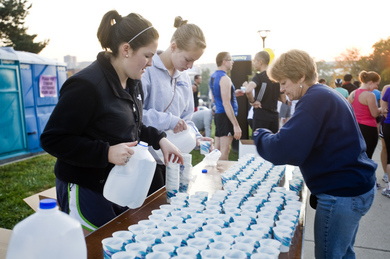 Joseph Tobianski I AnnArbor.com
"It's a significant amount of money" that is "important to all five of our budgets," Dewees said.
Dewees said she felt "extreme disappointment" when she learned on Tuesday morning the race had been canceled.
"It was a chance to raise awareness of our program... and just be more involved in helping us sustain the program," she said.
Ablauf said the athletic department remains committed to assisting in charitable causes. Earlier this month "Be a Hero at the Big House," a blood donation event, took place at the stadium, and a Michigan Stadium polar plunge, the department's first event with the Special Olympics, is scheduled for February.
The department, he said, has to be selective about what events it allows at the Big House because it receives hundreds of requests each year.
"We have our own private rental program, we're doing stuff with the Special Olympics and we have a lot of things we do now in the that stadium," Ablauf said.
Kellie Woodhouse covers higher education for AnnArbor.com. Reach her at kelliewoodhouse@annarbor.com or 734-623-4602 and follow her on twitter.