Posted on
Wed, Jan 30, 2013 : 2:40 p.m.
Bitter cold, blowing snow to replace record warmth in Ann Arbor
By Cindy Heflin
Early Wednesday morning, the temperature in Ann Arbor reached a record-breaking 60 degrees. By tonight, it'll be 40 degrees colder.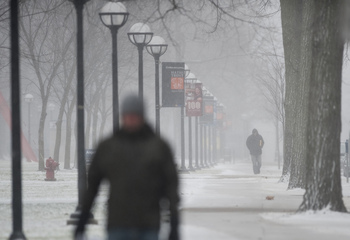 The rapid falling of temperatures won't start until after sundown, said Matt Mosteiko, meteorologist with the National Weather Service in White Lake Township. But once the drop begins, it'll be dramatic.
Temperatures will begin to fall about 4 to 5 degrees an hour after sundown until they bottom out around 20 degrees overnight, Mosteiko said.
The 60-degree reading recorded by University of Michigan weather observer Dennis Kahlbaum early Wednesday broke the record of 52 degrees set in 1969, Kahlbaum said. The unseasonably warm weather came with a flood watch and a couple of foggy days.
Along with the cold temperatures, we're likely to get up to a half inch of snow overnight and winds gusting to 40 mph, Mosteiko said.
Cold, snow and wind will persist Thursday. The Ann Arbor area is expected to get another inch of snow, Mosteiko said. Winds will gust to 31 mph with temperatures steady around 21 degrees.
Temperatures will remain cold through the weekend, with lows generally in the teens and highs in the 20s until Monday, when the high is expected to be 37.
For updated conditions and forecasts anytime check AnnArbor.com's weather page.