Posted on
Fri, Nov 9, 2012 : 5:58 a.m.
Ypsilanti Township demands payback for $92,000 cleanup at dilapidated mobile home parks
By Tom Perkins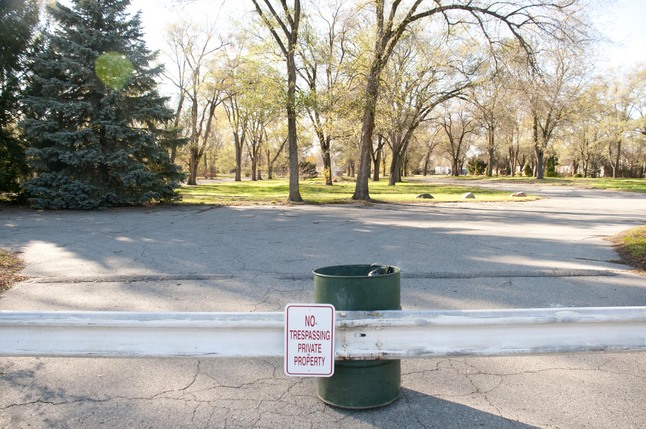 Tom Perkins | For AnnArbor.com
Ypsilanti Township is bringing to a close another mobile home park saga.
But first, township officials want the owners of two neglected parks to pay the township's cost for demolishing the dilapidated and problematic structures on the properties.
In February, the parks' owners, WOC Realty, walked away from the two properties at 2590 E. Michigan Ave. and 117 S. Harris Road, just south of the Ford Boulevard bridge over East Michigan Avenue. They did so as the township sought the courts' help in addressing a litany of issues there.
Ypsilanti Township's attorneys are asking a Washtenaw County Trial Court judge to order the former owners to reimburse the township for the money it spent clearing the dilapidated parks.
That total comes to approximately $92,000 plus another $1,500 in attorney fees.
A hearing to resolve the matter will be held before Judge Donald Shelton on December 6.
Township Attorney Doug Winters said he plans to show before and after pictures to illustrate the parks' transformation.
"It reminds me a lot of that 1970s Rod Stewart song "Every Picture Tells a Story," Winters said in a memo to the Ypsilanti Township Board of Trustees.
Ypsilanti Township beat out another bidder for the properties in the county's auction this fall and acquired both for $8,500.
The Harris Road mobile home park has been totally cleared of structures and already resembles a recreation park. It will be fully converted into a park that is adjacent to the Harris baseball diamonds.
"It will be a great segue into the existing park system," Winters said.
The East Michigan Avenue property is being cleared of its remaining infrastructure and will be converted into commercial real estate and put up for sale.
During inspections of the two properties in 2012, officials had trouble determining which mobile homes were inhabited and which weren't. Many of the homes were in a state of extreme disrepair.
Doors and windows were broken on units throughout the parks, and siding was falling off many of the homes. Others faced structural issues ranging from collapsing porches to leaking and collapsing roofs.
On Feb. 15, officials received a report that the drinking water at the East Michigan Avenue park was contaminated. Garbage was spilling out the front doors and windows of one of the units there.
After WOC owners walked away from the parks, the township's Office of Community Standards was left to deal with the cleanup and help residents find relocation assistance through the county.
The company's owners, Robert Stahl, Mike Peters and Kim Peters, failed to show up for a hearing in July and were held in contempt of court.
At that hearing, Shelton wrote an emergency order authorizing the township to demolish all the remaining homes in each park and clear the land of any structures or utility infrastructure.
AnnArbor.com was unable to reach any representative from WOC.
"We got all the dangerous units and blight removed," Winters said. "It's a good start."