Posted on
Wed, Feb 22, 2012 : 5:59 a.m.
Boarded-up houses on Main Street target of new Ann Arbor effort to demolish dangerous buildings
By Ryan J. Stanton
North Main Street will be a primary target of the city of Ann Arbor's new effort to address blight and rid the city of dangerous buildings, said Mayor John Hieftje.
"That's certainly a focus," he said. "Then again, there are other properties scattered throughout the city. But I know myself and all of council would like to see that area cleaned up."
The Ann Arbor City Council voted 9-0 Tuesday night to authorize a fund of up to $250,000 to secure and demolish buildings the city deems unsafe under Chapter 101 of the city code.
City officials say there are dangerous buildings that are deteriorating neighborhoods, negatively affecting property values, attracting unwanted activities and creating nuisances. And they say owners of the properties are not taking the necessary corrective action.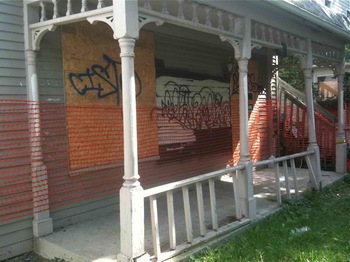 Ryan J. Stanton | AnnArbor.com
One of the city's concerns has been the row of boarded-up houses on Main Street just north of downtown where a private developer — in partnership with
nonprofit Avalon Housing
— has been planning a new affordable housing project called Near North.
The project is now several months delayed. The eight houses at 626-724 N. Main St. were expected to be demolished last fall.
"What we want to do is put the land owner there on notice that this can't go on forever," Hieftje said. "Whether your development goes through or not, those houses need to come down."
Up until now, the city has not aggressively dealt with dangerous buildings as it hasn't had specific funds allocated for such efforts.
"There are many buildings in town — a surprising number — that need to come down, and we haven't had a way to do that in the past," Hieftje said.
But the city is expecting an influx of cash later this year from the settlement of the Michigan Inn lawsuit, a case that involved a dilapidated hotel on the city's west side and a multi-year court battle to get it demolished. The city's settlement from that case is expected to reimburse the general fund for the initial funding of the new abatement program.
Property owners will be invoiced for the city's costs for any actions taken to address dangerous buildings, city officials said. If property owners fail to pay when billed for costs, the city can hit the properties with special assessments to collect the amount owed.
"I'm really excited about this," said Council Member Stephen Kunselman, D-3rd Ward, who worked with the mayor on the issue.
"I worked in a community where this process worked very, very well," added Kunselman, a former township administrator in Wayne County's Sumpter Township.
"I think what we typically find is that most property owners just don't know how to deal with it and so they don't," he said of demolishing old buildings. "And so with the city taking over, it becomes a no-brainer for them and you probably won't find much resistance."
Hieftje noted there is an old gas station at 800 N. Main St. that the city attorney's office went to court to fight, but a judge told the city it couldn't tear it down.
"So that's one we've tried. I don't know why they would have said no to that," he said. "But I'm pretty sure we could move forward on these old houses. We are certainly keeping an eye on the old Greek church there, which has not been used now for many years, and I think the same sort of case would have to be made for the judge on that one."
Hieftje said he's sure every council member will have suggested targets, but high up on his list is cleaning up North Main Street.
"I know that council members in the 1st Ward hear a lot from their residents about the old houses that are there that are due to be torn down soon, hopefully for a new proposal there," he said. "We've certainly given notice to the property owner there that they need to take action or the city is going to take action."
Ralph Welton, the city's chief development official, told council members how the process would work if the city found a residence in bad enough condition to pursue demolition.
Ryan J. Stanton | AnnArbor.com
"Actually there's an ordinance in the code for this. As a building official, I can condemn structures," he explained.
Welton said the process would start with the city sending a letter to the property owner to find out his or her plans are for the building. After that, if the city isn't satisfied, it would invite the property owner to a show cause hearing before the building board of appeals.
"They would then have the opportunity to come in and either indicate that they had plans to rehab this building or demolish it themselves and then the board would vote," Welton said. "If the board votes to demolish the building, they have 20 days to appeal to the district court."
After that, assuming it could, the city would proceed with demolition, Welton said, and the city would pay the initial costs, but the property owners would be invoiced.
"And just to explain to folks," Hieftje said, "one of the things that I've learned is that had Mr. Welton and his team condemned a building and we didn't have a fund to take it down, it then became a dangerous nuisance in the community. And if anything were to happen at that, the city having condemned it would then have a legal problem with that."
Kunselman said the city shouldn't just be focused on houses. He said there are other sources of blight in the community that present a danger.
"We also need to look at out buildings, garages," he said. "There's a collapsed garage on a vacant lot that went to tax foreclosure in my neighborhood. There's a garage right across the street from me with a big hole in the roof and it's getting ready to collapse."
Council Member Sandi Smith, D-1st Ward, asked how much it might cost to demolish one of the houses on North Main Street. Welton said typically $15,000 to $25,000.
Council Member Marcia Higgins, D-4th Ward, expressed concerns the city might run into extra costs dealing with lead and asbestos abatement in older houses.
Council Members Christopher Taylor and Carsten Hohnke were absent.
Ryan J. Stanton covers government and politics for AnnArbor.com. Reach him at ryanstanton@annarbor.com or 734-623-2529. You also can follow him on Twitter or subscribe to AnnArbor.com's email newsletters.