Posted on
Thu, Sep 8, 2011 : 5:59 a.m.
8 houses along North Main Street in Ann Arbor soon to be demolished for $15M project
By Ryan J. Stanton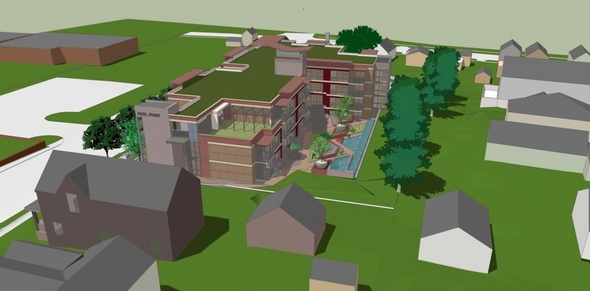 Image courtesy of developer
Eight houses along Main Street just north of
downtown Ann Arbor
are expected to be demolished soon to make way for a $15 million affordable housing project.
The 39-unit Near North development, which has been in the works for years, is finally moving forward, according to a representative of nonprofit Avalon Housing Inc.
"We've secured all of our financing," said Avalon's Michael Appel. "We're waiting on bids to come in from subcontractors and we need to make sure that our price works within our budget, and then we would close. We hope to close in the next four to six weeks."
The eight houses at 626-724 N. Main Street will come down as soon as possible, said Appel, who was instructed by one city official on Wednesday to please do so "with much haste."
"We're excited to break ground," Appel said. "It has overcome a lot of hurdles and we're not happy about the time it took. We would have rather seen the houses come down a while ago, but we've had to work with multiple funding sources and changes in governmental funding."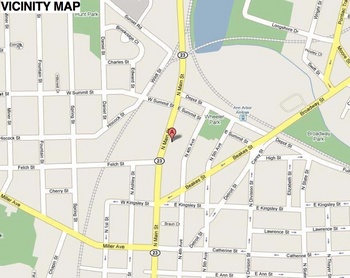 The Ann Arbor Downtown Development Authority renewed its financial commitment to the project on Wednesday, pledging up to $500,000 in assistance from its housing funding.
The DDA first approved the grant in January 2010, but it expired on June 30, 2011. It's now being extended through Dec. 31, 2013, offering the same deal: $400,000 plus an extra $50,000 if the project achieves Silver LEED certification or $100,000 for Gold LEED.
The vote to extend the grant was 7-3 with DDA board members Newcombe Clark, Roger Hewitt and Russ Collins dissenting. They weren't opposed to the project, but said they wanted more information before giving the DDA's staff approval to draw up a contract.
Board members Bob Guenzel and Keith Orr were absent.
Avalon, a nonprofit housing corporation, is developing Near North with its for-profit partner, Three Oaks, as a mixed-use development.
The project is expected to provide 24 apartments affordable to households with low incomes and 15 supportive housing apartments with project-based Section 8 rent subsidies.
DDA officials said the new housing units are going to be within a quarter-mile radius of the downtown district — the area within which the DDA can provide housing fund support. They expect many tenants in the apartments are likely to work and shop downtown.
Grand Rapids-based Rockford Construction has been hired as the general contractor for the project and is now bidding out subcontract work.
Two local union representatives — Tom Yaks of Local 190 Plumbers and Pipefitters and Ron Motsinger of the International Brotherhood of Electrical Workers — urged DDA board members on Wednesday not to approve the grant agreement for Near North absent a commitment from the development team to employ local skilled trades workers.
"Our contractors are hurting for jobs," Motsinger said, suggesting Rockford Construction is going to hire out-of-area contractors.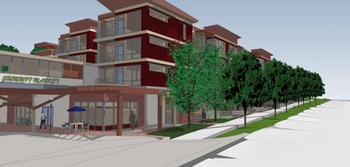 Image courtesy of developer
DDA officials said they didn't think they could dictate those kinds of terms. Appel noted early bid packets show only about a quarter of bids came from subcontractors from the western side of the state while about three-quarters were from Southeast Michigan.
"We've worked with our general contractor from the beginning to make sure they understood the local market, that they were in touch with the unions, and that their bid list included local firms that were qualified," he said. "I believe they did that."
Washtenaw County Commissioner Rob Turner, owner of Turner Electric Service Inc. in Dexter, told DDA officials he agreed with statements made by the union officials.
Turner said his own company was asked to bid on subcontract work related to the project but didn't receive the request until about a week before bids were due.
"We tried to get a set of plans online to see what the project was to see if we could try to pull it together," he said, adding the plans were only available in Grand Rapids and Bloomfield Hills.
"Does that sound conducive of wanting to have local contractors bid this job and be involved in this?" Turner said. "No."
Appel said Turner's story didn't jibe with what he's heard.
"My understanding from talking with our general contractor is the actual bid solicitation went out a number of weeks earlier than that," he said. "Followup phone calls were made to find out who was interested during the bid period. I don't believe anybody got only one week's notice."
While some DDA board members pushed for a postponement of the grant extension, Appel told DDA officials the overall project relies on the $400,000-$500,000 commitment.
According to the resolution approved by the board, the grant payment is contingent upon receipt of a certificate of occupancy, waiver of all liens, and an agreement with the local Office of Community Development to manage income verification for all residential units.
The DDA's board also voted 10-0 on Wednesday to appoint Bob Guenzel chair and Leah Gunn vice chair for the 2011-12 fiscal year. The board also passed a resolution honoring outgoing DDA Chairman Gary Boren for his service on the board since 2003.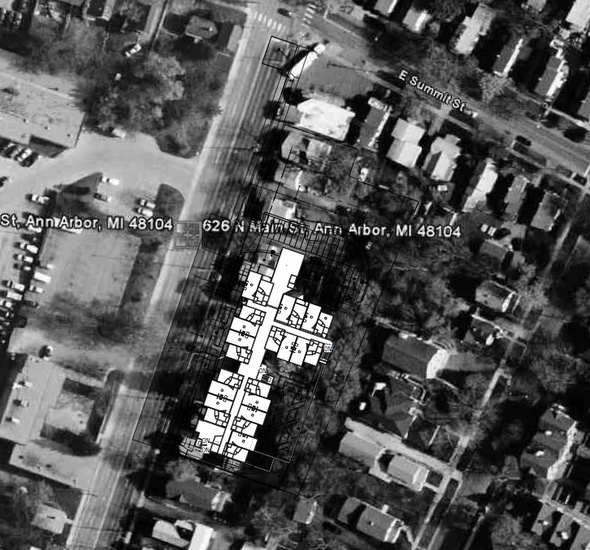 Image courtesy of developer
Ryan J. Stanton covers government and politics for AnnArbor.com. Reach him at ryanstanton@annarbor.com or 734-623-2529. You also can follow him on Twitter or subscribe to AnnArbor.com's e-mail newsletters.