beyond basketball:

Event manager 'the glue between the moving parts' on U-M basketball game days

Posted on Sat, Mar 2, 2013 : 5:57 a.m.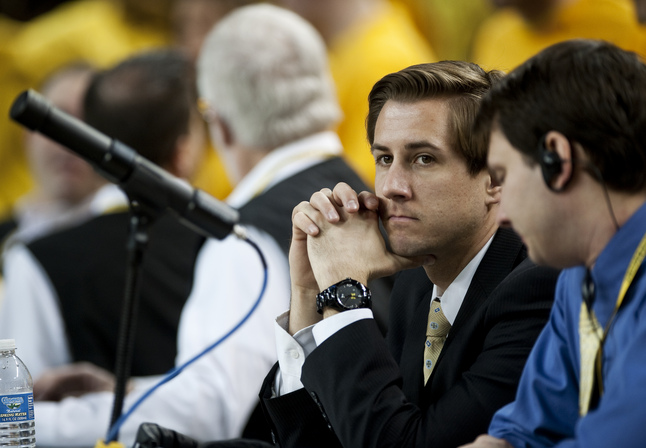 Daniel Brenner I AnnArbor.com

The basketball game itself is still the draw, the main event, when you head to Crisler Center to watch Tim, Trey, and companions. Though you wouldn't be wrong to wonder sometimes if it's really a circus — with the game as a side show.

Plenty of extras make it two hours of non-stop entertainment — free T-shirts or light-up eye glasses for everyone. A half-time show featuring a unicyclist flipping five dishes at once from her foot to the top of her head. Free pizzas for a handful of people. Contests to win sandwiches for everyone in your row or a $100 gift card by making a free throw, lay-up, and three-pointer within 30 seconds. The newly-dedicated center with its displays of U-M sports greats, the band, and on and on.

There's always something happening. Always noise. Sometimes a surprise. Cool stuff, even if it has nothing to do with the game. You won't get bored.

At the center of the action is event manager, Paul Neidermire. Though he is everywhere, he says he would be happy if nobody knew he was there at all. That would indicate that everything is going as planned and he is doing his job well.

His explanation of why he is called an event manager rather than a game manager clarifies the reasons for all of the extracurricular activity. "In the athletic department, one of our guiding principles is to create 'wow' experiences," he said. "People have the option of sitting at home and watching a game on TV. They don't need to buy a ticket, don't have to go out in the cold. The food is cheaper, they get instant replay and professional analysis. So in order to fill Crisler, we have to set ourselves apart from the TV provider, give the fans something that the viewers don't get."
BEYOND BASKETBALL
Did you miss the last column from Bob Horning? See below to follow the series,
He mentions also that the atmosphere is intended to create a home-court advantage.
"The noise, the music, the video boards, the cheers, make it an intimidating environment for the other team," he said. "It's like that in every venue, so why do the opposition any favors when they are in our building? That's one reason it's so hard to win on the road. It's not coincidence that the home coach is constantly mentioning how the support of the fans helped their team win."
In case you forgot, Michigan hasn't lost at home this year.
Neidermire arrives at Crisler three hours before tip-off. He closely works with the facility manager, and double-checks that everything is ready to go. He looks through the locker rooms and officials' room, makes a loop around the concourse to see if the interactive televisions are working and the marketing tables are set up. He checks on sponsor locations, coordinates the care for Gov. Rick Snyder if he is attending, checks on glitches from the previous game and answers questions or fills any needs of fans. He calls himself the conduit for communications with the other athletic department team members who join to put on the event.
Before Crisler's doors open to the public, he meets with the event staff supervisors and floor level ushers who handle the arrival and departure of the teams and officials, as well as the photographers, TV cameras, and broadcasters.
Neidermire is in his second year at U-M and is coming from a similar role at the University of Connecticut and Boston College. His original intent was to coach soccer, which he did for a couple years, and teach. But once he began doing event management, that changed. He says, "I love it, and I probably received my aptitude for it from my father who works in logistics for 3M."
Besides men's basketball, Neidermire also handles women's basketball, men's and women's tennis, men's and women's soccer, and baseball.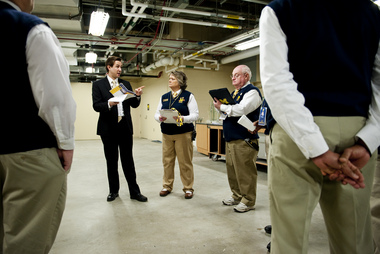 Daniel Brenner I AnnArbor.com
"On game day, I am the glue between the moving parts," he said. "Besides the facility manager, I coordinate with marketing, media relations,
Department of Public Safety
, parking, multimedia, IT, development, and the event staff, who take care of premium seat holders as well as all of our guests at Crisler."
Pre-season meetings with these people help things run well and keep unavoidable disruptions from spoiling the party for the fans. "Last year with the construction at Crisler, for instance, we had to convey to employees and fans that all of the entrances they were used to were changing" he said. "Same thing this year. In addition, this year we did most of our planning from blueprints since the construction kept us out of parts of the building until the week of the first game. No complaints, though. They knocked an entire year off of the original completion date."
Helping Neidermire do his job are 170-180 event staff, his boss, and five full-time members from his office. If you count next time you are there, you will come up with 90 ushers and 66 ticket takers, including scanners, six people in guest services, four program sellers, and those working the game floor and tunnel areas. Rivalry games like Ohio State, Indiana, and Michigan State University require a few more.
Neidermire said it is the event staff who help provide "an exceptional experience for every guest. A lot of schools contract out their event staff. We don't, and that's what makes us special. Our people wear a block M, not another company's sweater. They are part of the building and its character. And since they are fans themselves who bleed Maize and Blue, they want to help fellow fans. Some of them know practically everyone in their section."
During the game, Neidermire sits on the second row of the scorer's table and fulfills the other half of his role — game administrator. If the officials need something, he is the one they go to. Right before the Ohio State game, the referee pointed out that a camera on the backboard could became a danger, so the officials had Neidermire contact the right people to get it adjusted. After every game, he is required to submit a form tracking different information to the Big Ten office.
"It's a challenge to have everything surrounding the game work well." Neidermire said. "But I like the challenge. The one part of my job that causes me some worry comes from the fact that millions of people are watching on TV. I don't want something going wrong that gives the university a negative image."
About an hour after the game, the visiting team and officials have left, Coach Beilein's press conference is over, and a calm is returning. It's then that Neidermire can leave for home.
Bob Horning is a lifelong Ann Arbor resident who writes U-M sports human interest stories for AnnArbor.com. If you have ideas for future columns, please email news@annarbor.com.