Posted on
Fri, Nov 2, 2012 : 5:58 a.m.
Bond changed for man accused in sexual assaults of underage girls
By John Counts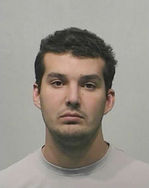 Courtesy of WCSO
The 23-year-old Ypsilanti Township man suspected of preying on underage girls via Facebook stood mute to two counts of third-degree criminal sexual conduct when he waived his preliminary examination in the 14A-1 District Court Tuesday, according to court records.
In total, Paul Joseph Creps faces four counts of third-degree criminal sexual conduct for having physical contact with at least two girls under 16.
On Tuesday, the two counts were bound over to the Washtenaw County Trial Court. A preliminary examination was set for Nov. 14 before Judge Archie Brown.
At the time the exam was waived, Judge Kirk Tabbey changed the bond from $75,000 cash or surety to 10 percent of $75,000.
When reached by phone Thursday, Tabbey told AnnArbor.com that he could have continued the bond as it was, but changed it for two reasons: he felt obligated in the way he interprets the state law dealing with "pretrial release" and that in certain circumstances it may not necessarily be easier for the incarcerated accused to have to post the 10 percent in cash to the court than going the route of getting out via a bail bondsman on the cash or surety route.
"I feel (the bond) will still assure his presence," he said. "I felt it is still enough bond to hold him."
Two underage girls have been identified by police as possible victims, the first being an Ypsilanti Township girl described as being under 16 and the second a 15-year-old Ypsilanti girl.
Police said they located the second girl through Creps' cell phone, where they also found numerous pictures of underage girls, many of whom were unclothed.
The detective in the case began going through the numbers on the phone and contacting various girls, which is how the 15-year-old Ypsilanti girl was located.
Creps also is suspected of using social media sites like Facebook to find underage girls. He would 'friend' them and start a text messaging relationship with them.
"(He) parlayed that into getting her to do sexual acts," Fox said of the 15-year-old Ypsilanti girl.
While executing a search warrant at Creps' Ypsilanti Township residence, they recovered around three computers that are being forensically evaluated, police said.
Creps remains at the Washtenaw County Jail.
John Counts covers cops and courts for AnnArbor.com. He can be reached at johncounts@annarbor.com or you can follow him on Twitter.