Posted on
Sat, May 12, 2012 : 5:58 a.m.
Newly installed parking meters lead to membership surge at U-M Matthaei Botanical Gardens
By Kellie Woodhouse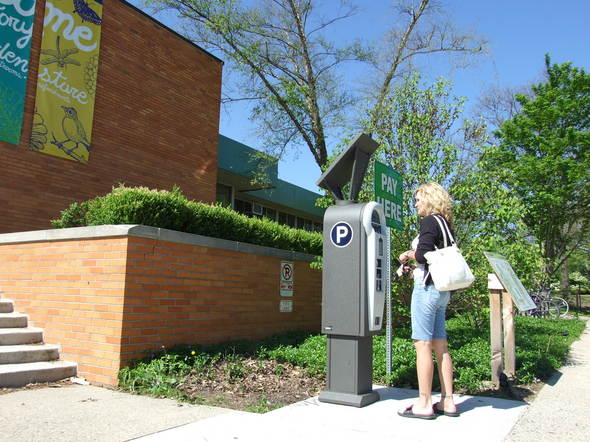 Kellie Woodhouse | AnnArbor.com
The introduction of metered parking at
Matthaei Botanical Gardens
has led to a surge in membership,
University of Michigan
officials say.
To generate revenue and harmonize with existing U-M practices, the gardens switched to a parking fee system in January and eliminated the $5-per-adult and $2-per-child indoor conservatory fee. Previously, the conservatory was the only U-M museum to charge entry fees and the gardens was the only U-M Ann Arbor attraction to offer free daytime visitor parking.
Parking at the gardens is now $1.20 per hour or $5 for daily unlimited parking. Members, who pay a $40 yearly fee, park for free.
Normal membership levels range from 1,700 to 1,800 in the winter. But this winter levels were above 2,000.
"That's a big change for us. It was a big jump," said Andy Sell, a Matthaei development generalist. "There were a lot of people inquiring about joining the botanical gardens so they could park for free."
Ypsilanti resident Carolyn Howard is one of the thousands of Matthaei visitors that became members once the meters were installed.
"They started charging for parking so instead of the bother of paying $1.20 (an hour) every time we want to come to the gardens we got a membership card," Howard said during a Friday morning run through the gardens. "The meters encourage people to get a membership and we do need money for the gardens."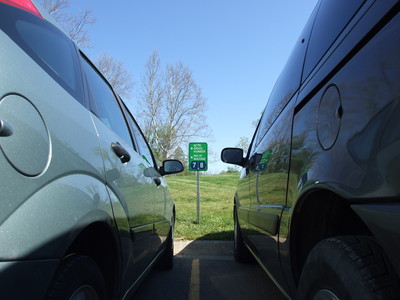 Kellie Woodhouse | AnnArbor.com
Current membership levels are pushing 2,200 and Sell expects "further growth" far outpacing normal membership levels in the coming spring and summer months. Matthaei Associate Director Karen Sikkenga said the conservatory also is seeing more traffic than usual.
She said gardens staff are pleased by visitor response to the meters.
"I was ready to hear people say: 'I am upset because I used to come here and didn't use to have to pay,' " Sikkenga said. "We haven't heard that so much. ... There have been occasional complaints from people that have been frequent users and now have to pay, but it was not as bad as we feared."
Scott and Karen Worthy encountered a parking enforcer before their morning walk through the gardens on Friday. The couple doesn't have a membership but doesn't mind paying for parking, they said.
Karen Worthy plans to bring a group of three out-of-town friends to the conservatory next week and she says the new system will actually save the group money.
"It ends up being a better deal, especially if you come with friends," she said. "You're talking maybe four of us at $5 apiece would have been $20 and now it's $2.40 for two hours."
Matthaei member Dick Rosenfeld equated paying for parking at the gardens to paying for parking when visiting downtown Ann Arbor.
"It isn't going to keep away people that love the place, I am sure of that," he said.
Added Deborah Stocks, first-time Matthaei visitor: "It was unexpected but I don't mind paying. ... That's a way to get funds for the garden and it's not very expensive so it doesn't matter to me."
Before the switch to meters, the 80-acre gardens averaged more than 100,000 visitors a year, according to traffic study commissioned by the university. The newly installed meters will help U-M more accurately track the number of garden visitors. While membership has increased, Sikkenga said it isn't yet clear whether the meters have affected total visiting levels at the gardens.
"I am really looking forward to just knowing how many people are here," she sad. "That's something we just haven't been able to count before."
Kellie Woodhouse covers higher education for AnnArbor.com. Reach her at kelliewoodhouse@annarbor.com or 734-623-4602 and follow her on twitter.