University of Michigan offers alternatives to bottled water but won't consider outright ban
Posted on Thu, Sep 13, 2012 : 5:58 a.m.
Daniel Brenner I AnnArbor.com

Bottled water is losing its welcome at the University of Michigan.

While administrators say they won't comply with the student government's now year-old request that the school ban the sale of bottled water on campus, 42 water bottle refill stations have been installed at U-M and 74 refill attachments have been outfitted on existing water fountains.

"We're not considering a ban," said Andy Berki, manager of campus sustainability. "We're just working hard on increasing the infrastructure so that people can make a choice."

The school reports that two of its first water bottle refill stations, installed in Mason Hall in 2010, received a combined 270,000 uses in one year.

Also during 2010, the university sold roughly 600,000 bottles of water, according to an assessment conducted by the Graham Environmental Sustainability Institute.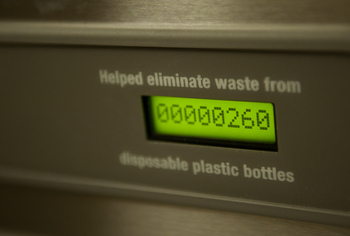 Daniel Brenner I AnnArbor.com
Maggie Oliver, U-M senior and last year's chair of Central Student Government's Environmental Issues Commission, said that since the student government passed the resolution seeking a ban last year, she and other campus activists have met with college departments, university administrators, student groups and athletic department officials to discuss water bottle use on campus.
Oliver worked to get academic units to sponsor refillable water bottle stations —which cost the university about $1,500 a piece— and some did, including several units within the College of Literature, Science and Arts. The student government supplied funds for 18 of the stations. The 74 refill attachments cost between $200 and $300 apiece, but Berki said the more costly stations are preferred by reusable water bottle users.
Berki says the stations "decrease campus waste generated by using disposable bottles" and came to fruition partly because of student input.
The stations are scattered throughout the Michigan Union, academic and administrative buildings and dormitories.
"The university saw a lot more people were carrying around reusable water bottles" last year, Oliver said.
This year, to encourage reusable water bottles, U-M gave out 6,500 reusable water bottles to incoming freshmen.
Oliver also talked with Dave Brandon, U-M athletic director, about allowing empty refillable water bottles inside the Big House.
"The security of the university was just not willing to budge with that," said Oliver, who said officials expressed concern over "the time it would take make sure the water bottles were empty."
Rob Rademacher, associate athletic director in charge of facilities and operations, told AnnArbor.com that empty water bottles would continue to be restricted from the Big House.
"We do not allow empty bottles or containers into the stadium. That policy changed years ago. We have not received any complaints since that policy changed," said U-M associate athletic director for communications Dave Ablauf.
The athletic department has a contract with Absopure Water Company to provide all commercial water products at the Big House, including bottled water and complementary water, served in cups, at the stadium's refreshment station. The current contract has three years left, said Ablauf.
Berki said a ban is not possible because "disposable water bottles are being used for certain things on campus," such as providing alternatives to soda at university events. They're also a source of revenue for the school.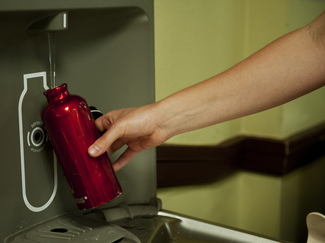 Daniel Brenner | AnnArbor.com
The debate over whether to ban bottled water is brewing at other campuses as well. Earlier this year the University of Vermont OK'd a ban on the sale of bottled water on campus. The ban will take effect staring January 2013. Seattle University and Portland University also have banned the sale of bottled water on campus.
Berki says U-M is not "supportive of outright bans," but is instead trying to encourage students to choose tap water whenever possible.
"If we provide the infrastructure for refillable water bottles on campus, then people will be able to make choices more easily," said Berki.
Manish Parikh, U-M's student body president, says the student government is still "operating under the ban" but has not "fully confirmed" whether it will actively pursue a bottled water ban this year.
"We will be discussing the Environmental Issues Commission's agenda for the year with the current members and leadership in the coming weeks," he said.
Though Oliver is no longer leader of the commission, she said bottled water has become a big issue and she expects student government to continue its efforts eliminating bottled water this year.
Correction: The article has been amended to note that the gooseneck attachments for water fountains cost between $200 and $300 and not $30 as originally reported.