Posted on
Mon, Oct 8, 2012 : 2:59 p.m.
Brick house on Division Street demolished as U-M moves forward with ISR building expansion
By Ryan J. Stanton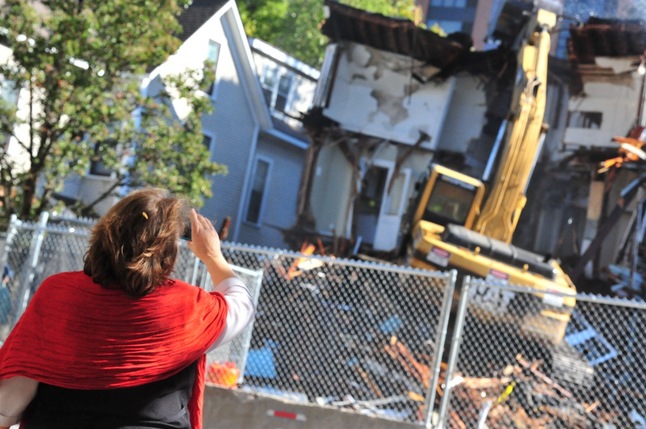 Ryan J. Stanton | AnnArbor.com
Mary Ellen Paulson
was among a handful of onlookers who used their cellphone cameras on Monday to capture the moment as a house at 417 S. Division St. was demolished.
The brick house — just south of downtown Ann Arbor — stood in the way of the University of Michigan's $29 million expansion of the Institute for Social Research building.
"It's kind of cool to watch," Paulson said as the house crumbled to the ground. She works in the ISR building as facilities and special projects coordinator and is excited about the expansion.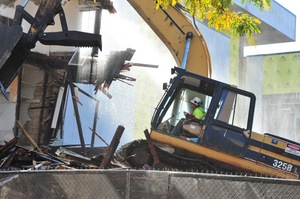 Ryan J. Stanton | AnnArbor.com
"I don't think it's a sad day for this house," she added. "You could see in the inside of it as they were taking it down. It was not well kept inside."
U-M's Board of Regents approved the $698,364 purchase of the rental house, which dates back to the 1890s and sits on a 0.09-acre parcel just north of the ISR building, in July 2011.
Tenants were supposed to have moved out last summer.
With no one stepping forward to purchase and relocate the house, U-M officials decided to go forward with its demolition as planned as part of the ISR building expansion.
While there appeared to be no one mourning the loss of the house on Monday, there's sure to be a fight to save another house that stands immediately south of the ISR building.
The 3,210-square-foot wooden house at 439 S. Division St. is where famous playwright Arthur Miller first lived when he attended the University of Michigan in the 1930s.
Miller, a Pulitzer Prize-winning playwright, penned more than two dozen plays during his career, including "Death of a Salesman." He married Marilyn Monroe in 1956.
Miller died in February 2005 at the age of 89. The 280-seat Arthur Miller Theatre on U-M's North Campus remains named in his honor.
Jim Kosteva, U-M's director of community relations, said last month the Arthur Miller house — which some residents have expressed an interest in saving — likely will be offered up for public bidding, with the stipulation that it must be moved to a new site, following completion of the ISR expansion.
Ryan J. Stanton | AnnArbor.com
He said the university's common practice is to go through an open bid process and publish a notice to let people know that the home is available to be purchased and moved.
If it's determined there no longer is an institutional or mission-related use for the home, and no one buys it, the house could be demolished. But as of now, no decisions have been made, Kosteva said.
"The university has no intention of demolishing the house and has made no decision on its future use or potential offer for sale," he said. "Any decisions are many months away."
The Arthur Miller house is being used as a construction management office during the course of the ISR expansion project, which is expected to last through January 2014.
U-M began work last month on the 56,700-square-foot addition, which expands the ISR building's footprint closer to Division Street, replacing a pocket park on the northwest corner of the site. The addition doesn't expand the building's footprint south to where the Arthur Miller house stands.
Ryan J. Stanton covers government and politics for AnnArbor.com. Reach him at ryanstanton@annarbor.com or 734-623-2529. You also can follow him on Twitter or subscribe to AnnArbor.com's email newsletters.