Campaign to discourage downtown Ann Arbor visitors from giving money to panhandlers to kick off in June
Posted on Thu, Apr 21, 2011 : 5:58 a.m.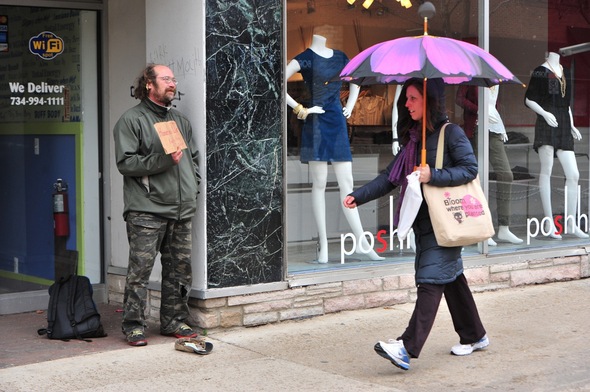 Ryan J. Stanton | AnnArbor.com
As general manager of the Espresso Royale coffee shop on South State Street, Peter Ludt has a keen perspective on downtown Ann Arbor and its panhandling culture.
There's no doubt that downtown has a panhandling problem, Ludt says, and many people seem to think it's slowly getting worse.
Ludt addressed the Ann Arbor City Council Tuesday night, offering what he and others who recently served on the Mayor's Street Outreach Task Force hope are solutions.
The task force is recommending the launch of an awareness campaign called "Have a Heart, Give Smart," an effort to address what it found are often the root causes of panhandling and homelessness: substance abuse and mental illness.
Expected to launch in mid-June, the campaign will encourage people to stop giving money to individuals on the street, potentially feeding drug and alcohol addictions, and to instead make donations to local human service agencies that provide help for those in need.
"We established from Day 1 that the act of panhandling is legal and supported under the First Amendment of the Constitution, and we are by no means looking to rid this city of it," stressed Ludt, also a board member of the State Street Area Association.
"What we were trying to accomplish is an attempt to better meet the needs of those who actually panhandle and the community members who feel uncomfortable and unsafe walking our streets," he said. "We as a city need to provide a safe and supportive atmosphere, not only to the residents and the visitors, but to the panhandlers who call Ann Arbor home."
The City Council voted unanimously Tuesday night on changes to the city's solicitation ordinance to prohibit panhandling in more areas of the city, including in front of the downtown library and within 12 feet of a public alley. The changes were sponsored by Council Member Sabra Briere, D-1st Ward, who chaired the Street Outreach Task Force.
Briere said everyone in Ann Arbor knows the value of giving, and the goal is to increase that, which she acknowledged may not be easy.
The task force is requesting the city's Downtown Marketing Task Force undertake an expanded role that includes working with residents, merchants, service providers and the city to provide a safe and clean downtown. It believes the outreach campaign planned and ready to implement complements the Downtown Marketing Task Force's mission.
Ryan J. Stanton | AnnArbor.com
"The main message of the task force is clear: Education," Ludt said. "Education through understanding the various services that the city provides to the homeless, those who are suffering from drug and alcohol abuse, and those who are living with mental illness."
Ludt said he personally wasn't aware of the many safety net services provided by organizations like Dawn Farm, the Delonis Center, Home of New Vision, and the Engagement Center until he became a part of the Street Outreach Task Force last fall.
"I'm sure there are others in this city that are also not aware of these services," he said. "That is the sole purpose of the 'Have a Heart, Give Smart' campaign, to provide an alternative to giving money on the street. Especially in these times of heavy budget cuts — not only from the state level, but from the county level and obviously the city level as well — these social services need our support to continue helping those in need."
The task force announced over a month ago it would be setting up a website called a2cares.org to serve as a portal to local nonprofit human service agencies. But it doesn't appear the site has launched yet.
The task force also plans to distribute small cards that provide information on free services available to those in need, including food, shelter and sobriety help. The cards will stress that panhandling is typically a symptom of a greater need. Other promotional materials, such as bumper stickers and posters, will be printed and distributed with financial support from the Downtown Development Authority and downtown merchant associations.
The Street Outreach Task Force also is recommending the police chief and city administrator refocus police attention in the downtown area, with targeted foot patrols during busy hours. But task force members acknowledge the city's financial limitations.
"With these budget cuts, we also understand we are not going to get our beat cops back, which is what so many people want," Ludt said.
After six months of work, the task force recently presented a 42-page report to the City Council on the subject of panhandling.
Ray Detter, another task force member and chairman of the Downtown Area Citizens Advisory Council, addressed the City Council Tuesday night on what the task force discovered through its research, which included interviews with panhandlers and service providers.
"Panhandlers generally are not homeless, we found," Detter told council members. "Almost universally, they are not homeless."
Detter said people who regularly spend time downtown became aware last summer that the panhandling situation in Ann Arbor was worsening. He said people have reported being accosted by aggressive panhandlers and being scared for their personal safety.
In addition to the changes made this week, the city's solicitation ordinance will continue to ban panhandling on public buses, inside or near parking structures, from a person in a vehicle, from customers in outdoor seating areas, within 12 feet of a bank or ATM, or within 12 feet of Nickels Arcade, the Galleria and the Pratt Building on Main Street.
The ordinance also will continue to prohibit aggressive panhandling, which is described as moving within 2 feet of a person solicited; following and continuing to solicit a person who walks away; knowingly making a false or misleading representation when soliciting; soliciting in a manner that is intimidating or threatening; or obstructing the free passage of traffic.