Posted on
Mon, Nov 19, 2012 : 5:58 a.m.
New pedestrian crossing nears completion on busy portion of Carpenter Road
By Amy Biolchini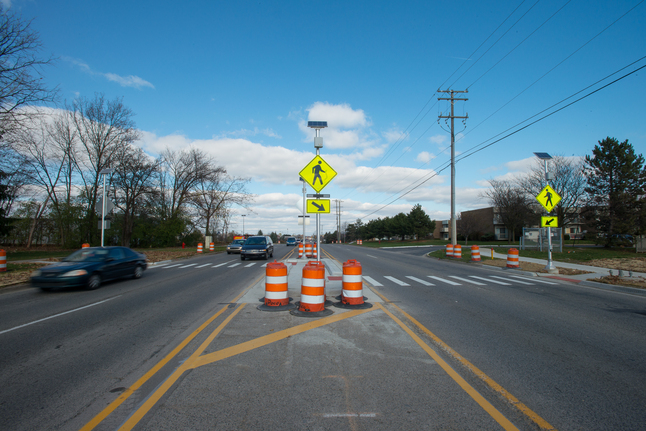 Courtney Sacco | AnnArbor.com
The construction of a new pedestrian mid-block crossing on a busy, five-lane portion of
Carpenter Road
in
Pittsfield Township
is nearing completion.
At the request of Pittsfield Township's Road Committee, the Washtenaw County Road Commission has built a 44-foot-long pedestrian island that takes up the entire middle lane of Carpenter Road about a quarter mile south of Packard Road.
It's the first of three mid-block pedestrian crossings planned for Carpenter Road in Pittsfield Township as a part of an effort to improve pedestrian safety in the high-traffic corridor.
Bus stops, big box stores, a senior center and a manufactured home park in the area often draw people from one side of the road to the other, said Brent Schlack, senior project manager for traffic and safety for the Washtenaw County Road Commission.
"Every time I've been out there I've seen a pedestrian crossing. Before, they were just seeking refuge on the center lane," Schlack said. "I hope that (the new crossing) does encourage more people to utilize the refuge island. You get safety in numbers."
Mandy Grewal, Pittsfield Township supervisor, said she brought the safety issue before the township's Road Committee after a pedestrian fatality and a near-miss occurred in 2010 on Carpenter Road just south of Washtenaw Avenue.
Modeling the Carpenter Road improvements off of several effective crossings at Oak Valley Drive and some in the lower Textile Road greenway, Grewal said the new mid-block crossing would not impede traffic or compromise pedestrian safety.
The project cost about $100,000 and is about 90 percent completed, and is awaiting the delivery of steel beams to install overhead lights at the crosswalk, Schlack said. Pittsfield Township is paying for the project in its entirety with Community Development Block Grant money.
"We're very aggressive in making sure these quality-of-life initiatives are funded by grants and not general fund dollars," Grewal said.
To increase visibility for pedestrians making their way across Carpenter Road, flashing beacons and overhead lighted signs will be installed as a part of the project in the coming weeks.
One of the perks of the project will be a button pedestrians can push before they cross the street that triggers a flashing warning sign to alert drivers.
"The mid-block crossing typically increases the safety for pedestrians," Schlack said. "The township's road committee had a high priority to improve the safety on that portion of the road."
The speed limit on Carpenter Road is 45 mph.
"I look at it as a good way to put something in place and get people in the corridor accustomed to having crosswalks to encourage people to slow down," Grewal said.
Unlike the city of Ann Arbor, Pittsfield Township does not have an ordinance that requires drivers to stop for people in crosswalks. Instead, drivers in the township are asked to comply with the state mandate that gives pedestrians the right-of-way.
"I think we have to educate our motorists and our pedestrians to watch out for one another," Grewal said. "It's mutual: We need to increase awareness that roadways are used by multiple modes of transit."
Debbie Adams, executive director of the American House, a senior living community at 3470 Carpenter Road near the newly constructed crosswalk, said the addition was a welcome one.
"A lot of pedestrians and our residents use the bus," Adams said. "They jet across the street quickly."
Many of the community's residents cross the road to get to the Target, and a lot of them travel by motorized scooter, Adams said. She noted that seniors living at American House haven't been involved in any accidents crossing Carpenter Road yet, but the crosswalk is a needed safety improvement.
"I absolutely, definitely think it's a good thing," Adams said.
North of the Packard Road intersection and south of the Washtenaw Avenue crossing, 84-year-old Harry Westhill of Ann Arbor was killed when he was hit by a car while walking across Carpenter Road in November 2010. About a month before that, a 52-year-old Pittsfield Township man being pushed in a wheelchair by his caregiver was seriously injured after being hit by a car while crossing Carpenter Road.
At the time, the Road Commission said it would install mid-block crossings similar to the one that was just constructed on Carpenter by 2012.
The Road Commission decided to wait another two years to install the two crosswalks, Schlack said, using the reasoning that it would just have to tear out its new construction for a $1.75 million scheduled road reconstruction project in 2014. That portion of roadway is about 40 years old.
"It did not make sense to put them in now," Schlack said.
"These are the constraints you come up with when you work with different funding sources," Grewal said, noting she wants to be responsible with taxpayer dollars. "We don't want to put something in place, and then strip it out in a couple years."
The intersection of Carpenter and Packard is one that a 2010 Wayne State University study concluded had some of the highest incidents of crashes in the county, Schlack said.
A separate $60,000 Road Commission project is in the works for 2013 that will add a small concrete median about 100 feet long between the lanes of traffic on Carpenter Road at the intersection to prevent cars from making left turns out of businesses close to the intersection -- a movement that the road commission believes is responsible for many of the accidents in the area.
The median at the intersection is not intended to serve as a refuge for pedestrians, Schlack said.

View Washtenaw County Road Commission work in a larger map
Amy Biolchini covers Washtenaw County, health and environmental issues for AnnArbor.com. Reach her at (734) 623-2552, amybiolchini@annarbor.com or on Twitter.