Posted on
Tue, May 4, 2010 : 5:43 a.m.
Ceremony kicks off building demolition for Ypsilanti's Water Street Redevelopment Project
By Erica Hobbs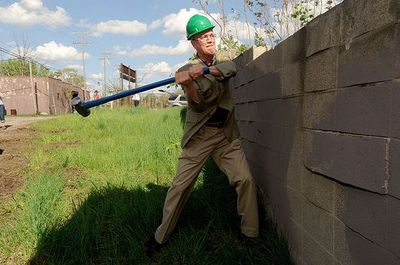 Angela J. Cesere | AnnArbor.com
About 40 people came out to Ypsilanti's Water Street Monday afternoon for a short ceremony to say farewell to the area's stretch of dilapidated buildings.
As part of its Water Street Redevelopment Project, the city received $850,000 in grant money to demolish the buildings in the hopes of making the land more appealing to developers.
"The plan was supposed to spur development downtown, which has sprung up development on its own," Mayor Paul Schreiber said. "We hope (development) will move its way east to Water Street. This demolition is the next step."
Schreiber and Project Manager John D'Addona briefly spoke to the crowd at the parking lot on the corner of Park Street and Michigan Avenue before moving to one of the old factories nearby. Starting with Schreiber, participants took turns knocking down a concrete wall with a sledgehammer to start the demolition.
D'Addona said the demolition will start soon, and the buildings should be gone by the end of July. He said Water Street's location near both the downtown and river are some of its best features, which he hopes will be more visible after the cleanup.
"I think the developers will start seeing those attributes," he said. "This is a great project. There are very few communities that have this kind of property in the core of downtown that they can really start over on."
The city assembled the 38-acre property about seven years ago with a plan to create a mixed-use residential project. But it hasn't had much luck in finding developers for the property.
Council recently rejected a proposal to build a Burger King on the property, saying a fast food restaurant didn't fulfill the vision they had for the area.
Funding for the demolition came from three Environmental Protection Agency Brownfield Cleanup grants totaling $600,000. Another $250,000 came from the Washtenaw County Neighborhood Stabilization Program.
While many in the crowd, largely made up of city officials, were happy with the project, some locals who came out were upset with the ceremony.
Kurt Anschuetz and his mother, Janice Anschuetz, live nearby and said they were disappointed.
"It's been a horrible project from the start," Kurt Anschuetz said. "You don't celebrate a grant used to demolish businesses that shouldn't have been closed in the first place."
Erica Hobbs is a reporter for AnnArbor.com. Reach her at 734-623-2537 or via e-mail at ericahobbs@annarbor.com.