Posted on
Wed, Apr 21, 2010 : noon
Ypsilanti City Council rejects Burger King proposal
By Tom Perkins
The first development in the Ypsilanti Water Street Project will not be a Burger King.
The City Council unanimously rejected a proposal from Indiana-based Bravokilo, which owns the Burger King on Michigan Avenue near Ecorse Road, to build a new restaurant on one acre of the 38-acre site.
The parcel at Michigan Avenue and Park Street would have been purchased for $400,000 and generated an estimated $29,500 in tax revenue annually.
Revenue from the property wouldn't be available for bond repayment because the DDA and Tax Increment Financing Plan require another $2 million in taxable value in its district before tax capture begins. The city faces $31 million in debt and $476,000 will be drawn from its coffers on May 1 to begin paying the debt service.
Payments will continue through 2031.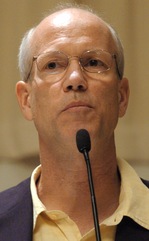 Throughout the last three meetings at which the proposal has been discussed, several council members voiced concern that the proposal was too far off from their original vision of Water Street. They say it would not yield the type of tax dollars they are seeking, which could be generated from multi-story, mixed-use buildings.
Mayor Paul Schreiber said he didn't believe it set the right tone and was a poor overall first project.
"Originally, when Water Street was envisioned, it would be helping downtown," he said. "Now it's the other way around - downtown is helping Water Street."
Schreiber said the city needs to adopt zoning changes that will provide developers and city employees with a clearer picture of what the city envisions on the site. The Planning Commission made zoning recommendations last year, but the council never adopted them.
"The majority of council has said 'We would like to entertain all offers,'" he said. "They entertained this offer and denied it unanimously, so I think we should give developers some direction, and if they have a different idea then they can approach us and we can discuss it."