Posted on
Sat, Dec 31, 2011 : 12:12 p.m.
A look back at the top Chelsea stories from 2011
By Lisa Allmendinger
With the ongoing expansion of Chelsea Community Hospital, Chelsea saw its largest investment in the city in many years in 2011, while more than a dozen new businesses opened and a record number of candidates ran for City Council.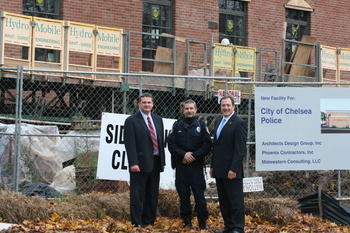 Lisa Allmendinger | AnnArbor.com
Although there was citizen opposition to the original project, changes were made and a new
police station
is under construction and the Chelsea Area Fire Authority building got a
facelift
.
The City Council voted to ban medical marijuana dispensaries within the city limits and amended its zoning ordinance to allow another longtime business to grow.
Residents who had complained about see-through garbage bags were rewarded with thicker, opaque ones.
And along with the highs, there were some lows. Chelsea was on the losing end of a $3 million judgment brought against the city by a developer.
For the first time in many years, Chelsea experienced a few major crimes with an armed robbery at one business and a break-in at another.
But, there were also light-hearted and colorful moments such as the continuing debate over the merits of changing the zoning ordinance to allow backyard chickens on small lots.
Meanwhile, decorative sandhill cranes graced the streets downtown and a world record was achieved with teddy bears.
Lisa Allmendinger is a regional reporter for AnnArbor.com. She can be reached at lisaallmendinger@annarbor.com. For more Chelsea stories, visit our Chelsea page.