Posted on
Mon, Feb 13, 2012 : 5:58 a.m.
Could proposed 5-cent fee on plastic and paper bags reduce waste?
By Lisa Allmendinger
A Chelsea official says he's taking another swing at reducing the amount of plastic and paper bags in the city by introducing a proposal that would tag a 5-cent fee for their use.
Chelsea Council Member and Chairman of the Western Washtenaw Recycling Authority (WWRA) Board Frank Hammer says he plans to introduce another discussion on the issue at a City Council meeting in the next few months. Hammer approached the issue in 2008, but it went nowhere with elected officials.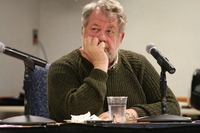 Lisa Allmendinger | AnnArbor.com
The purpose, he said, is to get people to use less plastic and paper bags and instead carry reusable ones, which are more environmentally friendly, reduce litter and the amount of trash that goes into the landfills.
"It would be the first step in banning (plastic and paper) bags of all kinds in the city," he said.
The preliminary plan includes a 5-cent charge for either type of bag used at the check-out line, and it would be collected by the city's merchants who hand them out. However, Hammer's proposal does not include a charge for the small plastic bags that people use to double wrap meat, fruit or vegetables.
Details about how this would be handled at the city's two farmers markets, for instance, would need to be worked out, he says.
The money would go to the city, Hammer says, and it would be used by WWRA to offset the costs that the recycling authority charges businesses to recycle their cardboard.
"WWRA charges business between $150 and $350 per year to recycle their cardboard and the businesses pay it because it saves them money in the long run," he said. "But small businesses are saying in this economy, it's tough to come up with this money."
WWRA then sells the cardboard and other materials.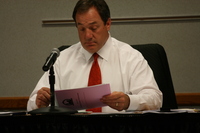 Lisa Allmendinger | AnnArbor.com
Mayor
Jason Lindauer
said the City Council is fortunate to have a longtime member "who is so mindful of the environment," and someone who "has been on task for such a long time."
Lindauer says he's in favor of having "a proactive dialogue about it, but I want to hear from the retail sector and the businesses with their thoughts as well."
Council Member Rod Anderson said that if retail stores thought there was a cost benefit to banning plastic bags, they could implement it on their own without government interference.
From his research into the topic, plastic bags have less impact on the environment than paper ones do, he said, and specially designed reusable plastic or cotton bags need to be reused a lot to "reach a break-even point."
Anderson says one British study concluded that the cotton bags in consideration needed to be used more than 109 times to be superior to throwaway plastic bags.
"Unfortunately," he said, "The study found the average number of uses to be only 51 times."
In addition, Anderson said, "To be sanitary, the bags must be washed between uses. Adding the cost and inconvenience of the washing processes wipes out much of the advantage of reused bags, because washing lessens the number of times they can be reused."
Failure to wash the bags, he says, can lead to exposure to dangerous bacteria such as coliform and E. Coli.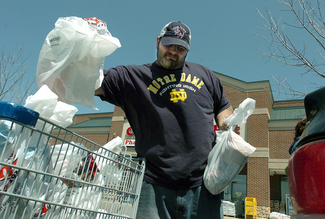 Ann Arbor News file photo
Besides, he says, plastic bags have multiple uses.
"I'm extremely careful to reuse plastic bags," says Council Member Ann Feeney, who also brings her bags back to the grocery store for recycling.
She says, "A nickel is a lot of money to some people and we already have enough rules to live by."
"Government can't legislate bad behavior," she says, referring to people who aren't careful with the bags and litter the environment with them.
Both she and Anderson agree that there are a lot of ramifications to an ordinance of this nature.
"We're not in the grocery business," Anderson said. "It's up to them to decide if there are benefits and what the costs are."
Chelsea would not be alone in its quest to reduce the use of these bags. The Ann Arbor City Council considered a plastic shopping bag ban for the city's largest retailers in 2009.
Hammer says some countries, as well as a number of cities, most recently Seattle, have outright bans on the use of plastic bags.
In 2008, about 380 billion plastic bags were used in the United States, according to Hammer's research - and 100 billion are plastic shopping bags. It takes about 12 million barrels of oil each year to make these bags, he said.
Getting rid of them takes resources, too. In 2008, plastic bags cost the Western Washtenaw Recycling Authority about $9,000, Hammer said.
"Although the volume of landfill space taken up by these plastic bags is minimal," he wrote in a report to the City Council in 2008, "The resources they use and the blight on the landscape is significant."
Anderson, Feeney and Lindauer said the financial implications for retail stores in the city are an unknown, and this is just one aspect of this idea that needs further exploration.
Although council members say they are willing to have the discussion, they say Hammer must be able to convince them of the overriding merits of his proposal. They expressed apprehension about adding another fee on consumers as well as additional local government regulations on consumers and retailers.
Lisa Allmendinger is a regional reporter for AnnArbor.com. She can be reached at lisaallmendinger@annarbor.com. For more Chelsea stories, visit our Chelsea page.