Posted on
Fri, May 4, 2012 : 9:45 a.m.
Roundup: Chelsea, Depot Town, Dexter and Saline outdoor farmers markets open Saturday
By Lisa Allmendinger
Lisa Allmendinger | AnnArbor.com
Saturday marks the start of the outdoor farmers market season in
Chelsea
, Ypsilanti's
Depot Town
,
Dexter
and
Saline
.
In Chelsea, the Saturday farmers market can be found in the library parking lot on Park Street, and it runs from 8 a.m. to noon. Among the offerings are vegetables, fruits, breads and baked goods, hummus, coffee, eggs, meat, cheese, plants, herbs, honey, maple syrup and artisan crafts and gifts.
New this year are vendors who will sell spaghetti and barbecue sauces, cookies, nuts, garden raised bedding plants and baguettes.
Check out the market's website by clicking here. In addition, people can sign up for a weekly email of which vendors will be at the market each Saturday.
Wednesday, the Chelsea Community Hospital Bushel Basket Farmers Market opens at 2:30 p.m. at the Chelsea Community Fair Grounds, at the corner of Old US-12 and Old Manchester Road. The market is open from 2:30 to 6 p.m. through October.
In Dexter, the outdoor market will kick off its season Saturday with a quartet from the Dexter Community Orchestra at 3233 Alpine St., near the corner of Main Street and Alpine. The quartet will perform from 11 a.m. to noon.
Lisa Allmendinger | AnnArbor.com
The market is open from 8 a.m. to 1 p.m. and visitors can find locally grown products, flowers and plants, baked goods, arts and crafts.
The village also has a Tuesday farmers market that will open on May 8 from 3 to 7 p.m.
Then, on May 12, children can participate in the market's free annual Mother's Day craft project during which kids 12 years and younger can paint a small flower pot and receive a flower to give as a Mother's Day gift.
In Saline, the indoor winter market has closed and the outdoor Saturday market opens at 8 a.m. and closes at noon. It is located a half-block south of Michigan Avenue on South Ann Arbor Street. For additional information click here.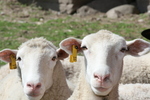 Lisa Allmendinger | AnnArbor.com
The Rentschler Farm will open for the season on Saturdays from 11 a.m. to 3 p.m. at 1265 E. Michigan Ave. Visitors can see the farm house and get close to farm animals and implements and learn about Saline history.
The Downtown Ypsilanti Farmers Market opened May 1 and is open weekly on Tuesdays from 2 to 6 p.m. The market is located on Ferris Street between South Adams and South Hamilton. The Ypsilanti Depot Town Farmers Market opens Saturday and runs from 8 a.m. to 1 p.m. at the Freighthouse Market Plaza between Cross Street and Forest.
The Manchester Farmers Market opens on Adrian Street at Main Street downtown on Thursdays, beginning May 17 from 3:30-6:30 p.m.
The Ann Arbor Farmers Market reopened its Wednesday market this week. The market now runs from 7 a.m. to 3 p.m. Wednesdays and Saturdays and from 4:30 to 8:30 p.m. Wednesdays.
Ann Arbor's Westside Farmers Market opens in June.
Here's a link to all the Michigan farmers markets.
For more Chelsea stories, visit our Chelsea page. For more Dexter stories, visit our Dexter page. For more Saline stories, visit our Saline page.