Posted on
Sat, Feb 23, 2013 : 5:58 a.m.
Chelsea man charged with sexually assaulting woman headed to trial
By John Counts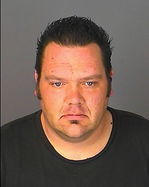 Courtesy of WCSO
A 37-year-old Chelsea man charged with two counts of third-degree criminal sexual misconduct will proceed to trial on April 8 after attorneys were unable to reach a plea agreement.
Michael Radant appeared in the Washtenaw County Trial Court Thursday for a final pretrial hearing at which attorneys told Judge David Swartz there had been no progress toward resolving the case before it went to trial.
Radant, a co-owner of a downtown Chelsea eatery, is accused of sexually forcing himself on a 37-year-old woman at his home in the 700 block of North Main Street in Chelsea last November.
The woman, who is a long-time acquaintance of Radant's, said she had been staying with him in his basement apartment, according to a transcript of a preliminary examination held in November.
"Was it ever a romantic relationship?" Assistant Washtenaw County Prosecutor Blake Hatlem asked the woman at the hearing.
"No," replied the woman, who is not being identified.
On the night of Thursday, Nov. 15, the woman testified that she and Radant drank alcohol and watched television together before she received a telephone call and went into her bedroom to talk. Radant eventually followed her into the bedroom, where the alleged assault occurred on the woman's bed, court records indicate.
The woman reported the incident to Chelsea police early the morning after that, records indicate.
Radant is the co-owner of Ellie's Chelsea, a burger and sandwich shop located at 312 N. Main St. in the Clocktower Commons in Chelsea.
He remains in the Washtenaw County Jail on $10,000 cash or surety bond.
John Counts covers cops and courts for AnnArbor.com. He can be reached at johncounts@annarbor.com or you can follow him on Twitter.