Posted on
Wed, Feb 8, 2012 : 3:47 p.m.
Several cities and villages to partner with Road Commission for cost savings
By Lisa Allmendinger
As cities and villages in Washtenaw County face federal mandates to replace road signs in return for Federal Highway Administration funding, they are looking for ways to fulfill the requirements that don't break the bank.
The federal government wants cities and villages to meet higher visibility standards for all street signs. Local governments have until 2018 to finish the job.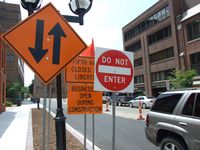 Ben Freed for AnnArbor.com
Although the program is planned in stages, it will mean a costly replacement of thousands of signs for towns across the county.
Chelsea Utilities Director Brad Roberts took the lead in western Washtenaw and approached the Washtenaw County Road Commission to discuss a collaborative effort that will save money for Chelsea and neighboring municipalities alike.
He also called the leaders of public works departments in Saline, Manchester, Dexter and Pittsfield Township.
"Brad took this project on himself," said Chelsea City Manager John Hanifan during a recent visioning session that included discussions of other city employee efforts to save costs.
What resulted from Roberts' initiative was a meeting among officials from the Road Commission and the five municipalities that should save money for all of them. How much will be saved depends on the quantities that are ordered and what kind of discounts the Road Commission can get by buying the signs in bulk.
"It was an informational meeting, sharing with them how we did our signs and showing them opportunities for collaboration," Sheryl Siddall, director of engineering, told the Washtenaw County Board of Road Commissioners Tuesday afternoon.
As a road agency, the Road Commission can buy road signs in larger quantities and have them delivered to one location, while each municipality would only order a few at a time, which would be delivered to different locations.
Jeff Fordice, superintendent of public works in Saline, said the city typically orders 20 to 30 signs per year. But with this new mandate, that number will increase to about 300 new signs a year.
He's estimating that through a collaborative agreement, the costs for the signs will be about 10-20 percent lower than the city would pay buying them on its own.
Roberts said that Chelsea is looking at purchasing about 175 signs, pending City Council approval.
Collaborative efforts like these are a part of Roy Townsend's vision for the Road Commission. The new managing director plans to provide ideas to townships, cities and villages for joint projects that can improve roads throughout the region and save some money for all the entities involved.
For the last several years, Saline has worked with the Road Commission on an annual pavement-marking program.
"The Road Commission measures in miles; we measure in feet," he said of bids for remarking pavement, so by partnering for the work through the Road Commission, it saves Saline money.
"We do get better bids," he said, and it saves on Saline city staff time to prepare the bids as well.
Fordice said that he's also looking to the Road Commission to partner on a chip sealing bid for a few roads in the city that are in need of these types of repairs.
Lisa Allmendinger is a regional reporter for AnnArbor.com. She can be reached at lisaallmendinger@annarbor.com.