Posted on
Tue, Aug 27, 2013 : 12:07 p.m.
Jiffy Mix company requesting initial approval for $450K Brownfield proposal
By Ben Freed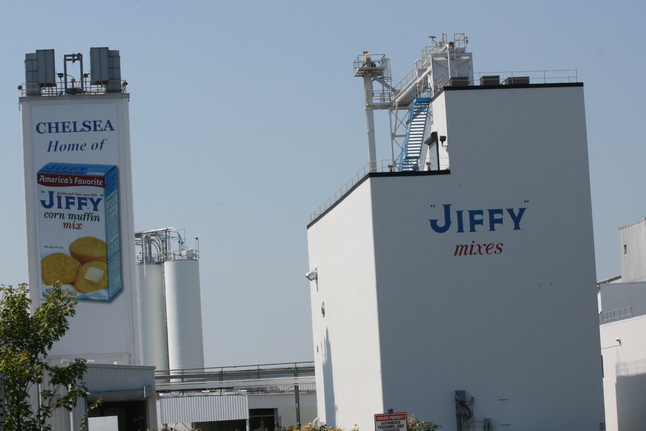 Lisa Allmendinger | AnnArbor.com file photo
Chelsea City Council
will see the first outlines of a $4.85 million development proposal from
Chelsea Milling Company
, more commonly known as
Jiffy Mix
, at its meeting Tuesday night.
Jiffy Mix is asking the city for preliminary approval of its plans in order begin the process of creating an official Brownfield plan for a former auto parts manufacturing and book printing facility at 140 Buchanan St.
According to its application to the city council, Jiffy plans to redevelop the site for temperature-controlled food storage and shipping as it continues to expand operations at Chelsea Milling Company. The company previously announced plans for $35 million in improvements that will include nine new grain silos.
If the council approves the initial plan for the building, Jiffy Mix will work with the Washtenaw County Brownfield Redevelopment Authority to develop a final plan that would be brought back to Chelsea City Council and eventually to the Washtenaw County Board of Commissioners for approval.
Washtneaw County economic development specialist Nathan Voght said that Brownfield plans are designed to help companies and individuals redevelop properties that otherwise would be unusable due to environmental contaminations or other concerns.
"They are going to be putting about $4.4 million into the redevelopment, and then a bunch of the activities that go into redeveloping the property can be eligible as Brownfield under the act," he said.
"That can include contamination cleanup, asbestos, demolition and other activities."
According to the preliminary proposal, Jiffy Mix will be requesting approximately $450,000 in Brownfield funding for the project. That funding would be taken out of the increase in taxes that will result from the higher property value once the redevelopment is completed.
"So it's not taking any existing tax base money," Voght said.
"It's taking future tax increases for a certain period of time. Then when it's done and the Brownfield expires everyone realizes the benefit of the increased value."
Jiffy said in its proposal that it plans to have a substantial amount of construction work done on the site by August 2014.
According to city records, an LLC registered to Chelsea Milling Company CEO Howdy Holmes bought the 4.4-acre property adjacent to the Jiffy Mix factories in December 2012 from the city of Chelsea. The building, which is adjacent to Jiffy Mix's factories, was last assessed by the state at $286,620 with a land value of $187,600.
Ben Freed covers business for AnnArbor.com. You can sign up here to receive Business Review updates every week. Get in touch with Ben at 734-623-2528 or email him at benfreed@annarbor.com. Follow him on twitter @BFreedinA2