Posted on
Tue, Oct 18, 2011 : 4:23 p.m.
Paraplegic Ann Arbor man rescued from burning vehicle on I-94 in critical condition
By Kyle Feldscher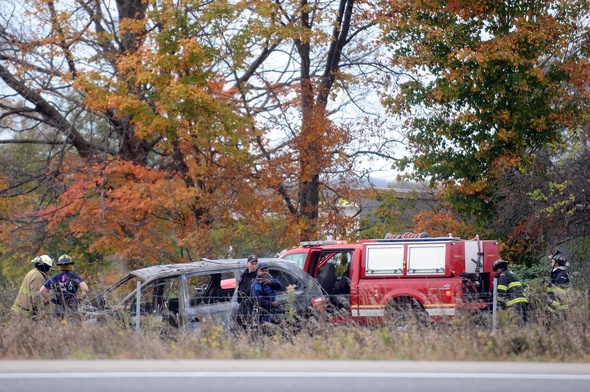 Melanie Maxwell | AnnArbor.com
Previous coverage: Passers-by pull man from burning vehicle on I-94 near Chelsea

A man pulled from his burning vehicle by two motorists on Interstate 94 near Chelsea is listed in critical condition this afternoon, police said.
The driver of the 2006 Dodge Caravan was a 58-year-old Ann Arbor man, who is reportedly a paraplegic, according to a Michigan State Police press release. The man was eastbound on I-94 shortly before noon when his vehicle crossed into the center median, traveled back across the expressway and crashed in a field on the right side of the freeway, police said.
Two motorists who were also eastbound on I-94 stopped and pulled the man from the vehicle. Carlos Quintanilla of Flint, one of the men who pulled him from the vehicle, said he was unresponsive when they dragged him from the Caravan, but he was talking to state troopers and asking them to call his wife before he was taken by ambulance to the hospital.
Police are not identifying the Ann Arbor man because his family has not yet been notified.
Many people stopped and tried to help extinguish the flames by pouring bottles of water on the man and using a fire extinguisher, according to witnesses and police.
Police said the Caravan was on fire before it came to a stop and the fire had started inside the van. Sgt. Mark Thompson, of the Michigan State Police, said investigators were still working to figure out how the blaze started.
A Survival Flight helicopter had originally been called to the scene, but the man was transported to University of Michigan Hospital by ground ambulance with a police escort, according to witnesses.
Quintanilla said the man was completely engulfed by the blaze when he and the other man approached the vehicle. The two men used their jackets to open the door to the vehicle and pulled the man out by his arms. Most of the Ann Arbor man's clothes had been burned away, witnesses told AnnArbor.com.
Quintanilla is from Flint and was traveling home after a job interview in Jackson. The other man who pulled the Ann Arbor man from the Caravan has not been identified.
Kyle Feldscher covers police and courts for AnnArbor.com. He can be reached at kylefeldscher@annarbor.com or you can follow him on Twitter.