Posted on
Tue, Oct 18, 2011 : 12:11 p.m.
Passers-by pull man from burning vehicle on I-94 near Chelsea
By Kyle Feldscher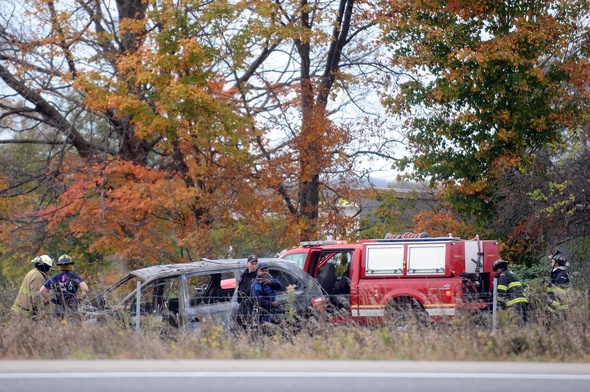 Melanie Maxwell | AnnArbor.com
Updated story: Paraplegic Ann Arbor man rescued from burning vehicle on I-94 in critical condition
A man was pulled from his burning vehicle by two strangers after a crash on Interstate 94 near Chelsea Tuesday and transported to the University of Michigan Hospital in Ann Arbor.
Carlos Quintanilla of Flint said he and another man pulled the victim out of the burning car. The two used their coats to smother flames engulfing the man.
"The gentleman in the vehicle was completely engulfed in flames," Quintanilla said. "I mean, completely engulfed in flames. (The other man) and I did the best we could to pull him out before he was burned any more, but there was not too much we could do at that point."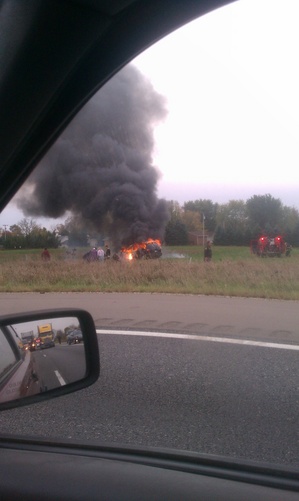 Photo courtesy of Lucas Kizer
Quintanilla, who was traveling back to Flint after a job interview, said he watched the eastbound vehicle cross into the center median, cross back into the eastbound lanes and crash into an open field. Quintanilla said the vehicle was already smoking when it originally went into the center median. When he and the other man approached the van, flames were shooting outside of the windows, he said.
Quintanilla said he and the other man — who left the area without being identified — pulled the man out of the van by his arms. They moved him away from the vehicle in case the van exploded, he said.
Dispatchers could confirm there was a fire on the freeway shortly after noon but no other details on how the fire began.
Quintanilla, a former Marine, was on the phone with his girlfriend when he saw the man drive off the road. He said he told her he had to go help out and would call her back.
"I knew I had to help out. I saw another car pull over and the other gentleman get out, so I got out as fast as I could," he said. "Once I seen the flames, I knew the guy was in trouble. It was nothing I thought about, it was just, 'I need to help this guy.'"
Quintanilla, who was interviewing at Elm's Plating Co. in Jackson, said the man was talking to state troopers before being transported by ambulance to the hospital. He said the man told state troopers to call his wife and gave them her phone number before he was transported to the hospital.
Other motorists who were driving by also stopped to try to help.
Several people brought fire extinguishers to the scene, and a woman ran from bystander to bystander collecting bottles of water that people dumped on the man to cool him. A woman who said she was a nurse from the University of Michigan and used to work in the burn unit was giving instructions and gave a state police officer a breathing apparatus to help the victim.
The man's clothes had been mostly burned off, aside from his belt, according to witnesses.
A Survival Flight helicopter was called off and the man was transported by ambulance to the hospital, according to reports.
The car fire occurred on I-94 between Dancer Road and Steinbach Road, according to Lucas Kizer, a witness who drove by just after noon on Tuesday. Kizer said the van was off I-94 in a nearby field and fire crews were just arriving at the scene at that time.
He said there were a number of people standing around the blaze who appeared to be uninjured. Only one vehicle involved in the accident, Kizer said.
Come back to AnnArbor.com for more details on this story as they become available.
Sports producer Rich Rezler was on scene and contributed to this story.
Kyle Feldscher covers cops and courts for AnnArbor.com. He can be reached at kylefeldscher@annarbor.com or you can follow him on Twitter.