Posted on
Thu, Jun 13, 2013 : 1:20 p.m.
City attorney reflects on decade working alongside Ann Arbor's longest-serving mayor
By Ryan J. Stanton
Ryan J. Stanton | AnnArbor.com
Before Mayor
John Hieftje
gave his
unofficial "state of the city" address
to the Rotary Club of Ann Arbor on Wednesday, City Attorney
Stephen Postema
shared a few words.
He talked about what it's been like working with the longest-serving mayor in the city's history. Hieftje's nearly 13 years now trumps former Mayor William E. Brown Jr.'s 12 years from 1945 to 1957.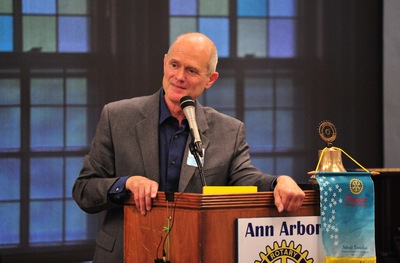 Ryan J. Stanton | AnnArbor.com
"While I have served over 30 council members in my decade as city attorney, I have only served one mayor," Postema said. "This stability, I believe, has contributed a great deal to the success of Ann Arbor over the last decade, including through one of the most difficult economic periods."
Hieftje began his first term as mayor in 2000 after serving as a 1st Ward representative on the City Council. He now lives in the 3rd Ward near Burns Park.
No matter where he has lived, Postema said, Hieftje has proven popular with Ann Arbor residents — re-elected six times by landslide margins.
"Mayor Hieftje has won his mayoral races by large margins in every ward of the city, in part because of the recognition of his dedication to service above self," Postema said.
Offering some insight into his working relationship with the mayor, Postema recalled talks they had two years ago about the now-closed Dream Nite Club, which he called a "violent night club."
A winning record
Ann Arbor Mayor John Hieftje has defeated every opponent to come his way since his first mayoral race in 2000.
November general 2012
John Hieftje — 84.11%
Albert Howard — 15.23%
November general 2010
John Hieftje — 81.99%
Steve Bean — 17.55%
August primary 2010
John Hieftje — 83.91%
Pat Lesko — 15.59%
November general 2008
John Hieftje — 84.94%
Eric Plourde — 14.52%
August primary 2008
John Hieftje — 68.60%
Tom Wall — 31.27%
November general 2006
John Hieftje — 78.88%
Tom Wall — 21.12%
August primary 2006
John Hieftje — 69.71%
Wendy Woods — 30.29%
November general 2004
John Hieftje — 68.65%
Jane Lumm — 31.17%
November general 2002
John Hieftje — 75.05%
Marcia Higgins — 24.83%
November general 2000
John Hieftje — 68.34%
Stephen Rapundalo — 27.94% Charles Goodman — 3.70%
"Many of you know that I was in a battle with the Dream Nite Club for a long period of time," said Postema, who fought in court to get the club shut down.
"That actually started way back in 2011 on Memorial Day weekend when there was a shooting outside the club, and there were many people outside," he said. "There was really a shootout in the streets of Ann Arbor and young people were injured."
Postema said he heard from police quickly after the shooting, and he also heard from the city administrator, but the first call he got was from the mayor.
"And his concern was not that this would tarnish the image of the town, it was not that it would affect nightlife downtown," he said. "The immediate concern of the mayor was really about that there were young people who came to Ann Arbor to enjoy a good time and they left shot and injured in our hospital, and that simply was unacceptable. His immediate concern was for those people.
"He didn't go on. He didn't tell me what to do," Postema added. "He just wanted it taken care of because that should not happen in the city. I'll always remember that."
He also talked about what it's like working on the third floor of city hall, where the mayor's office, city administrator's office and city attorney's office are located.
"There is no lack of transparency — we all have glass windows, so we can see everyone who's coming and going throughout city hall," Postema said.
"And it is true the mayor has an incredible sense of pulse of the city," he said. "I see the people who come to see him on his regular Friday morning time with the citizens of Ann Arbor. It's really quite moving the number of people who come through to see the mayor."
Before Hieftje was elected in 2000, Ann Arbor had a Republican mayor for several years, and the Democrats thought they'd take a shot at regaining the throne. Hieftje went up against the GOP's chosen candidate, Stephen Rapundalo, who was chairman of the Park Advisory Commission, and came out ahead with more than two-thirds of the vote.
"That was a pretty contested race," Hieftje said. "It was sort of the Democrats saying, 'You know, we can take over the mayor's job,' and it turned out to work."
Ryan J. Stanton covers government and politics for AnnArbor.com. Reach him at ryanstanton@annarbor.com or 734-623-2529. You also can follow him on Twitter or subscribe to AnnArbor.com's email newsletters.