Posted on
Sun, May 29, 2011 : 2:41 p.m.
Man in custody after shooting Sunday morning outside Dream Nite Club in downtown Ann Arbor
By Lee Higgins
An Ypsilanti man remains in custody this afternoon, suspected of shooting a man in the forearm this morning in a parking lot next to Dream Nite Club, where fights broke out after the club let out, Ann Arbor police said.
Police arrested the 20-year-old man after he fired at least two shots and left the parking lot on South Fourth Avenue about 2 a.m., Lt. Mark St. Amour said.
The victim, a 22-year-old Westland man, was taken by ambulance to University of Michigan Hospital with non-life-threatening injuries, St. Amour said. He also had been assaulted, St. Amour said.
"From all accounts of witnesses, he was trying to stop the fight and get everybody out of there," St. Amour said.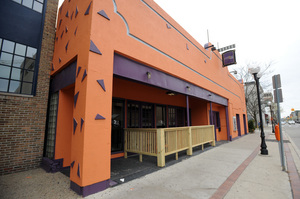 Melanie Maxwell | AnnArbor.com
Police also arrested a 23-year-old Westland man who fired at least two shots into the air, but released him as Washtenaw County prosecutors decide whether to file criminal charges. He had a permit for his handgun, St. Amour said. The man who remains in custody did not have a permit for his handgun, police said. St. Amour said two guns were seized.
Another man was injured during the fight and was treated at University of Michigan Hospital and released, St. Amour said.
According to St. Amour, the fighting started inside the club. It's unclear what prompted it.
A group of 10 people were together at the bar, when several of them got into a fight with several other people. The group left and headed toward their cars to leave, but were followed by a group of between 30 and 50 people, St. Amour said.
Words were exchanged and pockets of fighting broke out, police said. Police said the 20-year-old Ypsilanti man opened fire.
The 23-year-old Westland man, who was with the group trying to leave, fired shots into the air, apparently trying to get the other group to back away, St. Amour said.
It marks the second serious incident at the club this month. On May 1, a man cut two men in the face and a woman in the leg with a sharp object during a fight on the club's dance floor.
No arrests have been made in that case, police said today.
Attorney James Cmejrek, who represented Dream Nite Club in the past, could not be reached for comment today.
This spring, the club faced a non-renewal of its liquor license for unpaid back taxes and in March, the club planned to set up a payment schedule.
City Council member Stephen Rapundalo, who chairs the city's liquor license review committee, said in his opinion, the club has not been doing enough to prevent fighting and other problems there. He said he thinks the latest incident will provide enough just cause for the city attorney's office to go to the courts and demand some kind of action be taken against the business.
City Attorney Stephen Postema said he will be reviewing the police report on the latest case and exploring the city's options. He said the city has worked to shut down other clubs in the past, including Studio 4 and The Fifth Quarter, which closed in April.
"We will be moving forward against them," he said. "Any time there's a crime of this nature, we have a concern."
The man who is in custody is expected to be arraigned on criminal charges Monday.
Lee Higgins covers crime and courts for AnnArbor.com. He can be reached by phone at (734) 623-2527 and email at leehiggins@annarbor.com.