Posted on
Tue, May 4, 2010 : 6:01 a.m.
Council members proposing budget changes to save jobs of Ann Arbor police officers and firefighters
By Ryan J. Stanton
The jobs of dozens of employees in the Ann Arbor police and fire departments could be spared from cuts under late changes to the 2010-11 city budget.
City Council Member Margie Teall, D-4th Ward, announced at Monday night's meeting that she and other council members are in the process of drafting amendments to the budget proposed by City Administrator Roger Fraser.
"While we still have some work to do in refining the numbers between now and the next meeting on May 17, I want to let my City Council colleagues know that we will be submitting an amendment to the administrator's budget that will eliminate — or at least minimize — layoffs in the police and fire departments," Teall said.
"I want to keep our fire stations open and make sure that firefighters are prepared and ready to fight fires, and that response times are not compromised."
Ryan J. Stanton | AnnArbor.com
Fraser's budget had proposed eliminating 20 positions in the fire department and 20 positions in the police department to help close part of what he identified as a $5.8 million budget gap for the fiscal year beginning July 1.
Recent news that the Ann Arbor Downtown Development Authority likely will continue an annual $2 million transfer of downtown parking revenue to the city's general fund allowed some rethinking of those cuts.
The elimination of 20 firefighter jobs was projected to save $2 million, while the elimination of 20 jobs in the police department was to trim another $1.6 million. That means council members would need to make other budget changes — in addition to factoring in the $2 million from the DDA — to avoid cuts to public safety.
Dozens of firefighters protested cuts to public safety Monday outside of the downtown fire station immediately prior to the council meeting.
Teall's comments came just moments before a public hearing on the 2010-11 budget during which nearly two dozen community members spoke. Many of them were concerned about cuts to public safety, though reductions to human services funding and a proposal to generate revenue by allowing parking in Frisinger and Allmendinger parks on football Saturdays also drew ire from some residents.
Fraser's budget proposed eliminating $100,000 in affordable housing funding next year and another $260,000 in funding doled out to human services agencies. He and his staff also proposed generating $34,000 by allowing parking at Frisinger and Allmendinger parks during University of Michigan football games starting this fall.
Those proposals have been unpopular with residents. Teall said Monday night she and Mayor John Hieftje plan to bring forward an amendment on May 17 to maintain funding for human services at 2010 budget levels.
Teall said she and Council Member Marcia Higgins, D-4th Ward, also plan to bring forward an amendment that will eliminate the need for parking in Allmendinger and Frisinger parks.
"Of course, there is still a lot of work to do," Teall said. "Compromises and some sacrifices will be necessary, but I am hopeful that council members will support these amendments."
Several council members offered praises for the announcements from Teall, saying they would support the amendments.
Hieftje said he hopes to "greatly minimize" layoffs in police and fire. He said he thinks the result will be a "budget that I think will be quite remarkable in the state of Michigan when we look at so many cities with tax increases on the ballot and so many cities that are facing very deep cuts and layoffs."
Despite vows by council members to protect police and fire services, many members of the public voiced concerns Monday.
Doug Warsinski, a fire inspector for the city, spoke on behalf of his condo association at Walden Hills. He said prior to 2007, crime was virtually unheard of in his neighborhood.
"Then suddenly we were faced with a series of auto thefts, auto break-ins over a span of a few summer months, and there were also isolated incidents of burglaries, attempted sexual assault and robbery," he said. "While the community has returned to a more normal quiet state, we as a board of directors felt it very prudent to take very costly steps to improve our own security. As city residents paying a heavy tax burden, we feel entitled to expect a certain level of service from our police department. Adequate funding of the police department is necessary to meet these expectations."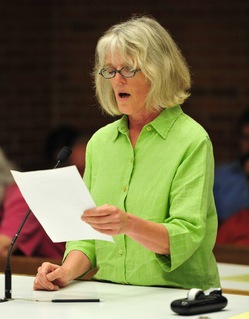 Ryan J. Stanton | AnnArbor.com
Warsinski said the same goes for the fire department.
John Maguire, an Ann Arbor firefighter who is facing being laid off, said police and fire services are core functions that should be funded before items like parks, public art or a new transit center.
"What does it say about us as a city when we don't put our own personal safety as a top priority?" he said.
Ann Arbor Police Officer Jamie Adkins spoke on behalf of the police officers union. She called out Hieftje for recently stating publicly that Ann Arbor has never laid off a police officer.
"While that may be true, what has not been discussed is the staggering reduction in personnel during the past nine years and ultimately a reduction in services," she said. "In 2001, our department employed 191 sworn police officers. Currently, we employ 124 sworn police officers."
Adkins said police services have suffered as a result.
"Our patrol response times have increased," she said. "We have eliminated downtown beat officers, response to private property crashes have been eliminated, animal control officer has been eliminated, public housing dedicated patrols have been eliminated, domestic violence advocate has been eliminated, fingerprint services have been eliminated, the detective bureau case followup has been reduced, and gun registration services have also been reduced. These are just a few of the reductions in service that have already been seen."
Of the 20 positions to be cut from the police department starting in July, 13 would be layoffs of police officers.
"Our numbers will be reduced to 111 police officers, which includes the chief of police and the two deputy chiefs," Adkins said. "That is a reduction of 42 percent in the police officers within the last nine years."
Several police officers and firefighters attended Monday's meeting. Adkins said officers on the layoff list have been with the city as long as 10 years.
Several residents questioned the city's priorities Monday night.
Ann Arbor resident Libby Hunter serenaded the council with an original song called "Help Us, Roger" sung to the tune of the 1965 Beach Boys song "Help Me, Rhonda." She sang criticisms of city spending on the police-courts building project while city officials talk of laying off police and firefighters. She petitioned Fraser to, "Help us, Roger. Yeah, help us out of this mess."
Leaders of several local nonprofit agencies also spoke out Monday night, pleading with the council not to make cuts to human services.
"The dollars that you grant to human services programs do leverage lots of external dollars," said Katie Doyle, executive director of the Ozone House, which works with youths who are homeless or runaways.
"It is more important than ever," she said. "This is a very tough time and the job situation is tougher than ever, and underemployment has been a problem for us and contributes to homelessness for the population that we work with."
Ned Staebler, chairman of the Ann Arbor Housing and Human Services Advisory Board, said now is not the time to remove the city's social safety net. He advocated for continued funding of $100,000 for affordable housing and cautioned against a $260,000 cut to human services agencies.
"That represents a more than 20 percent cut this year alone," he said. "Twenty percent is significantly more than the rest of the proposed cuts to the budget, which I believe are less than 8 percent. It shows where our priorities are as a city."
Ellen Schulmeister, executive director of the Delonis Center, said one-time federal stimulus dollars are being used to combat homelessness right now, but will run out soon. Demand for services continues to increase, she said, noting the unduplicated number of homeless persons in the county in 2008 was 4,212.
"This data indicates a 20 percent increase from 2007 levels," she said. "There also has been noted a 138 percent increase in requests for food since 2006, one of the highest increases in the country.
"The numbers are going to continue to go up and we can't really take a cut at this time," she said. "If we cut funding, it just makes it harder for us to continue."
Julie Steiner, director of the Interfaith Hospitality Network of Washtenaw County, said she's hopeful council members will maintain human services funding.
"Honestly, without the support that you give us, we couldn't do what we do," she said, noting that the city's human service agencies make it possible to bring in $32 million of other funding to the community. She also said her agency has about 2,000 volunteers who provide $1.5 million worth of in-kind support annually.
Ryan J. Stanton covers government for AnnArbor.com. Reach him at ryanstanton@annarbor.com or 734-623-2529.