Posted on
Tue, Apr 13, 2010 : 6:01 a.m.
City debt, water rate increases topics of Ann Arbor City Council budget Q&A
By Ryan J. Stanton
The city of Ann Arbor's growing debt was a subject of discussion Monday night during a special working session of the City Council.
The city's total debt — general obligation and all others — has risen more than 25 percent over three years, from $167.2 million in June 2006 to $209.9 million in June 2009, city records show.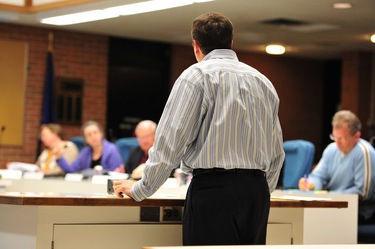 Ryan J. Stanton | AnnArbor.com
Mayor John Hiefjte asked Tom Crawford, the city's chief financial officer, to address the issue.
Crawford said he's fairly comfortable with the city's current level of outstanding obligations. He noted state law doesn't allow the city to issue general obligation debt in excess of 10 percent of the state equalized value of property in the city.
The city's general obligation debt limit as of June 2009 was $607.7 million, according to the city's budget book. Total city debt subject to that limit was $80.1 million, or 1.3 percent of the total SEV. Three years earlier, that figure totaled $63.4 million.
The city's budget book shows $7.1 million was spent toward general debt service in 2007-08, $8 million in 2008-09 and $9.2 million in 2009-10. Now, $10.34 million is budgeted for 2010-11.
Crawford said Ann Arbor still maintains a AA+ credit rating from Standard & Poor's. He also said Ann Arbor's level of debt is comparable to that of Grand Rapids, Lansing and Kalamazoo.
Council members then moved on to other topics related to the city's budget.
City Administrator Roger Fraser facilitated a question-and-answer session Monday night during a special working session of the City Council. It was the first time council members had a chance to publicly discuss Fraser's proposed budget recommendations for 2010-11. Council members spent about 20 minutes asking questions of Fraser and his staff.
It became apparent during Monday's meeting that Ann Arbor residents can expect to see their water and sewer bills increase at the start of the city's new fiscal year in July. Fraser's proposed budget for 2010-11 includes rate increases of 3.88 percent for water, 3 percent for wastewater and 2 percent for stormwater.
More details of those increases will be presented at next week's regular City Council meeting.
Sue McCormick, the city's public services area administrator, said the rate increases are needed to maintain adequate revenues and pay for capital improvements within the system. McCormick said some capital improvements already are in progress, and new projects are coming on line that also are driving the increased rates.
"At the wastewater plant, the two major projects that we're working on there are the replacement of the solids handling system at the front end and then the replacement of that half of the plant that was built in the 1930s," she said.
Within the public services area of the 2010-11 budget, tens of millions of dollars are slated for capital projects. That includes $5.22 million for the water supply system, $33.33 million for the sewage disposal system, $4.5 million for the stormwater disposal system and $13.44 million for streets. Another $977,000 is requested by the solid waste enterprise fund and $509,000 by the alternative transportation fund.
McCormick handed out a report Monday night showing Ann Arbor's water and sewer rates were the second lowest when compared to dozens of other communities around the state. The data — which is only a partial listing — was collected by the Michigan Department of Natural Resources and Environment and uses rates from 2009.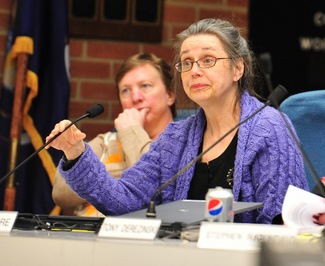 Ryan J. Stanton | AnnArbor.com
Ann Arbor's $1.40 cost per 1,000 gallons of water and $4.02 cost per 1,000 gallons of wastewater placed the city at second lowest in the state, according to the report.
Assuming a usage rate of 5,000 gallons of water and 5,000 gallons of wastewater, the total monthly cost to an Ann Arbor resident — including other charges — was $18.26. Only Ypsilanti provided a better value at $18.12. Many other communities charged double and triple those amounts.
McCormick noted Ann Arbor is one of the few communities with a fully developed stormwater utility. Factoring in stormwater charges, she said, a city resident might pay about $29.71, which still would be about the sixth lowest in the comparison.
McCormick said municipal water and sewer systems all across the nation are seeing decreased consumption due to population loss, businesses closing, and individual conservation efforts. That is translating into decreased revenue for those utilities, she said.
"All of the utilities are experiencing the same sorts of challenges that we are with the downturn in the economy," she said. "We saw a 6 percent drop in our commodity sales at the end of 2009, and we're tracking 2010, which will be about the same. That drop in usage translates to about an 8 percent loss in revenue."
McCormick said another significant form of revenue for utilities is new connection fees, and those are down drastically. In the water system, she said, that typically would be about $1.5 million in a normal year. In 2009, the system saw about $100,000 in revenue from new connection fees, which means the city lost nearly $1.4 million.
Council Member Sabra Briere, D-1st Ward, noted a number of fees for city services are slated to increase in 2010-11. She asked for a three-year comparison of fees that are changing.
"I would just like not to spend enormous amounts of my personal time going through last year's book, trying to make comparisons between the fee increases that happened last year and the ones proposed for this year," Briere said. "I want to know those that were increased last year that might be up for increase this year."
Fraser said he would provide that.
Council Member Tony Derezinski, D-2nd Ward, asked Fraser for an explanation of what's happening with state revenue sharing.
The city's budget book shows the city expects constitutional revenue sharing to increase slightly from $7.1 million to $7.2 million next year. But statutory revenue sharing is projected to decrease from $2.05 million to $1 million.
Fraser said he's presuming in the city's long-range forecast that the $1 million from statutory revenue sharing will go away entirely by 2011-12.
Council Member Sandi Smith, D-1st Ward, asked about a $150,000 expense budgeted in the general fund for a loan payment related to city-owned property at First and Washington.
"I don't know why we would have a loan on First and Washington," Smith said, asking Fraser for explanation.
Fraser said that's "a contingency of sorts." He said the city still is counting on $3 million from the sale of the property it owns at First and Washington to the Village Green Co. of Farmington Hills to help finance the ongoing $47 million addition to city hall.
Village Green received approval in late 2008 to build a 156-apartment, 11-story (eight above grade) building that includes a four-level, 244-space parking deck. The project has been on hold since and Village Green has obtained multiple extensions on the $3 million option to buy the property while it awaits financing.
"Tom (Crawford) has recommended that, in the eventuality that project doesn't come through, and in the eventuality that we find ourselves short in the general fund reserve, that we have in the budget the expectation that we may need to borrow some money to cover us until that property sells," Fraser said. "That's what that's for. It's sort of to try to cover our contingencies."
Crawford said Village Green's extension on its option to buy the property expires at the end of June. He said he's been in talks with Village Green and "things are starting to look better," but the developer still is struggling to get financing in place.
Council Member Stephen Kunselman, D-3rd Ward, asked about a $120,000 savings that Fraser has factored into the budget from "de-energizing" certain DTE light poles throughout the city. Kunselman said he had been under the impression that the city didn't have a way of calculating the exact savings.
"My understanding is that we've had conversations with DTE about what it would be worth if we cut these things down," Fraser responded. "And we're working on an agreement with them in that amount of money based on X-number of lights being de-energized."
Ryan J. Stanton covers government for AnnArbor.com. Reach him at ryanstanton@annarbor.com or 734-623-2529.