Posted on
Sun, Jan 30, 2011 : 6:01 a.m.
City income tax revenues can be volatile, unreliable during recession, Grand Rapids shows
By Ryan J. Stanton
When the national economy turned south in 2001, the city of Grand Rapids — for the first time in its history — saw city income tax receipts start to spiral downward.
Over three years, revenues fell from $56.4 million to $50.4 million before stabilizing. By 2008, those numbers climbed back to $59.5 million as conditions improved.
But in the last two years, as the economy took another turn, income tax receipts plummeted to $51.5 million — an $8 million or 13.4 percent drop.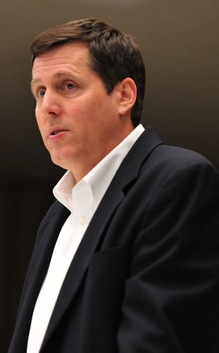 Ryan J. Stanton | AnnArbor.com
"Grand Rapids has always weathered the storm of any economic crisis before fairly well. When it hit this last time, it really hit us," said
Don VanderWest
, who served as the city's
income tax administrator
until retiring late last year.
As Ann Arbor officials consider a city income tax as a possible cure to the city's budget woes, Grand Rapids might be the best case study on how such a tax — directly tied to individual and corporate earnings — can fluctuate wildly with changes in the economy.
Under its current tax structure, Ann Arbor has been able to rely on steady growth in property tax revenues over the last decade. Total property tax collections grew every single year — by 51.4 percent overall — from 2001 to 2010, going from $54.1 million to $81.9 million, city records show.
"There's no doubt the property tax is more stable," said Tom Crawford, Ann Arbor's chief financial officer, who is weighing the city's revenue options right now. "The question is: Do we want to fund our government primarily off of property taxes, which is a relatively stable source, or do you consider restructuring the way government is funded and reduce your property taxes and implement an income tax?"
Ann Arbor officials are faced with a $2.4 million budget shortfall for the fiscal year starting July 1. After years of cutting services and reducing the number of employees, city officials fear further cuts could be draconian.
At a budget retreat earlier this month, Crawford asked Ann Arbor City Council members: Is it time to reconsider a city income tax?
Grand Rapids: a case study
As Grand Rapids saw its income tax revenues plummet over the last two years, Ann Arbor saw its property tax collections tick up by almost $929,000.
With revenues down, Grand Rapids voters went to the polls last year to approve an increase in the income tax rate to help avoid painful cuts to police and fire services.
The rate for residents and corporations rose from 1.3 percent to 1.5 percent, while the rate for non-residents went from 0.65 percent to 0.75 percent. With those increases, the city is now expecting to take in $61.2 million in income tax receipts this year.
"We don't regret it because without the income tax, we wouldn't have been able to do what we've done over the years," VanderWest said of the city's reliance on an income tax. "Grand Rapids, I think, has been very successful with the income tax. Obviously, it's volatile. It can go down in bad times, and it's now in the process of increasing our revenue."
In Ann Arbor, property taxes are the primary source of revenue, making up about 60 percent of the general fund budget. State funds, fees for services and other income make up the rest.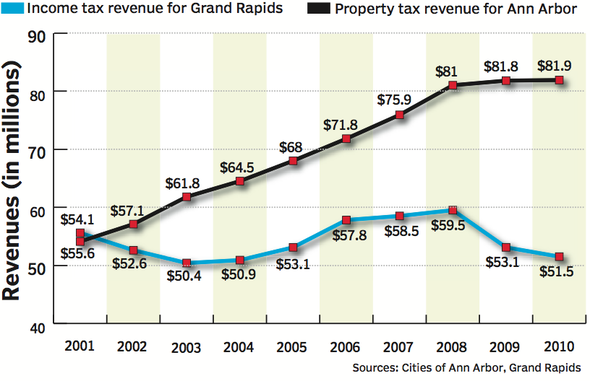 Since 1967, Grand Rapids has relied on a city income tax that accounts for nearly half of all general fund revenue. Property taxes make up about 10 percent of the budget.
Because of its income tax, Grand Rapids has been able to keep property taxes relatively low. The city levies a total of 8.37 mills, including an operating millage of 2.86 mills.
That compares to Ann Arbor's 16.8 mills, including an operating millage of 6.17 mills.
Under Ann Arbor's city charter, if an income tax is approved by voters and adopted, the operating millage must be eliminated. That means most residents would see their property taxes — when also considering non-city taxes — come down by about 13.6 percent.
Ann Arbor officials estimate an income tax could bring in up to $12 million in additional net revenue annually. Following state law, the leading idea is to tax residents and corporations at a rate of 1 percent of income and non-residents at half that.
VanderWest, who now works part-time as a senior auditor for Grand Rapids after retiring from his higher post, said Ann Arbor officials should strongly consider the idea.
By that, VanderWest means Ann Arbor could tap into a currently untaxed population: The tens of thousands of people who commute to work in the city every day, including a majority of the 39,462 employees working for the University of Michigan.
Due to land occupied by U-M and other tax-exempt entities, about 40 percent of all property in Ann Arbor is off the tax rolls. It's been a sore point over the years as U-M reaps the benefits of city services like police and fire protection, and its employees drive daily on city streets and bridges, yet they don't pay any taxes to the city of Ann Arbor.
"We've got a large non-taxpaying entity in town, and that entity has significant economic activity going on," Crawford said. "As we're trying to manage a city government that serves our residents, considering an income tax where we're able to get some revenue from a chunk of the property that is not paying taxes may be an appropriate way for the government to be funded."
Various reports have estimated the number of non-residents who commute to work in Ann Arbor at anywhere from 50,000 to more than 75,000.
According to a July 2009 study prepared for the city by a consultant, Ann Arbor residents share about 76 percent of the city's tax burden under the current operating millage system, while corporations share 24 percent. Under an income tax system, non-residents for the first time in the city's history could potentially share about one-third of the tax burden.
Weighing the options
At this month's budget retreat, Crawford provided council members with three options for increasing tax revenues: A city income tax and two variations of a Headlee override.
The Headlee override has drawn less attention, but some city officials think it's the better choice given the uncertainties of a city income tax.
Council Member Mike Anglin, D-5th Ward, said too many unanswered questions remain about how a city income tax would work in Ann Arbor. He said he still hasn't seen solid figures on administrative costs or how many people the city would collect taxes from.
"We don't know the numbers exactly, so before even making a judgment on it, I want to make sure we have all the information," he said. "Generally, I'm leaning against it."
The 1978 Headlee Amendment to the state Constitution limits the growth of tax revenues to the rate of inflation. Steadily over the years, the combined effects of Headlee and Proposal A have whittled Ann Arbor's 7.5-mill operating millage down to 6.17 mills.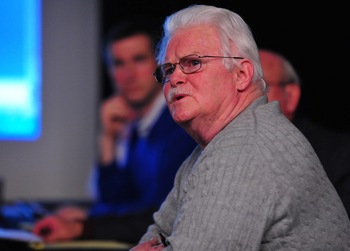 Ryan J. Stanton | AnnArbor.com
That means the city's general fund is netting nearly $6 million less than it could if voters approved a Headlee override and reset the rate to 7.5 mills. A 1.33-mill tax increase would cost the owner of a $100,000 home an extra $66.50 a year.
Council Member Sabra Briere, D-1st Ward, said she prefers the Headlee option because she sees it as a modest across-the-board tax increase. And she's still not convinced a city income tax makes economic sense for Ann Arbor.
But before going to voters and asking for more money, Briere said the city needs to make every effort to renegotiate contracts with its labor unions in good faith.
"Has the city shown that it's done everything it can to cut costs, to be frugal, to manage its money in the most rational way?" Briere said. "I think until the time comes that we've managed to convince the unions to renegotiate in good faith that we can't say that."
Ann Arbor's biggest budget challenge appears to be the constant escalation of employee costs coupled with declines in state revenue sharing. The city's revenue sharing payments have fallen from a high of more than $14 million a decade ago to just above $9 million last year.
And even as the city has slashed its workforce from 1,005 to 736 full-time employees over the last decade, the costs of pay and benefits in Ann Arbor city government — including retiree pensions — have risen from $86.7 million to $115.9 million since 2002.
The city's spending in other areas also has grown. For fiscal year 2010-11, Ann Arbor's total expenditure budget is $345.5 million, including the $81.5 million general fund.
Council Member Christopher Taylor, D-3rd Ward, is part of a working group of Ann Arbor officials considering the city's revenue options. Taylor said it's a real possibility the City Council could place an income tax or Headlee override question on the November ballot.
"My own view is that the residents of the city — the voters of the city — should have a say in the sort of city services they receive," he said. "They should have a say in what sort of funding the city has at its disposal to provide services."
Ryan J. Stanton covers government and politics for AnnArbor.com. Reach him at ryanstanton@annarbor.com or 734-623-2529.