Posted on
Sat, Jan 8, 2011 : 3:56 p.m.
City income tax idea reemerges as Ann Arbor officials weigh options for balancing budget
By Ryan J. Stanton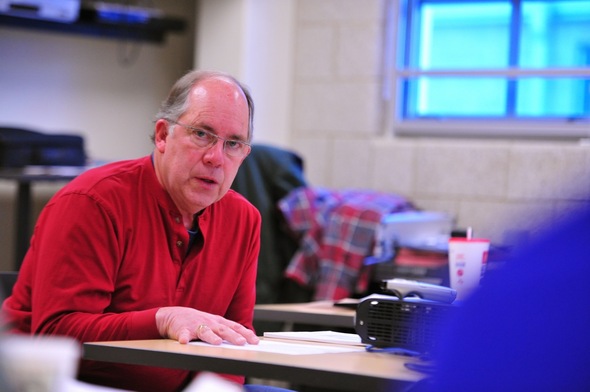 Ryan J. Stanton | AnnArbor.com
City Administrator Roger Fraser says it might be time for Ann Arbor to consider getting out of the business of providing some city services. But that will be for the City Council to decide.
"We have sort of an interesting challenge that's still ahead of us," Fraser told council members and other high-ranking city officials during another all-day budget retreat today. "If we can't afford to do everything we have been doing, what is it we're willing to modify?"
Ann Arbor officials are considering everything from selling a fire station to outsourcing housing inspections to confront a $2.4 million deficit for the 2011-12 fiscal year. Those are two of many ideas floated in a five-page list of possible service changes released today.
Tom Crawford, the city's chief financial officer, also provided council members with a report laying out three different options for increasing tax revenues. He said taxable values and tax rates in Ann Arbor are expected to decline in the next year.
Two of the revenue options presented involve variations of a Headlee override, while the other is a city income tax — an idea that's been bandied about for years but still faces skepticism from Mayor John Hieftje and some council members.
"Income tax revenues are down in the cities that have them," said Council Member Stephen Kunselman, D-3rd Ward.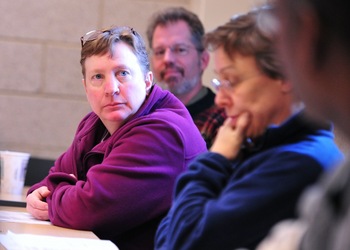 Ryan J. Stanton | AnnArbor.com
If a city income tax is approved by voters, Crawford said the city could potentially increase revenues by up to $12 million a year. He said that would be the net revenue after factoring in the elimination of the city's general operating millage and other costs.
But implementing a city income tax would be a major change for Ann Arbor — it would entirely restructure the way the city is funded. The income tax would represent about 65 percent of tax revenues for the city, with property taxes at about 35 percent, Crawford said. The city's general operating millage would be gone, a condition of imposing a city income tax.
The leading option that's been discussed over the last two years is to tax residents at a rate of 1 percent of their income and non-residents at a half-percent.
Council members made no decisions today, but some expressed interest in at least having a community dialogue about the pros and cons of an income tax, as well as a Headlee override.
Due to Headlee rollbacks, the city's 7.5-mill general operating millage — prescribed in the city charter — has been reduced to 6.17 mills. That means the city's general fund is netting nearly $6 million less than it could if voters approved a Headlee override.
Fraser called on council members today to seek feedback from residents not just about what cuts can be made, but also about their willingness to consider increasing revenues.
Prior to the retreat, council members were asked to rank the city's 12 main service areas in order of importance. Police services, a $23.1 million annual expense, ranked at the top of the list. Tied for first was utilities, a $9.4 million annual expense.
Fire services, a $13 million annual expense, came next — tied with solid waste ($5.6 million) and streets ($3 million). Rounding out the list were customer service ($1 million) and transportation ($9.4 million), followed by community support ($2.6 million), support services ($8 million), parks and recreation ($4.7 million) and the 15th District Court ($4.5 million). Last on the list was the city's planning and building services ($1.1 million).
The city is considering completely or selectively outsourcing its planning and building services, as well as a regional approach to construction and rental housing inspections. The city also plans to continue selectively outsourcing certain information technology functions.
Fraser noted two expected outcomes from today's discussions: Some of the ideas will show up as recommendations in the budget for next fiscal year, while other ideas may need to be taken to the community for a more robust public conversation.
"Change is inevitable, and I think we at least have to have that in the back of our minds when we make some of these decisions," said Council Member Tony Derezinski, D-2nd Ward. He said he's open to finding ways to generate new revenue and "expand the pie."
The city's general fund budget currently totals $81.45 million. Police and fire account for the largest share, and so the city continues to look to public safety for savings.
Fraser and council members expressed strong interest today in seeing increased regional cooperation on police and fire services.
"We actually believe Washtenaw County can be a leader in Michigan by doing some of these things," said Police Chief Barnett Jones.
One of the proposals being considered on the police side is creating a regional K-9 unit. Another cost-cutting option is eliminating "party patrol" during the University of Michigan football season, which would decrease police responses to drunken partygoers.
Another idea floated today is having the police department get out of the business of providing crossing guards at schools and having volunteers take over the work.
Outsourcing or privatizing parking enforcement also is being considered. Jones said some communities have outsourced their parking enforcement, so it's definitely feasible.
Council Member Sandi Smith, D-1st Ward, said perhaps the city could generate more revenue from more aggressive or targeted parking enforcement.
On the fire side, Fraser said city leaders still are in talks with Huron Valley Ambulance on how to better handle emergency medical responses. He said firefighters are being called out on "far too many things that are inconsequential." But he said labor contract issues exist, and the firefighters union hasn't cooperated with efforts to change the existing service model.
City officials are considering having firefighters take over some duties from the water and sewer departments. One proposal calls for firefighters to assume responsibility for maintenance of fire hydrants, including painting, lubrication, testing and water quality sampling.
Another proposal is to put fire inspectors on 24-hour shifts, allowing them to work hand-in-hand with the police department doing bar checks and maximum capacity checks on establishments during the busiest times in the evening. That's expected to eliminate on-call standby pay and overtime from having inspectors recalled after 5 p.m.
On the energy front, city officials are considering a large-scale community engagement process to find ways to reduce street lighting costs.
In parks and recreation, city officials see a potential to enhance revenues from the Argo Canoe Livery by offering additional programs and amenities. They also plan to continue exploring options for the Huron Hills Golf Course, including outsourcing operations or turning the course into a natural area space.
Fraser said the golf courses are a good example of a service where a significant amount of money is going to subsidize a program that benefits about 7 percent to 9 percent of the population.
"It's the one that's most obvious to me," he said, adding that a proposal for Huron Hills likely will be included in the budget he presents to council this spring.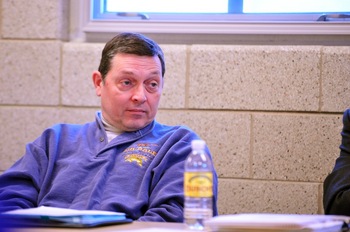 Ryan J. Stanton | AnnArbor.com
The City Council meets at 6 p.m. Jan. 31 at CTN studios, 2805 S. Industrial Highway, for a work session to discuss the community services budgets. It's expected that discussions related to the Huron Hills Golf Course will continue at that meeting.
"We're certainly not going to sell it, we're not going to commercialize it. What if it became a natural area park?" Hieftje said today, adding many people are receptive of the idea, and the numbers make sense. "It takes a couple of years, but that expense of Huron Hills goes way down. … We should have that discussion this year. We shouldn't just put it off."
Hieftje stressed today the city should be focusing on employee benefit packages that are "out of line with the mainstream." He said that's causing most of the city's budget problems and is the reason the city is looking to make cuts in parks.
Council Member Stephen Rapundalo, D-2nd Ward, echoed those thoughts. He said he hopes the city's labor unions will realize the reality of the city's budget situation.
"I don't see how we're going to avoid layoffs, whether that's in public safety or anywhere else," he said. "What other choice do we have?"
Fraser agreed employee compensation is a major issue. But he said that shouldn't be the council's only focus as it looks to match revenues and expenses.
"The presumption here is that we're going to continue to have a shrinking pie for the foreseeable future, and we need to make a change," Fraser said, adding that some of the decisions council members must make could be politically unpopular.
Smith noted the city attorney's office and the city administrator's office weren't on the list of service areas being examined at the retreat. Crawford said that doesn't mean they won't be asked to take a hard look at their budgets this year.
Kunselman argued the city's involvement in public-private partnerships with developers — based on "speculative development" — is driving up overhead costs. He made note of a lawsuit over the former YMCA lot downtown, where the city and a developer have been at odds.
"Are we going to continue down that road?" he asked.
Council Members Margie Teall, D-4th Ward, and Carsten Hohnke, D-5th Ward, pushed the issue of Argo Dam at today's retreat. Hohnke said it's his understanding that there would be a potential savings of $100,000 a year if Argo Dam were removed from the Huron River.
Both Teall and Hohnke expressed interest in finding out the level of grant funding available for a dam removal project. Kunselman called that "wishful thinking" — a remark that set off a series of acrimonious exchanges between him and Hohnke and Teall.
"These grants do become available. Other communities have found it a successful way to do dam removal," said Sue McCormick, the city's public services area administrator.
Hieftje said the only way he would consider dam removal would be if there was a comprehensive plan to consider removing all dams along the Huron River. He noted the city may hear back from the federal government later this spring on its plans for possibly installing hydropower stations at Argo or Geddes dams.
The city is anticipating a series of council work sessions in the coming months leading up to a final 2011-12 budget in May. The next fiscal year starts July 1.
In addition to the 2011-12 budget, city officials are tasked in the coming months with developing a two-year budget plan that extends through 2012-13.
Ryan J. Stanton covers government and politics for AnnArbor.com. Reach him at ryanstanton@annarbor.com or 734-623-2529.