Posted on
Mon, Apr 11, 2011 : 5:58 a.m.
Major renovations to Cross Street corridor set to begin in Ypsilanti
By Tom Perkins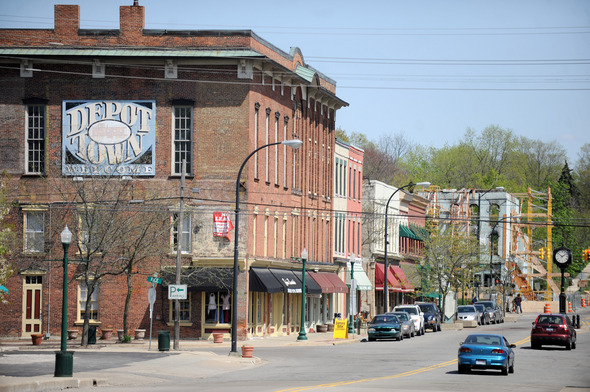 Angela J. Cesere | AnnArbor.com
Ypsilanti's Cross Street is about to experience what Downtown Development Authority Director Tim Colbeck is calling a "transformational year.''
Six projects equating to millions of dollars in investment are aimed at significantly improving the street's appearance, accessibility, infrastructure and buildings.

Late this month, construction will begin on the "Cross Street corridor non-motorized enhancement project," which is an effort the DDA has pursued for at least five years. The roughly $1 million project is broken up into two sections. The first is on East Cross in Depot Town from Rice Street to River Street, and the second is on West Cross from Washington Street to Normal Street.
The segment receiving the most attention is the West Cross business district. Streetscape plans there call for the installation of stamp concrete crosswalks and "bump outs,'' which are curb extensions designed to slow traffic and shorten a crosswalk's distance. Additionally, all curbs will be made compliant with the Americans with Disabilities Act.
Click here to see a map and description of the project plans.
The plans also call for the planting of approximately 70 trees in the six-block span, and new LED street lighting to replace old street lamps.
"We're looking for total visual change in that area," City Planner Teresa Gillotti said. "It will be a lot more pedestrian-friendly, and it will just look a lot more attractive."
Gillotti said the changes will complement the reconstruction and beautification of College Place completed last summer.
Simultaneously, several businesses between Ballard Street and College Place are utilizing DDA and Eastern Leaders' "West Cross building rehabilitation and facade" grants of $10,000 each to renovate their stores and facades.
Those were awarded to the owners of the former Magazine Rack Adult Bookstore, the owner of the building that formerly housed Ted's Campus Store and the Tower Inn Cafe. A second round of grants will be available on July 1.
O'Neal Construction recently unveiled a large-scale plan for the former Ted's in the building at 729- 735 W. Cross St.
That development calls for modernized apartments in the upper level and three new retail spaces with the potential for outside seating and west-side windows in the anchor position on the northwest corner of the building.
Renovations are also under way at the former Cross Street Station, which has sat mostly vacant for about a decade. Colbeck said the owners there will offer apartments in the second story and commercial space on the ground floor.
"The word I keep throwing out is 'transformational,'" Colbeck said. "This is going to be a transformational year for Cross Street. It's going to be big. The timing is perfect, with this streetscape being five years in the making. I'm excited because at the same you're going to see a couple key buildings that are vacant be renovated."
Among the enhancements to East Cross in Depot Town will be stamped concrete crosswalks placed at the intersection of Rice and Cross; one at Ninde Street and Cross; replacements of the current crosswalks at the clock tower and the intersection before the train tracks; and one on River Street that will run from near the Ypsilanti Food Co-op to Sidetrack's second parking lot.
Plans also call for a "seat wall" on the north side of the Cross Street that starts just east of Aubree's and wraps around the corner of the intersection at River and Cross. The decorative wall is a spot where pedestrians and visitors could, for example, sit and eat an ice cream cone or relax for a few minutes, Gillotti said.
A network of rain gardens will be installed to help collect stormwater and filter it into the ground instead of relying solely on drains that empty into the Huron River. Currently the drainage in Depot Town during heavy rain can be slow, and the gardens, which are essentially large planters filled with aesthetically pleasing native plants, will help address the issue.
A Federal Transportation Enhancement grant administered by the state through the Michigan Department of Transportation in part funded the project. The city and the DDA provided $179,000 and $87,500 in matching funds, respectively.
Sidetrack owner Linda French said she expects the makeover will provide a boost in visitors. She also said she thinks it will help attract students into the city from Eastern Michigan University's campus.
"This is all exciting and good stuff," she said. "I think it will make this area seem safer and people will venture into Ypsilanti more. Depot Town is already pretty safe, but when people get the perception more parts of Ypsilanti are safe and it's walkable, and walkable for kids, then more people will come here."
East of Depot Town, the stretch of road between Prospect Road and North River will be repaved and bike lanes added. Department Public Works Director Stan Kirton received approval from the City Council on Tuesday to seek requests for proposals on that project.
Kirton said he doesn't have an exact time frame for the project, which will be funded with federal dollars through the State Transportation Improvement program, but he expects it will be completed by late August.
Tom Perkins is a freelance reporter for AnnArbor.com. Reach the news desk at news@annarbor.com or 734-623-2530.