Posted on
Sun, Feb 10, 2013 : 5:59 a.m.
Mayor to ask: Will University of Michigan compensate Ann Arbor for lost property taxes?
By Kellie Woodhouse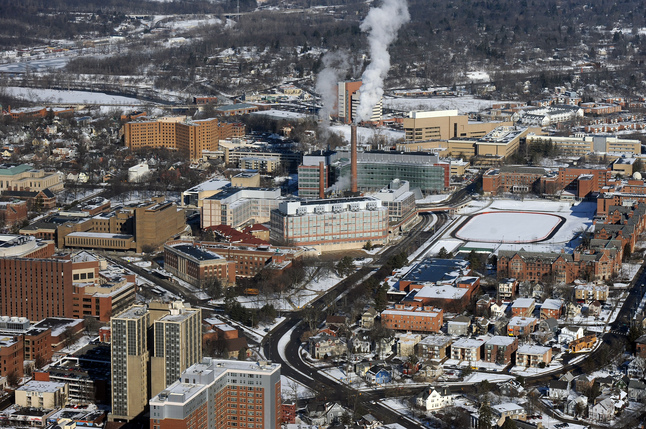 Melanie Maxwell I AnnArbor.com
Related articles:
Mayor John Hieftje is looking for a "long-term solution" to a long-held problem of the city losing annual revenue each time the University of Michigan buys a property in Ann Arbor.
U-M's tax exempt status is written into Michigan's constitution, so the school is not required to pay property taxes on any of the property it owns.
When U-M purchases property —as it did recently when it purchased the Blimpy Burger property and neighboring parcel for $1.5 million— that land comes off the city's tax rolls, causing a drop in city tax revenue.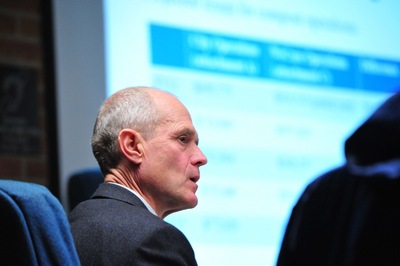 Ryan J. Stanton | AnnArbor.com
"We do need to have a serious conversation about the future of university purchases of land and what that's going to mean about the city long-term," Hieftje said in an interview.
Since 1999, U-M has purchased 29 properties throughout Ann Arbor, including the 174-acre former Pfizer property, which the university has turned into its North Campus Research Complex. When that property was purchased in 2009, 4.8 percent of the city's property tax base essentially disappeared.
"There needs to be a long-term solution. Otherwise it's inevitable that more and more real estate going off the the tax rolls is going to have a negative effect on the city's ability to fund services," Hieftje said.
The school this year has a $6.08 billion budget for its Ann Arbor campus. Hieftje is hoping a sliver of that money could go to the city. He plans to present a proposal to the city council soon, though specifics of the proposal are still being considered, he said.
One option, Hieftje said, would be to craft a proposal that would ask U-M to contribute a lump sum when it purchases property within the city.
Because U-M is tax-exempt, the city can't force U-M to pay a lump sum. It can, however, formally request that the university consider offering payment.
"I could see this building up to a resolution for council asking for a conversation about the issue," Hieftje said.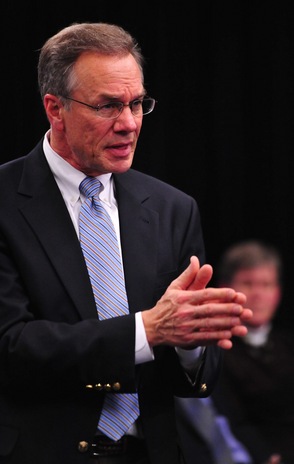 Ryan J. Stanton | AnnArbor.com
In a few cities, tax-exempt universities will offer municipalities annual financial assistance in lieu of property taxes. Such programs are called PILOT (payments in lieu of taxes) programs. The payments are usually significantly less than the entity would pay in property taxes if it weren't exempt, but are nonetheless able to alleviate financial stress for municipalities.
For example, Brown University, which owns a physical plant worth more than $1 billion, offers Providence, R.I., a $4 million annual voluntary payment and has committed to give the city another $31.5 million over the course of 11 years. Harvard and Boston University give Boston multimillion dollar payments each year.
It appears that Michigan's other two large research universities, Michigan State University and Wayne State University, do not offer municipalities any form of payment in lieu of taxes.
Over the past two decades, city officials have discussed the possibility of U-M participating in a pilot program. Those conversations have been fruitless, involved parties say.
"It never goes anywhere," said Jane Lumm, an Independent council member.
"My sense is they don't see that as part of their role," Lumm said of the university.
Added Hieftje: "I don't think there's any way that the university will ever participate in a PILOT program. It's written into the constitution that they don't have to pay taxes."
However, offering a one-time payment upon purchasing land could be a less onerous burden than offering an annual payment.
U-M community relations director Jim Kosteva said the university has never seriously considered compensating the city for property tax losses incurred when the school purchases property.
Kosteva said the university has never been formally approached by the council, through a resolution, for compensation, although there have been informal discussions.
"Those topics do come up from time-to-time, but there is a difference between casual conversation and a more formal expression of the mayor or council," Kosteva said.
When asked if the university would be open to somehow paying the city in lieu of taxes, Kosteva replied: "Let's address a resolution or proposal if it is ever formally presented, as opposed to offering any speculation at this time."
City council member Margie Teall, D- 4th Ward, said she'd "welcome seeing" a proposal from Hieftje, although she's unsure whether it would gain traction at the university.
When the city sought financial assistance from U-M in paying for the Stadium bridges renovation, the university declined saying it couldn't use tuition dollars on compensating the city.
The solution instead of a payment: The university did allow the city to build easements on its property.
Kellie Woodhouse covers higher education for AnnArbor.com. Reach her at kelliewoodhouse@annarbor.com or 734-623-4602 and follow her on twitter.