Posted on
Fri, Dec 14, 2012 : 5:59 a.m.
University of Michigan CFO: Purchasing Blimpy Burger property 'makes so much sense' for school's long-term plan
By Kellie Woodhouse
AnnArbor.com file photo
It's official: The
University of Michigan
will soon
close on the
Blimpy Burger
property.
On Thursday the school's eight-member Board of Regents unanimously approved the $1.075 million purchase of the parcel that houses Krazy Jim's Blimpy Burger and an adjacent apartment building. The $425,000 purchase of the neighboring property was also approved.
The two properties are owned by Patricia Shafer, the widow of Blimpy Burger's original founder, Jim Shafer.
U-M Chief Financial Officer Timothy Slottow said the properties offer the school's downtown campus a chance to expand its footprint. Central campus, he said, is significantly crunched for space.
"When we do purchase property, it is for a very specific mission driven purpose or it is very strategically located property," he said in an interview with AnnArbor.com. "These houses on Division Street, you can see they're right on the edge of central campus and we have virtually no empty buildable property on central campus at this moment."
Slottow said university officials are discussing possible construction projects for the site, but said "at this minute there's no project that we're ready to come to the board with."
He said any building constructed on the site will be a very large, multimillion dollar project— likely in the eight-figure range.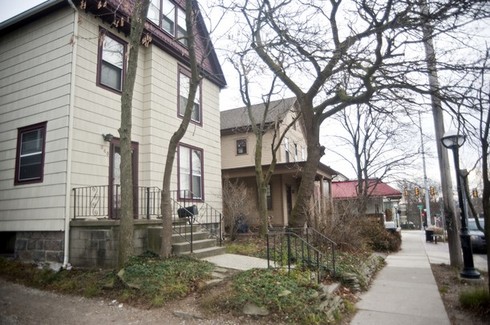 "It's a big site," he said.
The two properties sit on a combined 0.27 acres of land, between the school's West Quadrangle dormitory and Perry Building and near its Thompson Street parking garage.
They sit next to an existing university-owned parking lot.
On the block are six other properties, four on South Division and two on East Madison Street. David Copi, of Copi Properties, owns two parcels on South Division. The other four properties are rentals managed by Arch Realty and owned by South Division Street Properties LLC, a corporation registered to former U-M athletics director Bill Martin. It's unclear if these property owners and the university will enter into a purchase agreement.
What is clear, however, is that the school is looking to grow its core area: central campus.
"It's always nice, when you're the size that we are, when you have some opportunity to build or put a building on your core site," Slottow said. "We are basically land constrained on central campus.
These properties on Division Street are just so strategically located on that street, that as long as we get market price it just makes so much sense, looking out five, 10, 15, 20 years."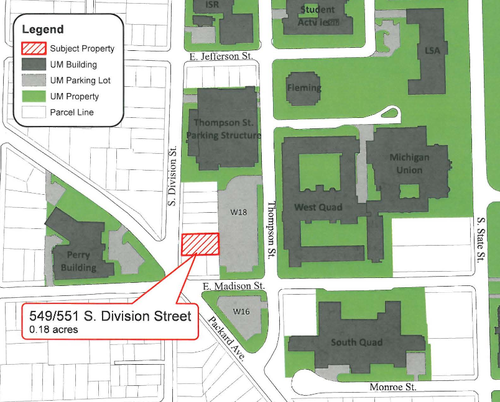 U-M image
This isn't the first time U-M has eyed land on Division Street. A decade ago, the school bought a block of houses on the corridor in order to expand the Thompson Street parking structure to Division Street. More recently, two houses at South Division and East Jefferson near the Institute for Social Research were purchased prior to a multimillion dollar renovation of the institute.
"ISR was a very difficult addition to do," said Slottow, adding that expansion was made "much easier" by purchasing properties nearby the existing institute.
U-M will honor all leases at the two properties until the end of August 2013. Blimpy Burger owner Rich Magner says he intends to find a new location for the restaurant, although he hasn't begun looking yet. He said he wants to remain downtown near his largest customer base: U-M students, staff and sports fans.
After reports that U-M planned to purchase the Blimpy Burger building —which has been featured on the Travel Channel and Man V. Food— Ann Arbor native Daniel Lord created a "Save Blimpy Burger" page, which now has more than 1,600 likes.
Regent Andrea Fischer Newman said she "didn't get that much blowback" on the purchase initially.
"I think there was sort of an 'Aw, I love Blimpy Burger'" feeling, she said.