Posted on
Wed, May 12, 2010 : 6:50 p.m.
Ypsilanti firefighters take 5% pay cut, other concessions to avoid layoffs
By Tom Perkins
The Ypsilanti Fire Department won't face any layoffs for the next two years after the union agreed to a 5 percent pay cut and greater contributions to health care benefits.
The Ypsilanti City Council unanimously approved the agreement Tuesday, which will save the city roughly $200,000 as it contends with a $1.4 million budget deficit.
Fire Chief Jon Ichesco said the layoffs would have been "disastrous," and said the agreement will allow the department to continue proactively fighting fires.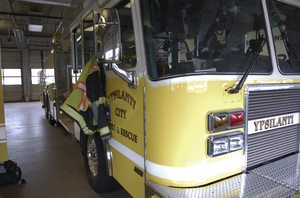 Tom Perkins | For AnnArbor.com
"I applaud both sides - the firefighters for taking the reductions and the council for saying 'Hey, we need to keep these people on board for two years,'" he said.
The 5 percent wage reduction takes effect July 1.
Because the three-year contract took 13 months to negotiate, it will remain in place through June 30, 2012. Employees hired after July 1, 2009, will pay 5 percent of their base wage to health care benefits and receive no city contribution into their flexible spending account. They will also begin paying for vision insurance.
Those hired prior to the new contract will pay 2 percent of their base wages toward health care benefits and will no longer receive $250 contributions into their flexible spending accounts. They will also see an increase in co-pays.
Ken Hobbs, president of the Local 401 union representing the firefighters, said it was the best possible agreement given the circumstances.
"We're pleased as we can be while having to take a 5-percent pay cuts," he said. "I'm glad we are going to avoid layoffs, and we did what we had to do avoid them."
Hobbs said if layoffs were necessary, the department would have lowered its daily staffing levels from six to four firefighters. He said the agreement allows the department to maintain the staff it needs to meet state requirements for two firefighters inside and two firefighters outside a structure fire.
Ichesco said full staffing also allows the city to more easily move forward in negotiations for an enhanced mutual aid agreement. Some of the neighboring townships have hesitated to negotiate because of fears that their departments would end up subsidizing others facing cuts and layoffs.
"It's one of the problems I can set aside for going forward with some sort of cooperative regional response," Ichesco said. "The layoffs were a big concern. Now we can start posturing and looking forward."
Council Member Brian Robb said he was pleased the city was able to find an alternative to layoffs, especially as many neighboring municipalities facing similar financial issues are resorting to cuts.
"I think it's great that we can keep our staffing the same, and it's a very good step in the right direction," he said.
Mayor Paul Schreiber concurred.
"I think it's always better not to lay people off and I'm glad we came to an agreement on these budget issues," he said.
Tom Perkins is a freelance writer for AnnArbor.com. Reach the news desk at news@annarbor.com or 734-623-2530.