Posted on
Fri, Jul 15, 2011 : 9:05 a.m.
Brandy's Liquor Source owners headed to court over problems at Ypsilanti store
By Tom Perkins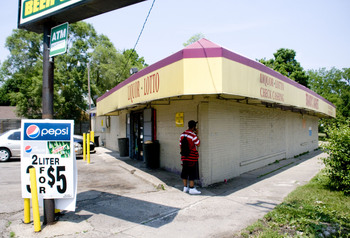 Tom Perkins | For AnnArbor.com
A
Washtenaw County Circuit
judge will decide whether or not to hold the owners of
Brandy's Liquor Source
in contempt of court for failing to comply with a 2008 order to address problems at their store.
Ypsilanti City Attorney John Barr is alleging the owners failed to comply with a number of stipulations, including regularly meeting with neighborhood groups, installing proper surveillance equipment and reducing the amount of crime on the property.
Barr said the order was set to expire last year as long as Brandy's complied with all of its provisions. The order included language stating that it wouldn't expire if all provisions weren't met, Barr said.
He contended most were never met, therefore the order has not expired and the owners, Sam and Kathy Hanna, should be held in contempt.
"They didn't do what they were supposed to do, so (the order) did not expire," Barr said.
The two sides will meet in front of Judge Timothy Connors for an evidentiary hearing on July 26.
Brandy's attorney Brent Leder said questions over the intent of the order's language will be determined by Connors and declined to comment further on it, though he added the store is continuing to work with council, the police department and city.
"Why it took another 10 months (after the order expired) to bring this to our attention is a question we're going to be asking," Leder said.
"We've been doing everything we can to move forward and work with the City of Ypsilanti … and we feel we've been making tremendous amounts of effort while the city attorney is strictly looking to shut down a family owned business serving the community."
The 2008 order stemmed from the city seeking a court order to address escalating crime, drugs and violence issues at Brandy's., located on West Michigan at Summit.
Barr said the city was aware those deadlines and requirements weren't being met in 2010.
But as the city was preparing to re-initiate legal action, he said, the Michigan State Police and Ypsilanti Police were working on an undercover operation targeting the property. Because police officials feared the added attention of a lawsuit could jeopardize the undercover operation, legal action was delayed.
A raid following the operation resulted in several arrests and the store was closed for a week, which some residents said was the most peaceful week they've experienced living in the neighborhood west of downtown.
The Ypsilanti Police recently arrested Brandon Hanna, a son of the owners, on felony charges for receiving and concealing stolen property as a result of the raid. A preliminary exam in that case is scheduled for July 21.
On June 6, an unidentified suspect fired semi-automatic rounds near Brandy's at Michigan Avenue and South Summit Street. Residents said the incident is only one of many over the last 10 years, and allege open drug dealing, fights, gunfire and prostitution regularly occurred on or near the store's property.
Ypsilanti Police don't have a lead on who fired the shots, but have stepped up patrols and enforcement around Brandy's, issuing tickets for failing to use a crosswalk, loud vehicle music, traffic offenses, litter, trespassing and urinating in public.
City council passed a resolution a day after the shooting asking the Michigan Liquor Control Commission to revoke Brandy's liquor license. Barr said his office did some research and found that the LCC doesn't typically revoke licenses for offenses other than sales to minors.
He said the attorney's office isn't vigorously pursing a revocation through the LCC while it prepares for the upcoming court case.
In a July 6 memo to city council and city staff, Assistant City Manager April McGrath said staff is also addressing issues with several neighboring vacant houses on South Summit Street.
Staff has been cleaning up litter and brush around the homes, which are owned by jailed landlord David Kircher, McGrath wrote. Several vehicles neighbors say are used for prostitution on the property still remain because tow companies cannot tow vehicles without the titles.
Kircher must fill out paperwork and send someone to the Secretary of State to apply for the lost titles, McGrath wrote in the memo. City staff is continuing to wait on the paperwork, but preparing other legal measures in case they don't receive cooperation from Kircher.
Midtown resident and developer Karen Maurer said the store has been quiet since the June 6 incident, but she isn't certain it will remain that way.
"Once police come in and snoop around and keep an eye on everything it calms down, but as soon as the police leave it flares," she said. "It will be interesting to see what happens."