Posted on
Thu, Aug 2, 2012 : 3:29 p.m.
Closing down fire stations: Ann Arbor City Council candidates offer thoughts on reorganization plan
By Ryan J. Stanton
A major issue the eight candidates running for Ann Arbor City Council hope to be at the table for later this year is the proposed reorganization of the city's fire department.
By closing three stations and reopening the one at Stadium and Packard, which was closed several years ago, the city would switch from a five-station model to a three-station model.
"The proposal to close fire stations is on the immediate horizon and alarms me," said Democrat Jack Eaton, who is challenging 4th Ward incumbent Margie Teall in Tuesday's primary. "I think that is not the correct manner to address the problems with fire response times."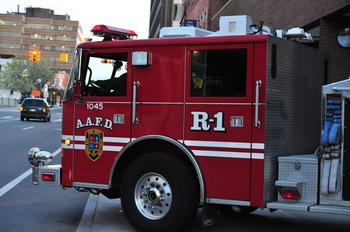 Ryan J. Stanton | AnnArbor.com
Eaton, who is heavily critical of the city for cutbacks in public safety over the last several years, said he'd push for more staffing in the fire department.
Teall said she's not an expert on fire department organization, so she's going to listen carefully to what the fire chief has to say before making up her mind.
"If this can make it more efficient to get more people to fires quicker, then it makes sense to move ahead," Teall said. "But I think that's something we're still looking at."
Fire Chief Chuck Hubbard has recommended the city close fire stations to better concentrate the department's limited staffing resources and provide a better response to fires.
The city's current response model has just three firefighters staffed at each station. Hubbard's plan would enable four firefighters to be on duty at each of the three stations, and four firefighters are needed on scene to be able to enter a burning building.
Vivienne Armentrout and Sumi Kailasapathy also said the proposed closure of fire stations concerns them and they think the city needs to put more resources into the fire department as well.
Armentrout is running against Chuck Warpehoski for the open 5th Ward seat on council and Kailasapathy is competing against Eric Sturgis for the open 1st Ward seat.
Warpehoski and Sturgis said they're still making up their minds on the proposed reorganization plan and they can't say how they'd vote just yet.
"At this point, I want more information on it," Sturgis said, adding he's open to the idea but he'd also like to see the city hire more firefighters.
Council Member Tony Derezinski, D-2nd Ward, is defending his seat in Tuesday's primary against Democratic challenger Sally Hart Petersen. Derezinski said he's still making up his mind on the issue, but he has a lot of faith in Hubbard and will take his advice seriously.
"That has to be looked at," he said of closing stations. "So far that has been taken off the active agenda and it is being studied as we speak."
Petersen said she attended a neighborhood meeting on the proposed plan last week. She said she originally was scared of the idea of going from five to three stations, but then she talked to Hubbard and he explained how it actually could improve the city's response to fires.
"For everyone in Ward 2, we actually make out pretty well with this because they're closing the station on Platt but opening the station on Stadium and Packard," Petersen said. "And they're putting more personnel in each station, so we're actually better served."
Ryan J. Stanton covers government and politics for AnnArbor.com. Reach him at ryanstanton@annarbor.com or 734-623-2529. You also can follow him on Twitter or subscribe to AnnArbor.com's email newsletters.