Posted on
Thu, Jun 28, 2012 : 2:59 p.m.
Ann Arbor officials seek public feedback on proposal to close 2 fire stations
By Ryan J. Stanton
City officials are seeking public feedback on a proposal to reorganize the Ann Arbor Fire Department and close two stations.
Fire Chief Chuck Hubbard presented a plan to the City Council in March that calls for operating three fire stations instead of five: One on the north side of the city (Station 5), one on the south side (Station 2) and one downtown (Station 1).
That requires reopening Station 2 at Stadium and Packard, which was closed several years ago during a round of budget cuts, and closing Station 3 at 2130 Jackson Ave., Station 4 at 2415 Huron Parkway, and Station 6 at 1881 Briarwood Circle.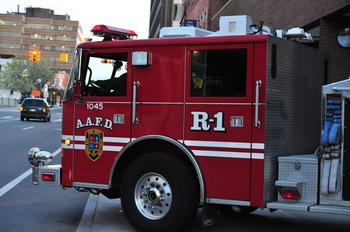 Ryan J. Stanton | AnnArbor.com
"Before this proposal is considered further, the city administrator and council would like to give community members the opportunity to hear more about the proposal and ask specific questions," the city said in a statement released on Thursday.
Residents are asked to email feedback@a2gov.org with any questions and comments about the proposal, with the subject line "Fire Proposal."
You also can request a presentation to be given to your neighborhood, community or business association by contacting Lisa Wondrash at lwondrash@a2gov.org or 734-794-6152.
A lack of staffing in the fire department is driving the reorganization. Hubbard believes by bunching up the department's limited resources at three stations, the city will be able to come closer to meeting national standards for having an initial timely response of four firefighters.
The city's current response model has just three firefighters staffed at each station. Hubbard's plan would enable four firefighters to be on duty at each of the three stations.
When Hubbard originally presented his plan, it was expected to take effect by July, but following controversy over the proposal, city officials announced in April they would hold off. The reason cited at the time was that it wasn't an ideal time to deploy the plan, which relies heavily on reopening Station 2 at Stadium and Packard and having that be one of three stations, while the Stadium bridges and Stadium Boulevard are under construction.
Council Member Jane Lumm told AnnArbor.com in a recent Q&A that she's hearing from residents who are concerned about the reorganization plan, particularly the plan to close the station on Huron Parkway "because that does serve a lot of folks in this part of town."
"The proposed reorganization is primarily for fighting fires, but I think people are also concerned about what this will mean for other emergency responses, medical responses primarily, that the fire department is responsible for," she said. "But with more staffing, perhaps this can be avoided and we can manage to continue with the current setup."
Ann Arbor officials are hoping to use a $642,294 federal grant to hire four new firefighters soon, but Hubbard has said he'd like two more to get to a "magic number" of 88 firefighters.
Ryan J. Stanton covers government and politics for AnnArbor.com. Reach him at ryanstanton@annarbor.com or 734-623-2529. You also can follow him on Twitter or subscribe to AnnArbor.com's email newsletters.