Posted on
Thu, Jan 24, 2013 : 9:16 a.m.
Cold and snow Thursday and Friday, then temperatures near 50 by next week
By Cindy Heflin
If you're tired of single-digit temperatures, you're in luck. Another very cold day is on tap for Thursday, but temperatures will soon start to moderate. By next week, the thermometer will be pushing 50 again.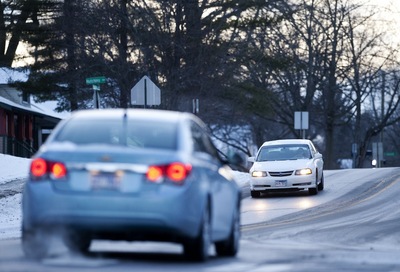 Daniel Brenner | AnnArbor.com
Before we get there though, prepare to deal with some snow on Friday. The forecast calls for 1 to 3 inches in the Ann Arbor area.
The recent cold snap has pushed temperatures in Michigan 10 to 15 degrees below normal, said Matt Mosteiko, a meteorologist with the National Weather Service in White Lake Township.
The normal high for Ann Arbor for this time of year is 31 degrees, said University of Michigan weather observer Dennis Kahlbaum. The normal low is 16. For the past few days we've been experiencing highs in the teens and lows in the single digits or colder. The overnight low Kahlbaum recorded Tuesday morning was 3 below zero
Today, though forecasters expect a high of 18, winds are making it feel much colder. At 8:20 a.m. the temperature was 8 degrees with a wind chill of 5 below, Mosteiko said. The winds will become less of a factor as the day wears on, he said.
Thursday night, there's a 40 percent chance of snow after 1 a.m. Mosteiko said it wouldn't amount to much more than flurries. The low will be around 8 degrees with wind-chill values as low as 1 below.
Friday, Mosteiko expects about 2 inches of snow for southeast Michigan, including Ann Arbor. A high of 23 is forecast, but winds will make it feel as cold as 2 below zero. The chance for snow is 80 percent.
Friday night, scattered snow showers are possible with a low around 12 degrees.
Saturday and Sunday will be partly sunny and warmer with a high of 24 on Saturday and temperatures expected to reach 27 on Sunday.
The serious warm-up starts on Monday when a high of 35 is expected. The bad news? It could come with some rain, snow and sleet.
For Tuesday, forecasters expect a high of 48 degrees. Showers are likely.
For updated forecasts and conditions anytime, check AnnArbor.com's weather page.