Posted on
Sat, Jan 26, 2013 : 2 p.m.
Coleman Jewett remembered by vendors and patrons at Ann Arbor Farmers Market
By Lisa Carolin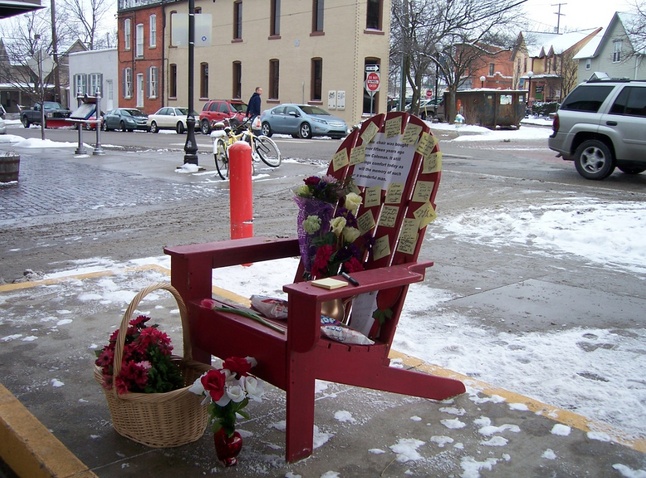 Lisa Carolin | For AnnArbor.com
The man known around Ann Arbor as an educator and athlete was remembered Saturday as an artist and friend by those who knew him by the Adirondack chairs that he hand-made and sold at the Ann Arbor Farmers Market.
An Adirondack chair owned by vendor Victoria Fox, sat today where Coleman Jewett set up his stall at the market for 45 years.
Vendors decorated the chair with flowers, and visitors were invited to leave notes to stick on the chair.
"Coleman made such a big impact on people," said Sarah DeWitt, manager of the Ann Arbor Farmers Market. "Our vendors feel a hole without him."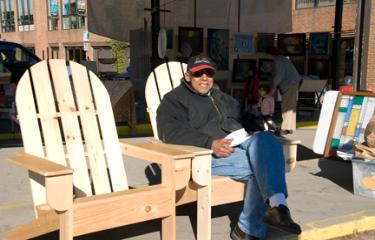 Courtesy of
Jewett died Wednesday at 78.
DeWitt says that Jewett was selling his Adirondack chairs as well as other hand-crafted pine furniture at the market up until last October, and that he visited several times after that bringing donuts.
"He was so smart and interesting and liked to tell jokes," said Dana Ray, who was working at one of the jewelry stalls. "I spray painted the vase and helped buy the flowers that we put next to the chair today."
"Losing Coleman is like losing your dad," said jeweler Debbie Marx who owns the Natural Quartz Crystal and Stone Jewelry stall and put up some of the flowers. "Coleman gave us jokes and encouragement."
Long time friend, vendor Jim Lounsbury, a painter and woodworker, stopped by to see the memorial to Jewett.
"Coleman was a great guy in the truest sense of the word," said Lounsbury.
The Adirondack chair made by Jewett was purchased by Fox, also known as the "fish and Santa lady," 15 years ago. She has painted it several different colors, most recently red.
"It's still like new," she said. "It's sturdy and comfortable."
Fox was pleased with the response from visitors Saturday.
"Coleman knew so many people," said Fox. "We will miss him terribly."
Funeral arrangements are being made through Nie Funeral Homes of Ann Arbor. No service date has been announced.