Posted on
Mon, Aug 5, 2013 : 5:59 a.m.
College-bound Ann Arbor students aim for 'dream schools' as they prepare for next chapter
By Kellie Woodhouse
Editor's note: the location has been corrected in the first photo caption and graduation statistics have been added for Skyline High School.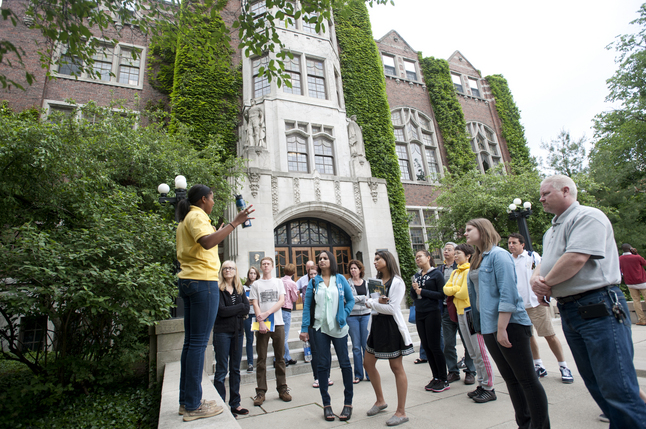 Melanie Maxwell | AnnArbor.com
Ann Arbor is a town whose high-schoolers, living in the shadow of a highly regarded university, value higher education.
The percentage of seniors who are college bound ranges from 80 percent at Pioneer High School to 86 percent at Skyline High School, 91 percent at Huron High School and 96 percent at Community High School.
Yet admission into college, especially elite schools, becomes more competitive each year.
The University of Michigan, for example, whittled down 46,730 applications to 15,430 acceptances— with 6,400 applicants paying an enrollment deposit. The school's acceptance rate is steadily declining. Roughly 42 percent of applicants were accepted in 2008, and 37 percent were accepted in 2012. This year that rate dropped to 33 percent.
So as outgoing high-schoolers, newly accepted into college, take the summer to celebrate and transition into a new era, Ann Arbor's incoming senior class is gearing up for campus tours, last-minute SAT prep and college applications. They'll weave their academic credentials, outside interests and life experiences into the tapestry that is the college application — and in doing so, they're hard pressed not to find the process stressful and overwhelming.
Of the roughly 10,000 high schoolers surveyed recently by the Princeton Review, 70 percent said they were "highly stressed" by college applications.
"It's ridiculous because they're looking for the perfect student and there is no way you can have a 36 on your ACT, get a 4.2 GPA and do all these extracurricular activities that they are looking for," said Alyssa Gruich, a high school junior from Washtenaw County. "It makes you realize, 'Maybe I'm not good enough for my dream school. Maybe instead of watching that television show I should have studied for that exam I had.' It makes you really think."
Gruich is far from alone in her feelings. Earlier this year, rejection letters from her dream schools prompted Pennsylvanian high schooler Suzy Lee Weiss to write an op-ed in the Wall Street Journal satirically lamenting what she considers the unrealistic expectations of college admissions offices.
Ted Spencer, U-M admissions director, agrees that the admissions practices of elite schools have become more competitive. At U-M, applications have increased from 29,814 in 2008 to 46,730 this year. The average GPA of an incoming student has risen.
Melanie Maxwell | AnnArbor.com
"Many people want to get into the schools that are considered to be some of the best schools in the country," Spencer said, adding that mid-tier schools remain accessible.
John Boshoven, a counselor at Community High School who also does independent college counseling, said there's more pressure on students to impress colleges than there was a decade ago. Students are going to great lengths to get into their dream colleges. At U-M, wait-listed applicants have sent counselors music videos, life-size cardboard cutouts of themselves and even a miniature chair with the message "save a seat for me."
"Ten, 15 years ago you'd walk into Barnes & Noble, and would there be a whole section on college admissions? No," Boshoven said. The books range in topic on how to choose the college that best fits a student's needs to tutorials on writing the perfect essay and navigating the interview process. There's book after book of college rankings that quantify the quality of colleges high schoolers are considering.
5 tips for choosing a college
Trying to figure out what college is right for you or your high schooler? Here are five tips — offered up by University of Michigan admissions director Ted Spencer — for picking which schools to apply to and which one to ultimately attend.
1) Consider a college's academic offerings and reputation.

"That means a lot of different things to a lot of different people," Spencer said. "Some of the things that are important for students to look at when considering the academic reputation are 'Can I get the classes that I will need to graduate? Will I be able to get the classes with the professors I want to be involved with? Will I have the personal attention at that particular school?' " Other important factors to consider are a school's graduation rates, how many of its freshman return to campus for their sophomore year and what a school's job placement rates are.

2) Know all the application details, what the college expects from students and your chances of acceptance.

Students should ask themselves what colleges expect academically; for example, what are the mid-range GPAs and test scores? They should know application deadlines and give themselves plenty of time to refine their applications and essays. Applicants should also be realistic about their chances of acceptance. John Boshoven, a Community High School counselor, suggests that for every "dream school" a student applies to, that student should also apply to two safety schools. He suggests that students apply to 10 or fewer schools.

3) Determine the cost versus value ratio.

"Families have to make that decision. So much money is no longer available through many of the state programs as well as the federal government," Spencer said, explaining that families should ask: "Whatever I pay, whatever that amount is, do I think I will get a great education from the school and will it offer other opportunities?"

4) Do you like the campus?

"The next thing they should look at is the social life. Is it a good fit? Do I feel comfortable going to school there? What's there to do when I am not in the classroom," Spencer says. "Those are the kinds of things people remember about their college experience, not to say they don't remember their professors, but they certainly remember their friends and they certainly remember many events that happen."

5) Determine, to the best you can, your career goals.

Students who know what they want to study should seek schools with strong programs in that area. The idea, Spencer says, is for "the degree you work so hard for (to) work hard for you when you graduate."
"Kids start to think 'I should be going to the best one that I can go to,'" Boshoven said, "but No. 14 isn't really much better than 39."
Added Spencer: "We've developed this thing about ratings and rankings and we've expanded it to colleges, and so the colleges that people feel are ranked higher in many cases, those are the ones that are receiving more attention and more applications."
Incoming Community High School senior Fernando Rojo plays varsity soccer, edits the school newspaper and has a relatively high GPA. Rojo is one of many students striving to get into a "stretch" school. During his junior year he toured Columbia University, New York University, Northwestern University and U-M. He's applying to Northwestern and the University of Pennsylvania, along with about six other schools.
"It's easier for me to point out my dream school and not the ones I could get in more easily because you want to shoot for your highest," he said. Rojo says he has spent hours looking at colleges, skimming applications, talking with counselors and studying for standardized tests. He's looking for a school in new place that is both academically strong and has a vibrant campus life.
He says that at Community High, where classmates go to schools like Yale University, the University of Chicago and U-M, "there's a high standard" for choosing an elite college.
The question, Rojo says, is whether his extracurricular activities and high GPA, paired with an average ACT score, will be enough to get into one of his dream schools.
"Even though you think you might have all these things that you think you need to get into college, maybe you don't have the certain things a college is looking for," he said.
Spencer said the majority of applicants —around 80 percent— are qualified to attend U-M, so the school takes the cream of the crop from among a qualified applicant pool. Admissions counselors look at an applicant's competitiveness with fellow applicants and also within the context of the high school they attended. There's no guarantee that if you got into U-M a decade ago, you'd have what it the school is looking for today.
"The real competitive colleges are getting more competitive," Boshoven said. "Those tend to be the ones in some circles that everyone thinks they need to go to. But they're not necessarily the best colleges for (all) kids. ... You have to find the right fit."
Added Spencer: "Broadly speaking it's true that a lot of schools like Michigan are doing very well and a lot of it is based on our reputation, and that's good. But then a lot of other schools are suffering because they aren't perceived to be as strong and students are not applying— very good students who could do very well on those campuses."
Kellie Woodhouse covers higher education for AnnArbor.com. Reach her at kelliewoodhouse@annarbor.com or 734-623-4602 and follow her on twitter.