with poll:

At U-M and beyond, many parents bankroll kids' college lifestyle

Posted on Thu, May 3, 2012 : 2:58 p.m.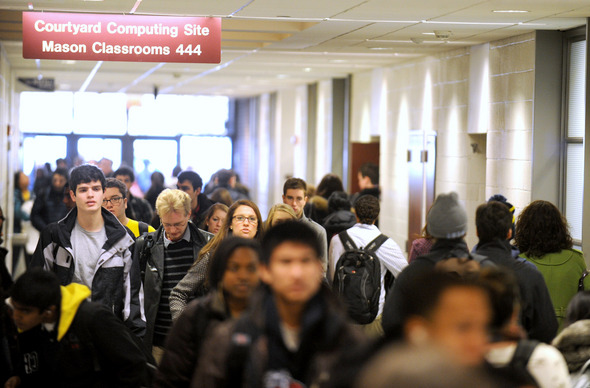 Angela J. Cesere | AnnArbor.com
When Emma Huntley graduates from the University of Michigan next year, she won't have to worry about having amassed tens of thousands of dollars in student debt.
Huntley is one of thousands of students at U-M —and one of millions nationwide— that receives sizable financial support from her parents, who pay her tuition, food and housing expenses.
"I can't imagine having to deal with school and having to get the money for it," the senior elementary education major said. "I have no idea what I would do."
More than 60 percent of college-age individuals receive money from mom and dad, according to a recently published study conducted by the U-M Institute for Social Research. The average amount young adults receive—including help with college tuition, rent and transportation—is roughly $7,500 a year.
"Young people in the U.S. are taking longer to leave home, finish their schooling, get stable jobs, get married and have children," said Patrick Wightman, a research fellow at the Gerald R. Ford School of Public Policy. His research team interviewed 2,098 19- to 21-year-olds and their families for the study. "And the slow transition to traditional adult roles has been accompanied by an increase in the financial support young adults receive from their parents."
Zach Wahid's parents pay for his $485-a-month off-campus rent, groceries, vehicle and roughly half his tuition. The ecology and evolutionary biology major also has a debit card his parents let him use for social outings and discretionary costs.
"They love me," Wahid said. "They value higher education. They want to make sure I get a degree so I can support myself later."
Of the tuition-related debt Wahid will owe after graduating, he said: "I still worry about it. I am constantly thinking about the money I will have to pay back."
The U-M study found that 35 percent of young adults received tuition assistance from parents at an average of $10,100 per individual.
Additionally, 42 percent of young adults reported their parents helped them pay an average of $1,700 in bills, 23 percent received an average of $9,700 to help with vehicle costs and 22 percent received an average of $4,000 to pay rent.
Another 11 percent said they received loans from their parents and nearly 7 percent said they received financial gifts, which averaged $8,220.
"It's pretty essential. I would have to take out loans otherwise," said senior bio-psychology major Lauren Dubosh, whose parents pay for U-M tuition and her $600-a-month off-campus rent. "Most of my friends have help from their parents. .... Coming out of high school you're more willing to go to college if your parents are paying."
Dubosh added: "It depends where you come from. If you're from a wealthier area, your parents are more willing to pay."
Study findings agree: 80 percent of high-income parents provided help to young adult children.
"We found a large difference between high- and low-income families," Wrightman said. "The gap is especially large for education-related assistance."
Roughly 11 percent of low-income youth received tuition assistance from their parents, whereas 66 percent of high-income youth did. Among those who did get help, students from high-income families received an average of $12,900, compared to $5,800 for those from low-income families.
The majority of U-M students come from middle-class families and wealthy backgrounds, according to the 2011 Entering Student Factbook, a survey of the 2011-2012 entering freshmen class. That survey found that 21 percent of incoming freshman households make more than $250,000, 9 percent of parents make between $200,000 and $249,999 and 32 percent of parents earn between $100,000 and $199,999.
"We're experiencing the national trend. We do have a large number of students coming from upper-income families," said Malinda Matney, senior research associate for the U-M Division of Student Affairs. Matney said U-M has a higher number of wealthy students than the average university but a similar amount as its "peer institutions," such as the University of California's Los Angeles and Berkley campuses.
At U-M, 66.7 percent of incoming 2011-2012 freshmen reported received more than $10,000 from their families to cover the cost of freshman tuition, up roughly 6 percent from last year.
Wightman added that parental support can strengthen the relationship between parent and child during the giving period, but that prolonged support can lead to over-reliance by adult children, which can lead to depression.
Over the past four decades, according to Wightman, "there has been a steady increase in the percentage of kids who are getting support" and the length of time parents are willing to support their children.
From a young age, Huntley's parents promised her they'd pay for her tuition.
"Their parents didn't help them at all and so they did it all themselves and they told me and my brother since we were little that they would deal with our college stuff," she said, adding that the financial assistance could possibly continue into her first year in the work force.
"My mom will be in favor of stopping that but my dad is the complete opposite. He gets me anything I need anytime I need."