column:

Why I am motivated to run the Big House Big Heart Race in Ann Arbor

Posted on Sun, Apr 15, 2012 : 5:59 a.m.
Have you always dreamed of running across the 50-yard line of the 'Big House?
I'll be honest. I haven't.
I am not a football fanatic, and I am really not a runner. My earliest memories of running include coming in last at the 100-yard dash at my elementary school's field day. My first boyfriend in high school was a cross country star, and I remember going for a mile run with him, and cutting out midway complaining of cramps or asthma.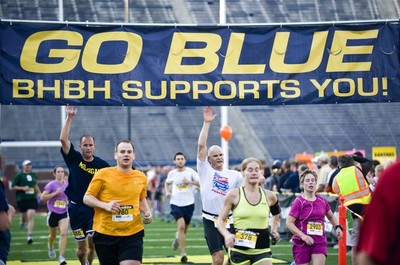 Joseph Tobianski | AnnArbor.com
Not to say I'm a wimp; almost a year ago I completed an eight-hour test for a black belt in martial arts, but the part that most daunted me was a 10-minute run near the end of the day. I don't think I have ever gotten to that endorphin release or that smooth rhythm that I hear other runners rave about.
Normally I'll do whatever it takes to avoid running, but something has me motivated to run this weekend in Ann Arbor.
I'm participating in the Big House Big Heart Run, and it's more than just a chance to get red-faced and sweaty.
It is a great event for a bunch of different reasons. Healthy exercise, running onto the 50-yard line at the Big House, supporting charities that matter to Southeast Michigan... I love that the event allows you to raise money for any charity you choose, and 100% of your funds go straight to the organization.
But beyond the chance to raise money, there is the chance to get healthy and expand my limitations. The big (little) motivator getting me going is my 5-month-old nephew, Dominic, who lost his fight against heart disease over the winter.
We, my family and I, are running in his honor. Nurses at Mott Hospital once explained to us that every day was like running a marathon for his little heart. Now maybe they did not mean that literally, but I started to contemplate it as so.
A marathon.
I could not even really fathom what that would feel like. I get uncomfortable running a half-mile -- and that would be more than 50 times that much. Dominic was taking on that amount of physical exertion daily.
If this small boy could find it in himself to push, to endure, to sustain, well, couldn't I?
I didn't sign up for the 10K, but I may try for the 5K, and even if I just do the One Mile Fun Run, at least its the first step.
And if it goes well, maybe I just might start seeing myself as someone beyond the confines of how I have defined myself. Maybe I am a runner, but I have not pushed myself to find out yet.
The Big House/Big Heart run takes place Sunday, April 15, at Michigan Stadium. It's the first spring run for the event, which used to be scheduled in the fall. Start times: 10K, 8 a.m.; 5K, 9:10 a.m.; Mott's 1 Mile, 10:20a.m.; 1 Mile 10:30 a.m. Maps of the course can be found at the Big House Big Heart website.