Posted on
Tue, Jul 13, 2010 : 9:55 p.m.
Community members hold meeting to seek answers, object to Judge J. Cedric Simpson's reassignment
By Dave Gershman
Washtenaw District Court Judge J. Cedric Simpson thanked community members who packed a meeting room Tuesday evening for their support and said he was told his recent reassignment to handle only civil cases wasn't disciplinary.
The Rev. Joseph Cousin, pastor of the Bethel AME Church of Ann Arbor, organized the meeting after the change sparked many questions in the African American community that remain unanswered. He said community members are looking for Chief 14A District Judge Kirk Tabbey to provide a fuller explanation for the reassignment.
About 70 people attended the meeting in the Ann Arbor Community Center.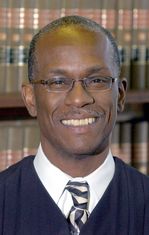 Several audience members said Simpson set a positive example for the community, showed an understanding of the community, and presided fairly over his courtroom. They suggested a campaign to reverse the court changes.
"Tonight is just the beginning," said Cousin.
Simpson had presided over criminal and civil cases in 14A District Court. Tabbey reassigned him to handle only civil cases. His criminal docket was split between Tabbey and Judge Richard Conlin.
The State Court Administrator's Office approved the changes, which were announced to court staff July 6 and took effect immediately.
Tabbey was also invited to Tuesday's meeting. A representative said the chief judge received the offer on Monday and couldn't attend because of a prior commitment.
Simpson spoke briefly at the start of the meeting and took several questions, though he declined to respond to many of them, citing the deference judges show for the court. "There are certain statements I will not make," he said.
Simpson said he assumed the changes were made in the best interest of the court and should not be viewed as disciplinary. "Please don't do anything in my name that is not respectful of the system that I am a part of," he said.
Simpson said he received an e-mail June 29 indicating Tabbey wanted to discuss changes to case assignments that would become effective in July.
At a meeting on July 1, Simpson said he was told by a representative of Tabbey, who could not attend because of an illness, that he would be reassigned. He said a second meeting was arranged for July 6, but was not held. He did not elaborate.
Tabbey previously told AnnArbor.com the changes were made to increase court efficiency. Magistrate Camille Horne had been called to active military duty. Tabbey said it made sense for Simpson to assume the entire civil docket because of his experience and expertise in civil cases.
Simpson was appointed to the district court in 1999. When Tabbey was named chief judge in 2008, he replaced Simpson, who had presided in the post for three two-year terms.
Dave Gershman is a freelance writer for AnnArbor.com, Reach the news desk at news@annarbor.com or 734-623-2530.