Posted on
Thu, Dec 3, 2009 : 9:40 a.m.
Company cited in death of construction worker at University of Michigan under criminal investigation
By Juliana Keeping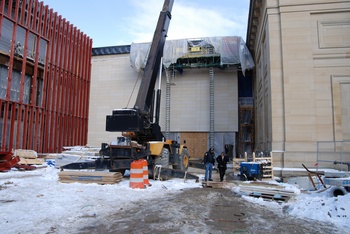 Michigan Occupational Health and Safety Administration | Investigation photo
The masonry company cited in the death of a 32-year old journeyman last year on the University of Michigan campus is under criminal investigation by the state Attorney General's Office, officials confirmed.
And that company is again doing work for U-M, this time on a multi-million dollar residence hall.
Leo Felty, Jr., 32, died in February 2008 after falling 40 feet from scaffolding while working on the $42 million U-M Museum of Art addition. The Pinckney man stepped backward off an unguarded end of the scaffolding and died on impact, according to the Michigan Occupational Safety and Health Administration investigation report.
Felty was one of three workers who died on U-M construction jobs over a 16-month period.
After Felty's death, MIOSHA imposed multiple violations and a $61,600 fine on Davenport Masonry relating to improper scaffolding conditions. The company has appealed.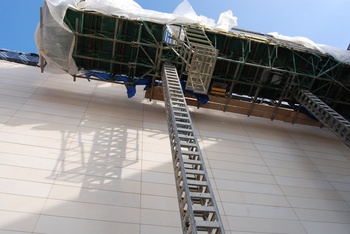 Michigan Occupational Safety and Health Administration | Investigation photo
The Holt, Mich.-based company has a history of violations, and officials say the case has been forwarded to the attorney general's office for criminal investigation due to the seriousness of the museum project citations. It's unclear what criminal charges could be levied.
Davenport Masonry President Ed Davenport didn't return a call for comment.
SKANSKA, an international company that managed the museum project, hired the masonry company. SKANSKAÂ was not issued MIOSHA citations, but the Felty family has sued SKANSKA for damages in Washtenaw County Circuit Court. They claim in the lawsuit the general contractor failed to ensure and enforce safety standards.
Currently, Davenport Masonry is performing work on the new $175 million North Quad residential and academic complex at 105 S. State St. under general contractor Walbridge Aldinger. MIOSHA inspectors stopped by in May and July for routine inspections, and no citations were issued to the masonry company, officials said.
U-M officials say they're looking at safety requirements for outside contractors, with new regulations slated for 2010.
U-M officials didn't provide information requested by AnnArbor.com this week, including contracts and amounts paid to Davenport Masonry and the current regulations in place regarding outside contractors.
Bob Pawlowski, director of the MIOSHA Construction Safety and Health Division, said the state issued three willful violation citations to Davenport Masonry after Felty's death. Willful violations are the most severe penalties MIOSHA can impose.
Of the 6,000 citations issued in 2008 by his division, 27 were willful violations. 
Davenport Masonry also received one serious violation. A serious violation is the second level of four violation categories. A total of 2,300 serious citations were issued after Michigan construction accidents in 2008.
"A willful violation means we believe after conducting the investigation that the employer knew about the hazard, that they knew the MIOSHA standard that applied and consciously made a decision not to comply," Pawlowski said.
When a company receives a willful violation, the case is automatically sent to the attorney general's office for review and possible criminal prosecution. Nick De Leeuw, a spokesman for the attorney general's office, would not confirm Davenport Masonry is under investigation. De Leeuw also refused to say what charges, if any, could result from any investigation.
"Every case is different," he said. "As a general rule, until an investigation is complete, it would always be premature to discuss potential charges."Â 
Jon Garrett, the Felty family's lawyer, said it's rare for a sub-contractor to be criminally prosecuted due to safety violations. He also said it isn't unusual for companies under investigation to be re-hired.
Garrett, a Detroit-based attorney, has represented hundreds of families in construction worker death and injury lawsuits and has observed the industry for 25 years.
"It would be the norm for a company to be hired even though it's under investigation," he said. "They do some specialized work that requires specific engineering."
MIOSHA has inspected Davenport Masonry 10 times in the last five years. The company has been cited for 14 serious violations and 12 other violations, according to MIOSHA reports. 
The U-M Department of Public Safety investigation found four past citations over eight years related to scaffolding hazards similar to the ones MIOSHA blamed for Felty's death.
The company lists on its Web site portfolio a number of U-M projects, as well as other school, college and prominent restoration projects in cities around the state. At U-M, past projects include the Biomedical Research Building (2004); the U-M Ambulatory (2005); and the School of Public Health (2006).
MIOSHA cited three other companies for serious safety violations related to worker deaths on U-M construction projects. Those companies are also appealing. 
More details in those cases have come to light in accompanying MIOSHA reports.
In August 2008 - six months after Felty's death - elevator mechanic David Jeffrey Smith, 31, died after falling down an elevator shaft from the 5th floor at the Stephen M. Ross School of Business. The business school was undergoing a $145 million expansion at the time. MIOSHA cited Schindler Elevator Corp. and levied fines of $9,400, according to the December 2008 MIOSHA report.
Smith's family has sued U-M.
MIOSHA cited and fined Barton Malow $10,000 for the June 2009 death of Gary Winisky, 48. Barton Malow was the general contractor on the U-M C.S. Mott Children's & Women's Hospital replacement project, while Malow's sub-contractor, Schreiber Corp., was fined $16,800. Winisky was struck by roofing materials that fell from a crane.
The MIOSHA investigation into Winisky's death describes a tragic breakdown in communication. He died after a tower crane's load - 1,400-pounds of roofing materials- become disengaged from its pallet and struck him as he worked on the 13th-floor roof with other employees. 
The materials were hoisted 240 feet from the ground, but about 30 feet above Winisky and other employees. The report found the materials were improperly secured to the pallet, and no one alerted the workers on the roof about the incoming load.
A co-worker told campus police it appeared the load was improperly rigged due to lack of experience. Documents show one of Winisky's relatives has hired a law firm, which filed requests for documents from U-M related to his death. 
Juliana Keeping covers higher education for AnnArbor.com. Reach her at julianakeeping@annarbor.com or 734-623-2528. Follow Juliana Keeping on Twitter