Posted on
Thu, Dec 3, 2009 : 6:02 a.m.
Researcher says falls accounted for many deaths at Michigan construction sites
By Juliana Keeping
Workers in the construction industry account for more fatalities than any other profession in Michigan, researchers say.
Over a 16-month span at University of Michigan, three construction workers were killed.
Deb Chester studies work-related deaths with Michigan State University's Occupational and Environmental Medicine Division. She found falls were the most common cause of construction worker deaths between 2004-2008.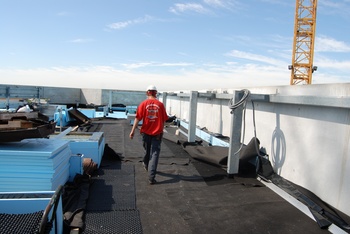 Michigan Occupational Health and Safety Administration | Investigation photo
Chester conducts research with the federally funded Michigan Fatality Assessment and Control Evaluation project, which has looked into worker deaths since 2001. It makes recommendations for job site safety.
For this story, Chester looked at data between 2004 and 2008, when 143 Michigan construction workers died on the job. They account for about a quarter of all work-related deaths. Falls were the cause of 57 deaths.
Leo Felty, Jr., 32, died in February 2008 after falling 40 feet from scaffolding while working on the $42 million U-M Museum of Art expansion. Felty was one of 17 construction workers in Michigan to die from a fall from scaffolding or a ladder between 2004 and 2008. Falls from roofs are also common, Chester said.
Six months after Felty's death, elevator mechanic David Jeffrey Smith, 31, died after falling down an elevator shaft from the 5th floor at the Stephen M. Ross School of Business while work was being done there.
Two Michigan construction workers died the same way in the five years Chester analyzed.
Gary Winisky, 48, died after being struck by roofing materials that fell from a crane from 30 feet above as he worked on the roof of the $523 million U-M C.S. Mott Children's & Women's Hospital replacement project. Twenty-seven workers died after being struck during that time period, but Chester said the circumstance surrounding his death is still uncommon.
"We have not had many fatalities where a load has disengaged from the crane," Chester said. 
Juliana Keeping covers higher education for AnnArbor.com. Reach her at julianakeeping@annarbor.com or 734-623-2528. Follow Juliana Keeping on Twitter