Posted on
Wed, Aug 7, 2013 : 5:59 a.m.
Composition of Ann Arbor City Council continues to slowly change
By Ryan J. Stanton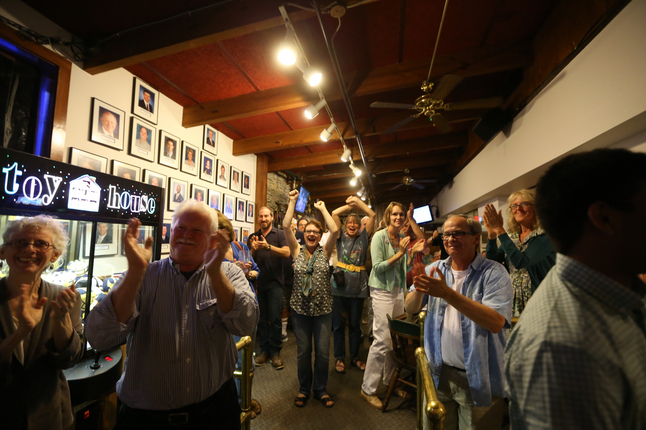 Chris Asadian | AnnArbor.com
Mayor
John Hieftje
watched Tuesday night as yet another of his allies — 14-year incumbent
Marcia Higgins
— was ousted from the
Ann Arbor City Council.
Democratic challenger Jack Eaton, a labor attorney and longtime neighborhood activist, defeated Higgins by a nearly 2-to-1 margin in the 4th Ward race.
Meanwhile, Stephen Kunselman held onto his 3rd Ward seat — pulling 51.76 percent of the vote against challenger Julie Grand, who had support from some of the mayor's allies.
Kunselman, a Democrat, still faces Independent candidate Samuel Devarti in the November general election, while Eaton advances unopposed.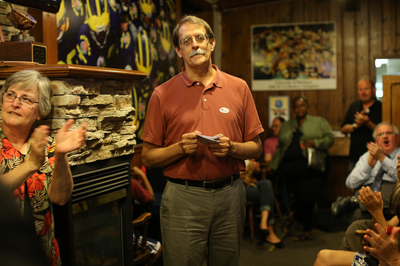 Chris Asadian | AnnArbor.com
Eaton commented on the changing dynamics on council as he celebrated his victory at CUBS' A.C. Sports Bar & Restaurant. He was joined by several supporters, including three council members he looks forward to working alongside come November —
Sumi Kailasapathy
,
Mike Anglin
and Kunselman.
"I just think we're going to continue the momentum that's been building since Steve Kunselman first beat Leigh Greden," Eaton said, referring to the 2009 ouster of one of the mayor's allies on council.
"Slowly we've changed the composition of council, so we're paying more attention to what the residents of town want instead of big projects. We're going to continue on that trajectory — we're just going to have one more vote in that direction."
Eaton and other newer council members say they're more interested in putting money toward public safety and infrastructure than projects like a new train station on Fuller Road.
Eaton and Kunselman both reiterated their opposition to the mayor's push for a new train station on Fuller Road following their victories Tuesday night.
There was a point four years ago when Hieftje and his allies held nine of the 11 seats on council, but that super majority has dwindled away — starting with Kunselman's ouster of Greden.
In 2011, Independent candidate Jane Lumm ousted Stephen Rapundalo, one of the mayor's allies. And last year, Sally Hart Petersen ousted Tony Derezinski, another of the mayor's allies.
Sumi Kailasapathy, a staunch critic of the mayor's agenda and one of Eaton's supporters, also was elected to council last year, replacing Sandi Smith, one of the mayor's allies.
Carsten Hohnke, another ally of the mayor, stepped down last year, but he was replaced by Chuck Warpehoski, who ran with the mayor's endorsement. Warpehoski has vowed to remain independent on council and said he doesn't consider himself beholden to anyone.
Hieftje still has strong allies in Christopher Taylor and Margie Teall, but they're now essentially a minority on council. Hieftje hasn't decided yet whether he'll run again next year.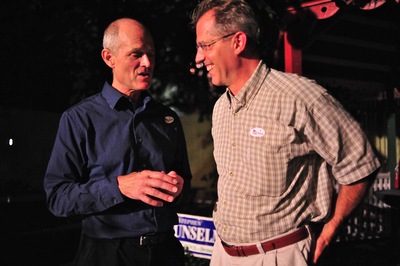 Ryan J. Stanton | AnnArbor.com
Kunselman, who has earned a reputation for butting heads with the mayor on some issues, downplayed their differences Tuesday night. Hieftje, who said he stayed neutral in the 3rd Ward race, actually stopped by Kunselman's campaign party at Dominick's bar to congratulate him.
"The thing is — we have a lot of similarities," Kunselman said of him and the mayor. "We both grew up in Ann Arbor and have a lot of the same passions."
Hieftje added, "I've known Steve a long time. I first appointed him to the Planning Commission before he was ever elected."
Hieftje said he had a good discussion with Kunselman about how council members might be able to come together on issues. He told Kunselman he's going to continue bending his ear about rail.
"It's never been an issue about rail or not — it's been about how we get there," Kunselman said of his opposition to a train station in Fuller Park. "And I think that's why I always press the mayor hard."
Hieftje said he's not worried about Eaton's promise to be another vote against spending money on a new train station on Fuller Road.
"I don't worry about the Fuller Road Station too much," he said. "I think when Amtrak is going 110 mph in 2016 and ridership is going up the way they've seen in other parts of the country, people will come around. And we haven't decided exactly on the location of the rail station — that's going to be actually up to the federal government to make the final decision when they award the funding."
Hieftje said he wasn't surprised at the outcome of either race Tuesday night. Though he was supporting Higgins, he said he always suspected Eaton would win.
"He's been campaigning for three years, and Marcia was on council for a long time through one of the very toughest periods in the city's history," he said. "She had to make a lot of difficult decisions."
Hieftje said it didn't help Higgins that she's dealt with a lot in her personal life that has kept her from communicating as well as she might with constituents.
Higgins couldn't be reached for comment.
As for Eaton joining council, Hieftje said he thinks they can find some issues they'll agree on. He noted the overwhelming majority of council votes are unanimous.
Chris Asadian | AnnArbor.com
Kunselman said he really likes Eaton, who has been a supporter of his over the years, but he's also going to miss Higgins.
"Marcia Higgins has been the one council member who I hold the highest respect for out of everyone over the years that I've served," he said. "And I will continue to always hold her in high regard because she has put community first above politics."
Kunselman said he thinks his message of devoting city resources to neighborhoods resonated with voters and that will continue to be his focus.
"I don't think anything changes dramatically at this point," he said. "The council's been going in a direction of trying to focus more on our neighborhood needs and our public safety issues, and let's not forget our CFO projected a deficit in our budget in 2015, so it's not like we're out of the woods when it comes to finances. We still have issues we have to deal with."
Kirk Westphal, who is running as a Democrat in the 2nd Ward in November against Independent incumbent Jane Lumm, was at Grand's campaign party Tuesday night at Sava's Cafe.
"I think council needs people who come to the table with an open mind and I think Julie would have been that candidate," he said, expressing disappointment over the results. "There's only so much we can control going on in this state and in Congress, but I think we can make an effort to keep our council discussions rational and depoliticized, and I hope to bring that theme to my race."
A total of 9.24 percent of the 19,405 registered voters in the 3rd Ward and 9.58 percent of the 20,009 registered voters in the 4th Ward turned out for Tuesday's primary.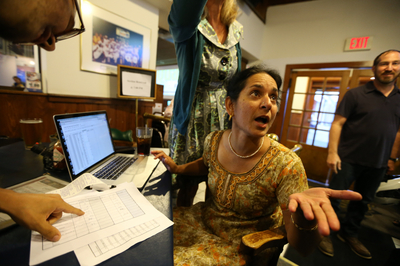 Chris Asadian | AnnArbor.com
Al McWilliams
, president of Quack!Media in downtown Ann Arbor, said he fears a minority of residents decided the races.
"What I want is for Ann Arbor's elected officials to be representative of the actual majority in Ann Arbor," he said. "On both the winning side and the losing side, we have too few votes."
Grand gave a brief speech after the results came in, telling supporters she's worried about the future of the city.
"We had a message that was about really listening to people," she said. "It was about people feeling disconnected and trying to get them connected back to the city. We had a message about finding great policy solutions by doing our research and by listening, and I think it resonated with a lot of people, but unfortunately it didn't resonate with enough."
In addition to Westphal and Lumm, a third candidate — Independent Conrad Brown — is running in the 2nd Ward race in November. Brown and Devarti, who is challenging Kunselman in the 3rd Ward, are both members of a group calling itself the Ann Arbor Mixed-Use Party.
A third member of the Mixed-Use Party, Jaclyn Vresics, is on the ballot in the 1st Ward, running against Democratic incumbent Sabra Briere. Another Independent candidate not associated with the party, Jeffrey Hayner, also is on the ballot in the 1st Ward.
Mike Anglin, D-5th Ward, is up for re-election, but he didn't face opposition in Tuesday's primary and he doesn't have a challenger in November.
Related coverage:
Ryan J. Stanton covers government and politics for AnnArbor.com. Reach him at ryanstanton@annarbor.com or 734-623-2529. You also can follow him on Twitter or subscribe to AnnArbor.com's email newsletters.