Posted on
Tue, Nov 16, 2010 : 3 p.m.
Compost outsourcing delayed as Ann Arbor council members and AFSCME union cite concerns
By Ryan J. Stanton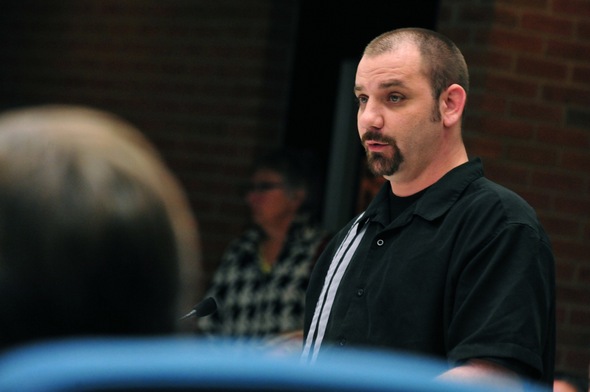 Ryan J. Stanton | AnnArbor.com
A deal to privatize the city of Ann Arbor's compost operations was delayed Monday night, with City Council members citing concerns about farming out the work to a New York company.
The issue is being postponed until the council's Dec. 6 meeting.
Some council members appear hesitant to even consider outsourcing compost work at all, citing concerns of losing direct control. Other council members say they still have too many unanswered questions, and some question why a Michigan firm that offered a lower price was overlooked during a city staff review of proposals.
AFSME Local 369 President Nicholas Nightwine, who has been fighting to keep the compost work in the hands of city union workers, spoke at Monday's meeting. He suggested the city might not need to outsource if it just charged competitive rates for its compost product.
"I'm sure that you noticed that the city would still be taking a loss throughout the next five years whether or not this contracting out happens," Nightwine told council members. "The city would just be taking less of a loss. Why should the city take any loss at all?"
Nightwine said prices at the city's compost center are so low right now that it's impossible for the city to make a profit. He said the prices are $9 per cubic yard under 10 yards, $7 per cubic yard for 10-24 yards, and $5 per cubic yard for 25-40 yards.
"Believe it or not, these prices are actually higher than last year," he said. "In doing some further research, the union has found these prices to be extremely lower than other establishments selling the same product. As a matter of fact, the closest price to the city's price we found was $15 per cubic yard for any amount of compost."
Nightwine said the union even found prices as high as $50 per cubic yard.
"So I ask again, how was the city ever going to be successful with these low prices?" he said. "The city has priced themselves out of this business."
Matt Kulhanek, the city's fleet and facilities manager, gave a detailed presentation to council members last week in which he said the city could save more than $376,000 annually starting next year under a five-year contract with WeCare Organics.
The city's compost operations have struggled to bring in revenue, losing $683,000 last fiscal year. The year before, the city saw a loss of $568,000.
The proposal to contract with WeCare Organics still would have the city losing about $128,700 a year on compost operations. Michigan-based Spurt Industries offered a contract that would see losses at $124,000 annually.
Council Member Sandi Smith, D-1st Ward, said Monday night she was "very uncomfortable" with choosing a New York company over a Michigan company. Smith also expressed general hesitations about outsourcing, saying the city has made a lot of investments with taxpayer funds in recent years to improve the compost system that could end up benefiting a private firm.
Nightwine said the union has concerns that the city could go with WeCare Organics, sell it's equipment, and then find out its not happy with the company.
"Will the city then have to buy new equipment and retrain employees at a cost higher than it was to get out of the compost business?" he said, suggesting the city should instead raise the rates to "where they should have been all along" but with possible discounts for Ann Arbor residents.
Council Member Stephen Kunselman, D-3rd Ward, said he wanted to know if WeCare Organics would pursue contracts to bring sewage sludge to Ann Arbor.
Concerned residents have circulated e-mails linking to a SourceWatch article stating that WeCare's compost "is made from sewage sludge (renamed biosolids) by the company WeCare Organics LLC. Under USDA organic standards, sewage sludge may not be used in organic agriculture. However, companies such as WeCare that market sewage sludge in fertilizer and compost products often claim to be 'natural' or 'organic.'"
A WeCare representative could not be reached for comment.
Council Member Mike Anglin, D-5th Ward, expressed similar concerns and said he feared the city could end up with an environmental cleanup bill due to materials dumped here.
Two residents spoke at Monday's meeting in favor of keeping the compost operations in the city's hands.
Ray Ayer called the proposal to outsource "ill-advised."
"I think it stinks and I think the site will stink under a new operator," he said, adding he thinks the city does a good job of operating the site right now.
Thomas Mesko, who said he's a 20-year resident of Ann Arbor, reiterated what Ayer said and encouraged council members to spend more time looking into the issue.
"I mean, our compost center is a great part of what this city is," he said. "I'm coming to you as a resident who's been using it for 15 years."
Ryan J. Stanton covers government and politics for AnnArbor.com. Reach him at ryanstanton@annarbor.com or 734-623-2529.