Posted on
Fri, Jun 1, 2012 : 11:13 a.m.
Conan Smith: Washtenaw County not ready to embrace regional arts tax for DIA
By Ryan J. Stanton
MACKINAC ISLAND — While voters in Wayne, Oakland and Macomb counties prepare to go to the polls in August to consider a regional arts tax to support the Detroit Institute of Arts, Washtenaw County is sitting this one out.
Conan Smith, chairman of the Washtenaw County Board of Commissioners, said there's a simple reason for that.
"Washtenaw County's not ready to get in on it," he said. "We haven't built up the community understanding of the value of the DIA across Washtenaw County yet."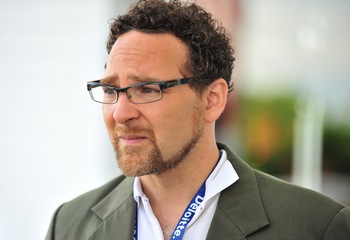 Ryan J. Stanton | AnnArbor.com
That position drew ire from Oakland County Executive
L. Brooks Patterson
during a panel discussion Thursday at the Detroit Regional Chamber's
Mackinac Policy Conference
. Patterson bluntly told Smith:
"You don't have any skin in the game."
If the 0.2-mill levy passes, it could raise up to $23 million a year for the DIA and cost the owner of a $150,000 home $15 a year.
A spokesperson for the DIA could not be reached for comment.
Smith, who sported an "I (heart) DIA" button at the conference, said he's hopeful a tax to support the DIA will be on the ballot in Washtenaw County at some point in the future, just not right now.
"The DIA is very passionate about this and their members are very passionate. Washtenaw County members are very passionate and they include heavy hitters like Ron Weiser," he said, referencing the Ann Arbor businessman elected state GOP party chairman in 2009.
"I suspect the conversation will be ongoing and I could see us putting a DIA millage on the ballot," Smith said. "And it's not technically a DIA millage. This is sort of convoluted. You create an arts council. An arts council then puts the millage on the ballot."
If the county created an arts council and the council decided to run a millage campaign, it could fund the DIA, Smith said, but it also could fund local arts programs or arts education.
"I don't want to pre-determine what they would put on there, but I've got to imagine the DIA, as a regional asset, is going to be a part of that mix," he said.
The DIA informally approached a handful of people about the idea of putting a millage on the ballot in Washtenaw, in addition to the three other counties.
Smith said the answer the DIA got from Washtenaw was more of a "not yet," and not necessarily "no, we're not gonna do that.' "
"We're interested. Eager is how I would describe myself," Smith said. "But the board is not fully there yet, and I don't even know if everybody on the board has had this conversation at this point. We never had a board conversation about it at all, just an internal analysis."
Despite the fact that Ann Arbor has an art museum of its own, Smith said there is a large number of members of the DIA from Washtenaw County.
"The number of schools particularly on the east side of Washtenaw County that use the DIA as their art program, for example, that's significant," he added.
"It is an asset to Washtenaw County, but it's not a readily recognized asset. So there's a lot of homework to do there first, but I'm hopeful we'll get there at some point."
Ryan J. Stanton covers government and politics for AnnArbor.com. Reach him at ryanstanton@annarbor.com or 734-623-2529. You also can follow him on Twitter or subscribe to AnnArbor.com's email newsletters.